5 Questions: Surabhi Gupta on Wellness at Work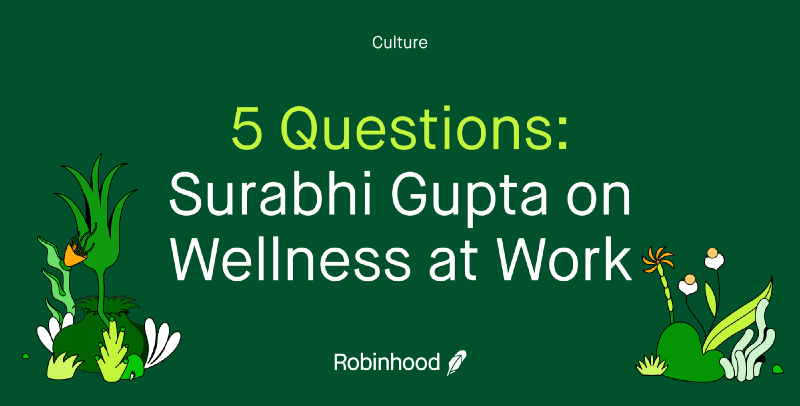 This past week, the world celebrated Mental Health Awareness Day, with this year's theme being 'Mental Health in an Unequal World,' an issue that deeply resonates with Robinhood's mission. Robinhood employees are at the forefront of helping Robinhood achieve its mission of removing the economic, emotional and educational barriers that exist in our financial markets. We talked with Surabhi Gupta, Robinhood's VP of Engineering, about wellness in a time of hyper-growth and scaling.
Here's how she thinks about wellness and encourages others to stay mindful of their well-being.
Given Robinhood's scaling and hiring goals in engineering this year, how do you maximize your productivity during working hours?
Our employees' well-being is very important, given the effort our teams dedicate to ensure our systems are reliable and safe for our customers through high periods of growth and activity. To maximize productivity, I follow two strategies that have worked for me so far, don't start the week in debt, and build up your meeting stamina.
Before I get into the rhythm of Monday's schedule, I review my calendar for the week and follow-up on Slack / email or other outstanding work so that I don't start my week in debt. I've found that blocking off an hour at the end of day on Friday to close out open items is a good way to wrap up the week. I also find that setting time aside to plan the week on Sunday nights makes a big difference on my productivity throughout the week.
I also have two small children, and I dedicate my evenings to them. In order to be there for them when I need to, I try not to end my work day feeling exhausted. Building my 'meeting stamina' is something I've found to be very valuable. I'm very intentional and present throughout the work day, and aim to be equally present for my kids. This is even more important in the world of back-to-back video calls, where there's no opportunity for the water cooler conversations. I've developed 'meeting stamina' over the years, and it helps me value the 10–15 minute breaks that I build into my schedule throughout the day. This strategy works for me. I tell others to find what works for them. Ask yourself 'How can you build a schedule to be more intentional during work hours?' Ultimately, the key to productivity is ensuring that you can take control of your schedule.
What does your wellness plan look like?
My wellness rituals have taken a bit of a back seat due to the time that I dedicate to my kids, but I find that prioritizing weekends with friends and family is core to my well-being. I'm responsible for hundreds of engineers everyday, and it isn't always easy to detach during the work week. I find that being able to take the weekends off allows me to recharge. I also have weekend routines with my kids that I deeply enjoy. Pancake Saturdays is a good example, where my five year old and I make breakfast together for the whole family.
How do you make wellness a top priority?
To be honest, I'm working on this. That said, sometimes making wellness a priority all the time can also be stressful. Life is not perfect, schedules change, and sometimes the best way to stay well is to stay flexible. I like to value the small and unexpected moments of freedom. It's a lot about practicing gratitude, which research has shown to have a big positive impact on well-being. We have a dinner time routine, where we go around and share a highlight from our day, and also appreciate where someone has done something good for others. On days when work is over earlier than usual, we go on family walks to the park. I think these unscheduled moments can also help your wellness plan in immeasurable ways.
What's the one wellness activity you can't survive without?
Before the pandemic, traveling was the one wellness activity that I couldn't live without. Now, I'm picking up new hobbies with my kids, sometimes unexpectedly. My five year old is learning how to play the piano, and I take the class with him to help him along. Right now, I'm learning to play Ode To Joy with him. It has definitely become one of my favorite activities to do with him.
What advice do you have for others on how to manage their well-being through hyper-growth?
I find that one's mindset plays a big part in embracing hyper-growth. My advice to others who work at a company in hyper-growth mode is to accept the need for change, and to not assume that things are going to be perfect. We have a tendency to want the perfect plan, but I've learned that you can't predict the all problems waiting for you around the corner. Of course, I always try to be proactive rather than reactive. But the art to surviving is having a growth mindset, and catching problems as quickly as you can, and ensuring that there is a plan in place to prioritize and fix them. In moments where I've felt overwhelmed, I write things down, which helps me understand what I'm actually spending my time on versus where I should be.
I also create resourcing and hiring plans to reduce the load, and hire more people to make things manageable. This year, I plan to keep hiring and building our teams to meet the challenges that come with working at a fast-growing company.
Visit our careers page to learn more about working at Robinhood.
Robinhood and Medium are separate and unique companies and are not responsible for one another's views or services.
© 2021 Robinhood Markets, Inc.