An Update on Robinhood's Options Offering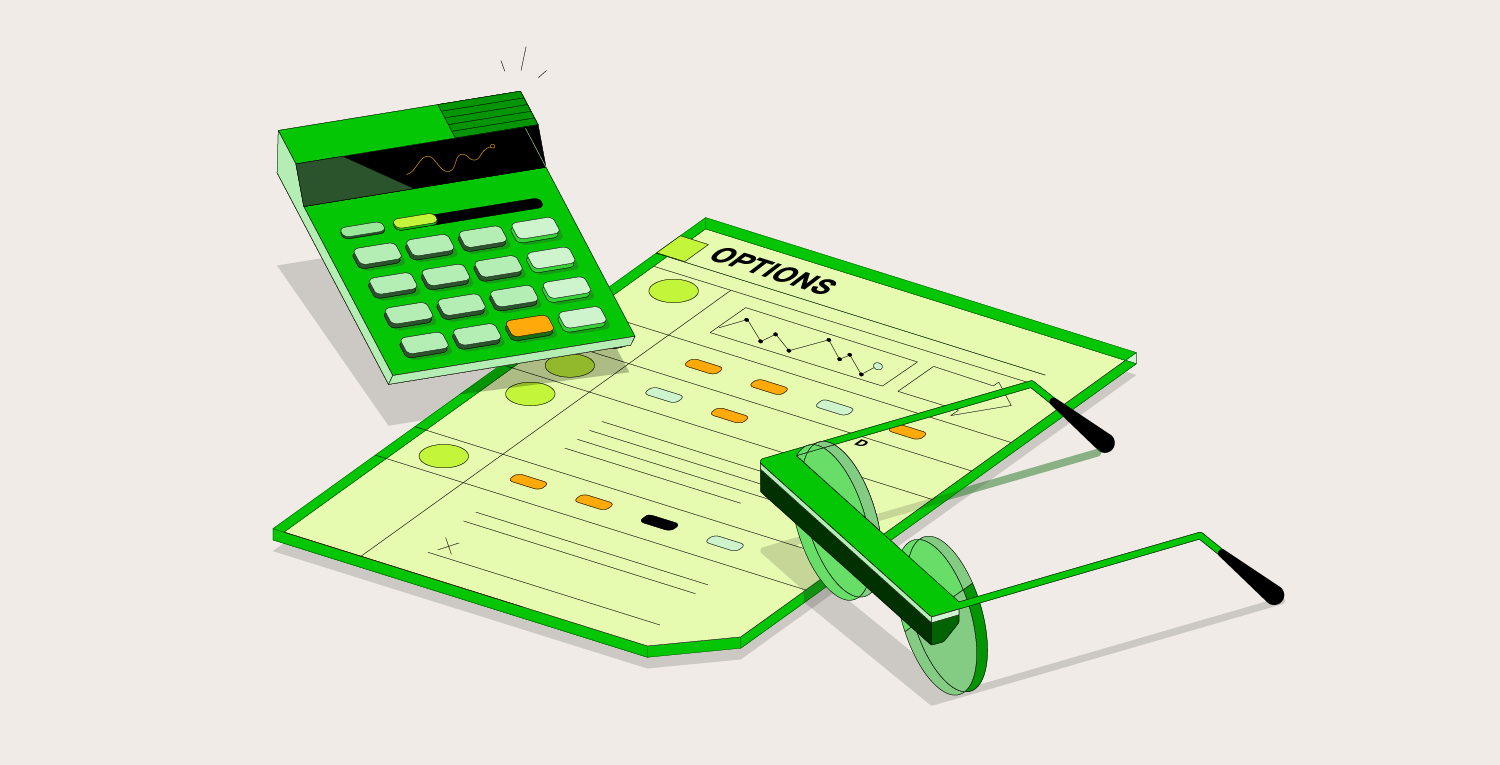 Our mission at Robinhood has been to bring opportunity, through technology, to help people invest, on their terms, on their mobile devices. We've introduced new access points to the markets and created space for people to learn about the financial world. Robinhood pioneered commission-free trading, and was the first to do so for options. 
With our options trading experience, we aim to provide investors with an intuitive and cost-effective platform to trade options, which includes enhanced educational materials on options trading. We offer commission-free options trading alongside stocks and ETFs to help customers manage all of their investments in one place. 
We're always working to make improvements in the product and to enhance our communications to our customers. Over the last few months, we've been rolling out multiple updates to our Robinhood Options offering in an effort to deliver the best possible experience for our customers. We've also been sharing these changes with customers as we moved forward (recent updates here and here). 
Today we're detailing all the progress made and upcoming changes to expect in the very near future.
Introducing In-App Exercise and Instant Exercise Features
We've added the ability to exercise contracts in the app. With in-app exercise, investors can exercise options contracts directly in the app to help avoid delays and trade restrictions. Funds and shares from exercises are available immediately during market hours.
In designing this experience, we were deliberate about adding more safeguards and information. For example, before exercising an option, customers will be asked to review their strategy, associated risks, and potential reasons to not exercise the contracts, in order to help them determine whether exercise meets their objectives. We also display alerts and available actions when exercising a contract. These features launched in the last few weeks and are fully rolled out to all options customers. 
Improvements to Early Assignment 
We've recently revamped the early assignment experience to include new guidance to help with early assignment scenarios. We've built a resolution flow that will guide customers through the potential actions of exercising a contract or trading shares to resolve an account deficit, and added the ability to contact support directly through the app. These changes are rolling out to customers now.
Additionally, we've rolled out changes to allow customers in certain cases to continue trading as soon as they take action on a potential restriction. We recently launched a self-service option to buy shares even if in a short position due to an early assignment. Previously, this was only possible by contacting support.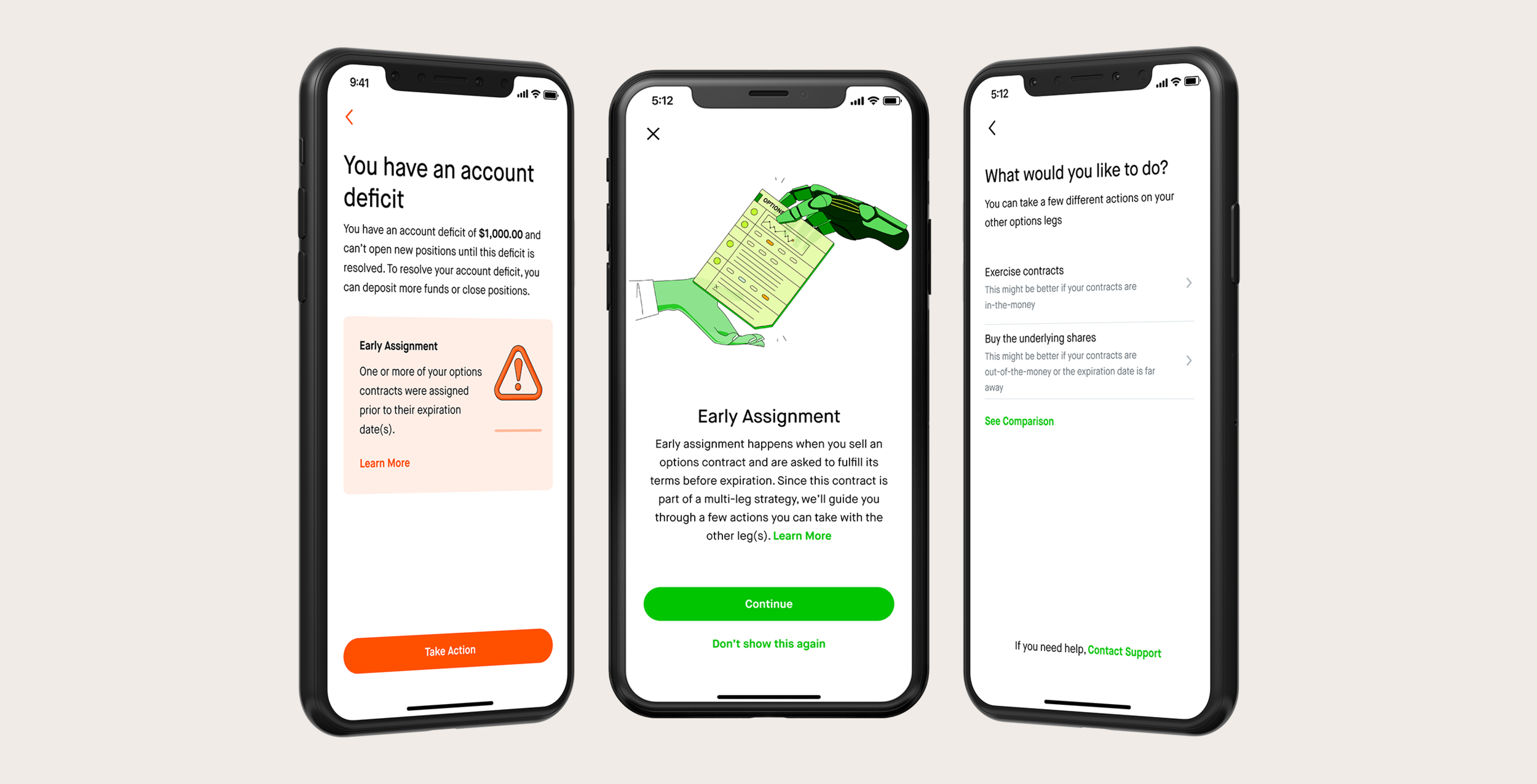 Updates to Buying Power 
We have begun rolling out improvements to how we show buying power in the app. If customers have an account deficit, we'll display the deficit and help them understand the actions they can take to resolve it in different trading situations. Our customer support team is fully trained to respond to customer questions about the new options experience including buying power display.
Options Trading Education
We have revamped resources on our Help Center to add more clarity, including content around options strategies, advanced options strategies, and more information on topics like early options assignments. 
We recently launched additional in-app messaging to help customers better understand the mechanics of early assignment, in which a customer trading a multi-leg options strategy has one leg of the position assigned for exercise prior to the expiration date. We also recently began rolling out a new onboarding experience to walk approved options customers through the foundations of an options spread before upgrading from Level 2 to Level 3 options trading.
We've hired an Options Education Specialist who will join our team later this month and will continue to support these initiatives, as well as provide educational guidance and expertise in our communication channels — from our website to social media to in-product.
Additional Eligibility Criteria
We're rolling out new financial criteria and revised experience requirements for new customers seeking to trade Level 3 options strategies. Robinhood requires customers wishing to trade options to disclose, among other things, investment experience and knowledge, investment objectives, and financial information such as income. Robinhood then conducts an assessment of this information in deciding whether a customer may be approved for options trading.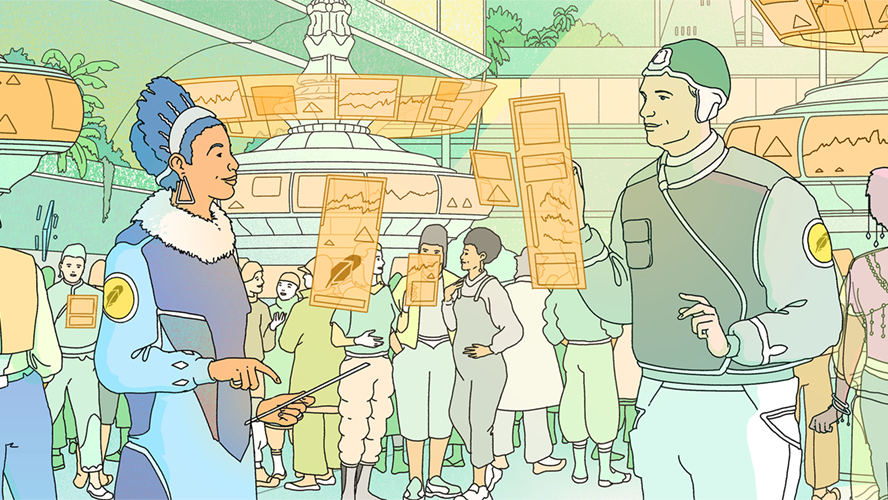 Investing in and Growing Customer Support
To ensure we continue to meet our customers' needs, we recently announced we're hiring hundreds of new registered financial services representatives this year in Denver, Colorado, Southlake, Texas, and Tempe, Arizona. Across all of our locations, we're adding new team members, including dedicated options support representatives, to help us reduce response times, build more self-service tools, and enhance our informational and educational tools. 
We remain committed to providing the best investing experience and resources to help people on their financial journey. Please don't hesitate to contact our support team for more information. 
Commission-free trading refers to $0 commissions for Robinhood Financial self-directed individual cash or margin brokerage accounts that trade U.S. listed securities electronically. Keep in mind, other fees such as trading (non-commission) fees, Gold subscription fees, wire transfer fees, and paper statement fees may apply to your brokerage account. Please see Robinhood Financial's fee schedule to learn more. Read more about how Robinhood makes money. 
Options trading entails significant risk and is not appropriate for all investors. Options transactions are often complex and may involve the potential of losing your entire investment. Investors should consider their investment objectives and risks carefully before investing in options. To learn more about the risks associated with options, please read the Characteristics and Risks of Standardized Options before you begin trading options.