Back To School with Robinhood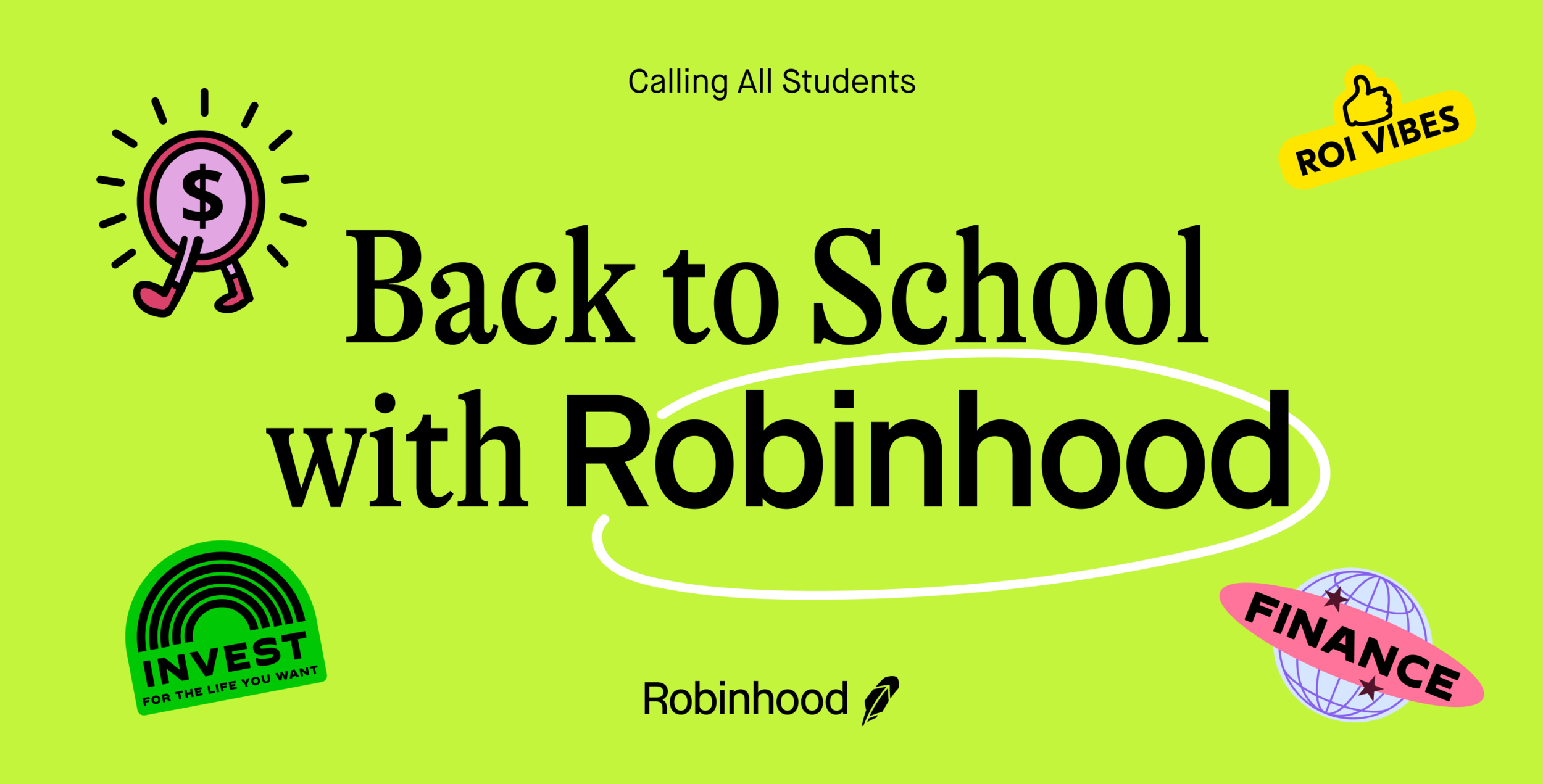 Calling all students 📣: class is now in session. At Robinhood we take great pride in the fact that we're expanding access to financial markets by welcoming a younger, more diverse generation of investors. As a new year of college kicks off for 20 million students nationwide, we want to walk alongside them as they learn about financial markets and take that first step toward investing.
We've already come a long way. We know that more than 3.8 million students have a Robinhood account. But research still shows that the vast majority of young adults have never invested in the stock market despite a world of evidence that investing early and letting compound interest add up is critical to building wealth long-term. 
We're dedicated to getting young people into the markets, because you are the next generation of investors. Learn more about how to get started here. It all adds up to one, collective effort Robinhood is kicking off this month to help young adults get started on their financial journey. 
20k for Tuition Giveaway
Starting today, Robinhood is kicking off a national campaign to encourage college students to get started on their investing journey. We're offering students an opportunity to get into the markets on us – by providing $15 to kickstart their investing habits. All they need to do is sign up with a .edu email using the unique promotional link and link a bank account between September 15 and October 24 . Additionally, we'll be giving away $20,000* to five students who have signed up to put towards their financial journey. Certain limitations apply.
Campus Roadshow
Starting this fall, we'll also be traveling to campus coffee shops at HBCUs and community colleges across the country to host conversations around financial empowerment and literacy with local financial experts and thought leaders. Stay tuned to learn more about these upcoming events- and if Robinhood is coming to your campus 👀. 
Millions of students are already well on their way. We have about 3.8 million account holders who identify as students. They are often getting started with the equivalent of a few vanilla lattes. Students on Robinhood typically start with $25. Where are they turning to for their investments?  Some of the most widely traded stocks among this group will look familiar: AAPL,TSLA and MSFT. 
The difference between starting to invest early in adulthood versus waiting until middle age can be enormous in building wealth over the course of your life. Economists know that. Sophisticated investors know that. Every 20-year-old in this country should know that.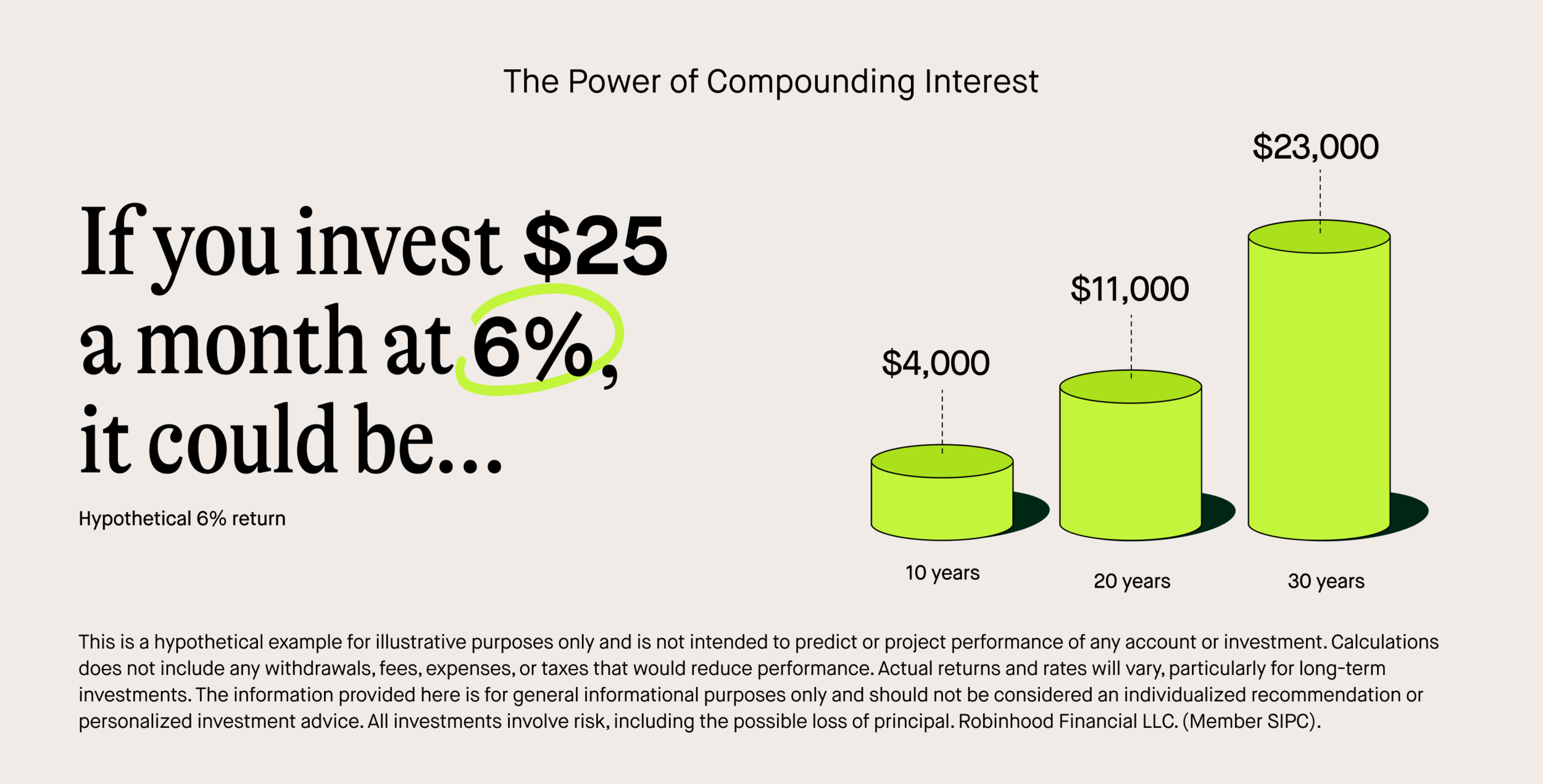 We're proud that so many students are turning to Robinhood to get started, but we know we still have a long way to go.  We want to continue to lead the way when it comes to providing tools and resources to help  young people feel empowered to take charge of their financial futures. Here are some resources you can use to help you  build sound, long-term investing, saving and spending habits: 
In-app learning modules and Robinhood Learn
At Robinhood we make it simple to build your financial confidence on your own time. Earlier this year, we launched our new learning modules, customers can take quick courses on the basics of investing before their first trade. Our first modules cover why people invest, what the stock market is and how it works, and how to define your investing goals. This is just a starting point, and we're excited to introduce more advanced, interactive learning tools in the coming months. Additionally, our resource hub Robinhood Learn already offers hundreds of articles on financial terms, concepts, and timely market trends to support you at any stage of your financial journey. Read up on everything from investing lingo to complex market processes with our collection of over 800 Robinhood Learn articles.
We know investing is a major financial decision and you may have questions along the way. We want to make sure we're available, especially in time-sensitive situations. Currently, we have an in-app contact feature that offers 24/7 phone support for all funding and account security issues and expanded hours for all trading issues including 24-hour, Monday-Friday options support. In the months, we will continue to expand customer support features, so you can get the answers you need, exactly when you need them. 
*NO PURCHASE OR ROBINHOOD ACCOUNT CREATION NECESSARY.  Legal residents of the 50 U.S. (D.C.) 18 years or older.  Ends 10/24/21.  See Official Rules for entry & eligibility requirements, including mail in free method, odds, and prize details, at [rbnhd.co/20k-college-giveaway].  Limit: Up to 10 entries/person. Void where prohibited.
Not a recommendation of a security or investment strategy. All investments involve risk and loss of principal is possible.
Robinhood Financial LLC (member SIPC), is a registered broker dealer.  Robinhood Securities, LLC (member SIPC), provides brokerage clearing services.  Robinhood Crypto, LLC provides crypto currency trading.  All are subsidiaries of Robinhood Markets, Inc. ('Robinhood')