Black Health and Wellness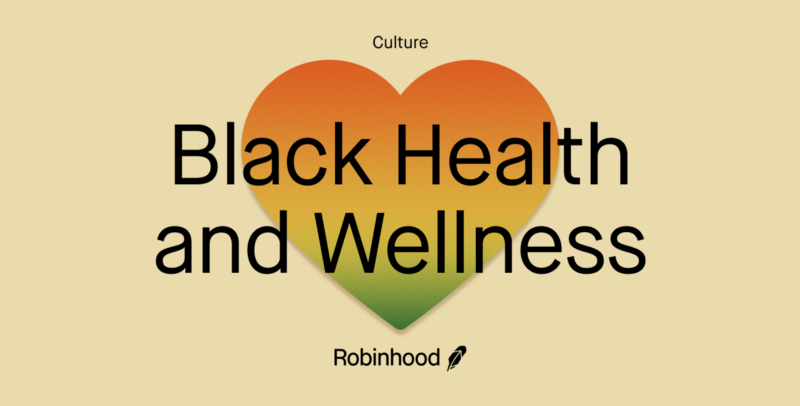 This year's Black History Month theme is "Black Health and Wellness" and we recently sat down with Benice Atufunwa and Dom Reliford — members of our Black Excellence (BEX) Employee Resource Group (ERG) — who shared their experiences and perspectives. The topic of Black health and wellness goes back hundreds of years and this year, our Robinhoodies are having a conversation about the systemic barriers to health and wellness that Black people have faced within the US healthcare system, as well as their experiences seeing the impact to their lives or communities.
Robinhood is committed to creating a culture not only where such an important topic can be discussed, but also where employees are given the resources and encouraged to prioritize their health and wellness.
Benice Atufunwa (she/her) — UX Content Designer, NYC
Dom Reliford (they/she) — Recruiting Coordinator, Menlo Park
Can you share what the Black History Month theme means to you and why it's so important to shed light on it this year?
Dom: Black health and wellness, to me, means unity and community. A long history of systemic oppression and discriminatory, exploitative medical practices forced Black people to establish and maintain their own community resources. Organizations across the country, largely led by young people and students in the 70s, created initiatives to serve and care for Black people including free food distribution, health condition screenings, and free clinics. To this day, in the middle of a global pandemic, people of color who live in poverty are disproportionately affected by a lack of access to necessary health care and an inability to step away from work if one becomes sick.
Benice: The health and wellness of Black people living in the United States has unfortunately been a story of inequity, a denial of one's agency and a stubborn and persistent inability to recognize our humanity and administer care accordingly. From newly freed victims of the trans-Atlantic human trafficking ring having their health and wellness needs woefully and purposefully underserved by the Freedman's Bureau to Henrietta Lacks, the Tuskegee "study" and countless other stories, it's unfortunate that something as trivial as the color of someone's skin can have such an outsized impact on their health outcomes (even when you control for such determining factors like education, age and socio-economic status). And now, as we've seen with the pandemic where certain communities have been more severely impacted than others due to existing inequities, it's important that we tackle this issue.
How have you seen this impact your life or the Black community? What shifts towards the future are you seeing?
Benice: Throughout history, we've seen instance after instance of Black health and wellness being undermined, neglected and not taken seriously. However, now that we're starting to have honest conversations about this topic (which I'm heartened to see happening more and more often) and taking purposeful steps to remedy the issues, I feel like we can eliminate inequities in health outcomes.
Dom: It's important to continue to educate others on the struggles of Black people and other marginalized peoples, and amplify the voices of resistance. It is critical to continue to support community-based organizers and programming that provides people with the social welfare and resources they need.
In an era of easier access to information and social connection, I've seen Black people have candid and in-depth discussions about the history of Black health and wellness and how we can shape its future. I've seen people use social media to share both data-based information and anecdotes about Black physical and mental health. It fills me with hope to see how social media has allowed for increased awareness and more candid discussions around the well being of Black people on individual and institutional levels.
How do you find ways to prioritize yours and your family's health and wellness?
Benice: I'm really fortunate to have grown up with parents who encouraged and taught my siblings and I how to lead healthy lives. Participating in preventative health measures like physicals, eating well and exercising regularly were instilled in us from a young age and are things that I still do as an adult. I also feel fortunate to be living during a time where mental health is slowly but surely being destigmatized and talked about more openly. This has allowed me to educate myself more on this matter and to hopefully be a source of support for anyone who is experiencing a moment where they need to prioritize their mental health.
Dom: I'm lucky and privileged enough to have access to resources that allow me to care for my personal well being. I am able to address both my physical and mental health needs, and this has led to a personal peace knowing that intergenerational cycles of trauma can and will end with me. My own journey with personal wellness has encouraged my family to acknowledge and take care of their own physical and mental health needs as well.
How have you experienced Robinhood supporting associates' health and wellness, and how has this made an impact on your personal and professional experiences?
Dom: I'm incredibly grateful for the community the Black Excellence (BEX) ERG has created at Robinhood. BEX has given me a space to connect with amazing Black professionals and has also provided an open space to discuss issues Black people face. A supportive community within the workplace has made me feel supported and more connected to my peers.
Benice: I think now more than ever, people are seeing the importance of having community and being a part of one. Whether it's personal or professional, community is what has been helping us survive and even thrive during these chaotic times. That's why it's so nice to be a part of BEX where we're able to discuss important topics, provide support for each other and are able to serve other communities through volunteering opportunities.
We are always looking for more individuals who share our commitment to building a diverse team and creating an inclusive environment as we continue in our journey in democratizing finance for all. Check out our open positions — we can't wait to hear from you!
Robinhood Markets Inc. and Medium are separate and unique companies and are not responsible for one another's views or services.
© 2022 Robinhood Markets, Inc.