Black History is Now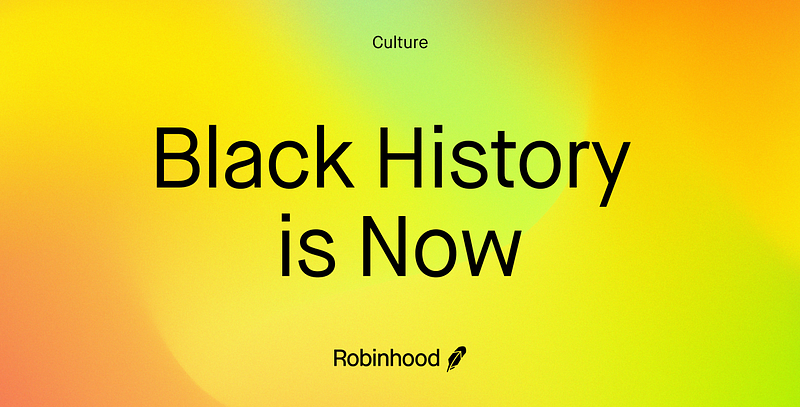 Robinhood was founded on a simple idea: that our financial markets should be accessible to all. With customers at the heart of our decisions, Robinhood is lowering barriers and providing greater access to financial information and investing. Together, we are building products and services that help create a financial system everyone can participate in.
Black History Month is a time of the year dedicated to honoring the contributions of black Americans to society, both in the US and worldwide. All month, we celebrate the numerous achievements and contributions that black Americans have made to our nation, its history, and culture, while appreciating the circumstances and experiences that have stood in their paths.
We recognize that black history is American history. While we celebrate black excellence all year long, we are proud to share some actions we're taking to build relationships with organizations to close the financial and opportunity gap on our mission to democratize finance for all and lower barriers to finance. Robinhood continues to build on its partnerships with the Black Economic Alliance Foundation, The Memorial Foundation, National Bankers Community Alliance, and the National Association of Securities Professionals. All of these partnerships thrive based on a shared commitment to programs and services that prioritize financial well-being, which is a vital step toward eliminating the racial wealth gap. Additionally, Robinhood is thrilled to announce a new partnership with the U.S. Black Chambers (USBC). Together, Robinhood and USBC will bring financial education, focused on retirement planning, to USBC's member organizations; many of whom, as entrepreneurs and small business owners, may not have access to traditional employer-led benefits like 401(k)s. The reach of USBC will enable us to lead educational workshops across the country to connect with USBC's members and Robinhood customers alike.
Throughout this month, we're excited to come together to reflect and learn from the past, recognize the contributions of those who fought injustice with resiliency and celebrate the accomplishments of so many black Americans-past and present. In recognition of the understanding that designating a month does not substitute for addressing the contributions and experiences of black Americans in the narrative of history, we need to continually educate ourselves on the diverse black American narrative. We find value in listening to both our employees and customers' experiences, and ideas to find more ways to have greater impact. As we look ahead to the work, activities and plans Robinhoodies have underway this Black History Month, we are sitting down with Alan, Chriss, Gia, Jacquetta, Marcia, Richard, Shanell, Ta'Neika and William — members of our Black Excellence (BEX) Employee Resource Group (ERG) — who are sharing their thoughts on Black History Month.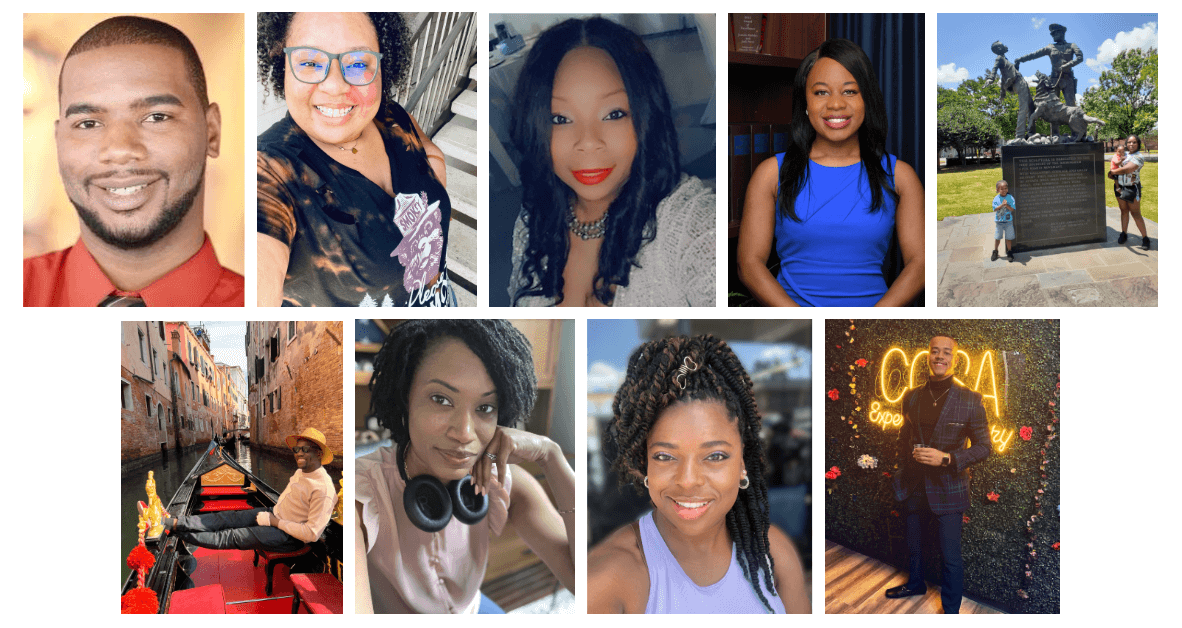 Alan Spivey (he/him), Customer Experience Manager
Chriss Lockett (she/her/hers), Customer Experience Representative
Gia Mooney (she/her/hers), Manager of Payment Operations, Quality Assurance
Jacquetta Woods (she/her), Communications Strategist
Marcia Burrows (she/her), Compliance Senior Specialist
Richard Michel, Customer Experience Representative
Shanell Guardo, Manager of Corp Eng PMO
Ta'Neika Francisco (she/her), Compliance Regulatory Inquiries Specialist
William Lipplett, Customer Experience Representative
Why does Black History Month continue to be important?
Alan: It highlights the incredible contributions past and present of black people in this country. It helps inspire pride in our people and motivation to continue to add to our legacy.
Chriss: Because a lot of us are detached from the reality of what our ancestors endured and overcame. No disrespect to MLK, Malcolm X, and Rosa Parks, but our history is larger and way more impacted and impactful than those few that history books like to put in rotation. We were also more than slaves, and those stories need to be told. So much of our history has been stolen from us that we don't know our true selves. This month is time to connect with those alike and unalike, to tell those stories and embrace those truths. We are worthy and worthy to be celebrated.
Gia: Black History Month is important because it is an opportunity to celebrate and acknowledge key people, contributions and achievements from our community, past and present. Unfortunately our stories are not shared widely throughout the year and this is our opportunity to shift the narrative and go beyond history books to embrace the black heritage and culture.
Jacquetta: Black History Month continues to be important because it (1) celebrates diversity, (2) unites us, (3) takes us beyond the history books, and (4) helps us understand the importance of our stories. Ultimately, celebrating diversity and recognizing its beauty brings us together. It helps us to learn about people from different cultures and backgrounds, and to understand how we are all connected. Finding this connection is what truly unites us.
Marcia: I think Black History Month continues to be important because; 1) a sense of pride in being black should still be instilled in black youth, 2) we should still honor, pay homage to, and highlight all types of black culture, and 3) we should also use this month to convey a message that black people will be black people everyday of their lives, every month of the year, so though we are highlighted in February we should still be recognized as human beings everyday!
Richard: Because it is simply AMERICAN HISTORY.
Shanell: Black History Month is a visible pause and call to learn. In my role, I know it is important to have dedicated, intentional time to share knowledge. Very similar to lessons learned in program management, Black History Month is a retrospective in our life cycle. It is important we take the pause, review the tragedies, failures, analyze what went wrong and find out how we avoid future negative outcomes. With deep, focused analysis we can better identify and understand the current defects that exist in our society as well as rethink our goals, align on the most impactful objectives and deliver on promises of better solutions for our present and future. During retro, we should find the wins, celebrate the victories and victors and be proud that in spite of the circumstances, "look at what was accomplished". I'm reminded to get educated, never forget and never take for granted the efforts of those that came before me. Our history helps form our identity and it is essential to understanding how we are coded. Black History Month is our retro and our willingness to learn from our history will determine what we create tomorrow.
Ta'Neika: It is 2023 and every year I find myself being exposed to an article, a website, a book, a speech or a documentary that unveiled a moment in time, that was a precursor that led to some of the freedoms that I have today. During my freshman year in college, I was introduced to 'The Eyes on the Prize' documentary series and that changed my perspective on what I thought I knew about the civil rights era. That was my first 're-introduction' to black history. That moment in time birthed the passion that I have for learning and community involvement today. This month is a reminder to seek out information that you may not have had access to. Black history is American history, yet America is still fighting for black history to be more than a few chapters in academia.
William: ​​Black History Month continues to be important because black history continues to be written every day. Year over year our community aims to advance in society and promote the achievements that we have reached through struggle, pain, and determination. Black History Month is a time to celebrate, a time to appreciate, a time to embrace, and a time to love. We celebrate our ancestors every month but this month is special.
How do you embody the recognition of black history year-round?
Alan: Teaching black history year-round to my children and creating events around Orlando that highlight black talents and entrepreneurs
Chriss: The way I walk, talk, buy, cook, nurture, and love everyday is how I embody black history. Everything I do, I do with honor for those that came before me. I read and continuously learn because my ancestors fought for that right. I vote because they couldn't. I wear my hair naturally because they were told it's unbecoming. I operate in love with everything I do from holding doors, to cooking meals, because love is what being black embodies.
Gia: I embody the recognition of black history year round by challenging the status quo, forcing conversations around diversity and unconscious bias, as well as sharing the stories and inventions of our people with my daughter and others. I promote and support black businesses and challenge others to do the same. This is not a one month conversation, but February opens the door.
Jacquetta: I embody the recognition of black history year round because I AM black history. I am an advocate and a mentor for those that seek understanding and guidance. I celebrate the accomplishments of those around me and those who came before me. I will continue to embrace the beauty of what black history represents.
Marcia: I speak in dialect because I feel it keeps me close to my ancestors. I try to support black owned businesses throughout the year. Also, though my kids are young, I started taking them to black historical sites and museums in the US to start their education and appreciation for black history early.
Richard: By being the best that you can be and breaking down prejudices and judgments
Shanell: I embody the recognition of black history year round by never forgetting the community that raised me or those that came before me. I praise and remember the selfless black teachers who volunteered their weekends to mentor underprivileged minorities, coaching us to be college bound. I celebrate black excellence of today, providing feedback so they know they are appreciated and valued. I purposely seek out other black women who need to know there are sponsors and mentors out there ready to help. Lastly, I practice gratitude and thankfulness for my present to include my time here at Robinhood.
Ta'Neika: I embody black history year round by choosing to be the change I wish to see in the world. I step out and risk being uncomfortable in environments when I'm the only one with my background. I don't take that opportunity for granted. Contributing to the conversations emphasizes the importance of diverse perspectives in a world that is always changing around me. I demonstrate compassion and listen to the life accounts of my elders. They have witnessed first hand what I have read about in books and seen in documentaries. Lastly, I visit black history museums and art museums featuring black artists. There is always a learning moment when I immerse myself in an environment that may have a moment from the past, that has yet to grace a textbook. Experiences like these move and inspire me year round.
William: Embody black history year round through leading by example. It's so easy to try and fit into the narrative that was written for you, but black history is all about carving out your own path. It can range from simple things such as always dressing to impress, to the more intimate things such as deep conversations with family members on what history really looked like for black Americans and how we got to where we are today. Every decision that I make and carry on my reputation is an embodiment of black history in the making.
We are always looking for more individuals who share our commitment to building a diverse team and creating an inclusive environment as we continue in our journey to democratize finance for all. Stay connected with us — join our talent community and check out our open positions!
Robinhood and Medium are separate and unique companies and are not responsible for one another's views or services.
© 2023 Robinhood Markets, Inc.