Black History Month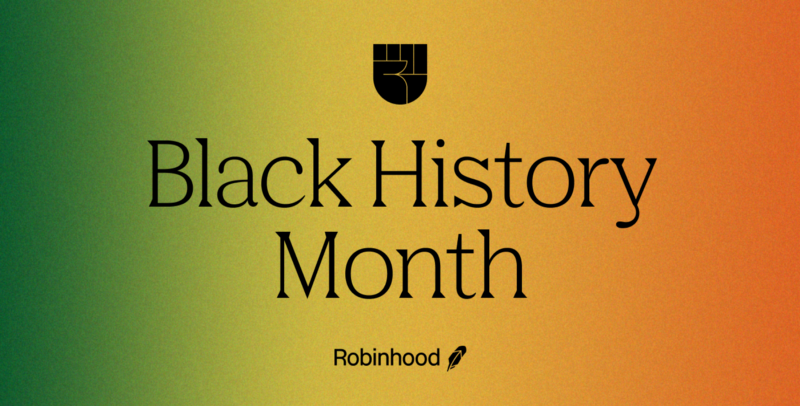 We recognize that Black history is American history and while we celebrate Black excellence all year long, we are taking the time to spotlight the countless contributions and achievements of Black people in the US in honor of Black History Month. At Robinhood, we believe that actions are more powerful than words. Throughout the year, Robinhood has found meaningful partners and organizations to work with to close the financial and opportunity gap on our mission to democratize finance for all and lower barriers to finance.
To strengthen our ties to the Black community, and understand their needs and largest barriers to building generational wealth, we partnered with the National Bankers Association (NBA), an association representing minority-owned banks, as part of their National Bankers Community Alliance, which aims to close the racial wealth gap in America. We also donated to 8 Cents in a Jar, a nonprofit serving students in the Black community in Central Florida to achieve intergenerational mobility through financial education. Our Co-Founder, Baiju Bhatt, hosted a fireside chat last summer with Lauren Simmons, the youngest woman and second Black woman trader on Wall Street, and Ferriss Mason, stylist, community organizer and Robinhood investor, to discuss the barriers of investing in their communities.
We're also partnering with HBCUs (Historically Black Colleges & Universities) to increase representation and access to financial services and tech careers. In the summer of 2021, Robinhood launched a paid fellowship intended for HBCU students who were interested in exploring career opportunities in finance and tech. In addition, we also held "Robinhood Rooms" events during our Back to School Campaign across five HBCUs where we welcomed thought leaders and student representatives to discuss the educational and emotional barriers to personal finances and financial well-being and what it will take to overcome them.
Most recently, we announced our new partnership with The Memorial Foundation in support of their Global Youth Leadership Conferences where students will examine leadership principles advocated by Martin Luther King, Jr. and his contemporaries, through a challenging curriculum designed to build and enhance the students' leadership skills. While interacting with their peers, students will use their critical thinking skills to discover how to make meaningful change, not just within themselves, but also in their communities and the world around them.
We find value in listening to both our employees and customers' experiences and ideas to find more ways to have greater impact. As we look ahead to the work, activities, and plans Robinhoodies have underway this Black History Month, we are sitting down with Chris Duroseau and Esther Layode — members of our Black Excellence (BEX) Employee Resource Group (ERG) — who are sharing the history behind Black History Month, what it means to them and how they are applying learnings from the past to create new and expanded opportunities for the Black community.

Chris Duroseau (he/him) — Brokerage Tax Associate and Financial Manager for BEX, Lake Mary
Esther Layode (she/her) — Regulatory Matters Manager, Lake Mary
Can you share your perspectives on the meaning and importance of Black History Month?
Chris: As an African American male, Black History Month represents more than just a month of being Black and proud. I personally see this month as a time for showcasing Black excellence to the world so that more people who are not from a Black or African American background can be grateful for the contributions of Black people. I believe the importance of BHM began with its inception as Negro History Week. Later, its importance grew as the week was increased to a month-long celebration. Now, as our country evolves, it is my hope that BHM will be not only celebrated nationally but recognized as a foundational piece of history that is taught by all historians throughout the year.
Esther: As an immigrant from Nigeria who moved to the US as a teenager, I had mostly only learned of the origins of the slave trade and the struggles of the African people, when families were torn apart and taken away on ships. During my initial years in the US, Black History generally, and Black History Month specifically, provided an opportunity to close that knowledge gap and educate myself on what happened from the time we got here on those ships and onwards. Black History Month was, and continues to be, a time of learning and reflection. I did not know a lot of the history, nor did I have the same shared experiences as my Black American-born peers. It was important to me to understand the path they walked, and to learn the stories of those whose lives and sacrifices paved the way for me, and celebrating Black History helped me accomplish that. Now, as we strive for equity and justice in a society that seems to have become more resistant in recent years, Black History Month is a time to show our pride, celebrate our accomplishments, and revel in our greatness.
What does Black History Month mean to you?
Esther: Black History Month to me is a time to celebrate a culture and a people, both past and present, that remain resilient in the face of tremendous adversity. It reminds me of the suffering and injustice that the Black culture has faced and still continues to face, but more importantly it tells a story of perseverance and victory despite the odds. I am an eternal optimist, and while I know we still have a lot of work to do to achieve racial justice and equity, during Black History Month I choose to honor the sacrifices of those before us who have laid the groundwork and led this fight, and to celebrate those who continue that fight today so that someday, my daughters can walk truly free, and be judged not by the color of their skin but by the strength of their character.
Chris: To me BHM is a celebration of my heritage — past, present, and future. It's a month of reflection that will linger throughout the year as we honor all the great individuals that paved the way. During this month, I also join in with others to take notice of those individuals who are presently making Black history. BHM is a reminder of how far we have come and how much more there still is to accomplish. We use this month to acknowledge the horrors and mistreatment that Black people have endured throughout American history, but we also use it to celebrate and honor Black culture, Black greatness and Black triumph.
Share some of the work, activities and plans Robinhood's Black Excellence (BEX) ERG has for this month and how it will impact Hoodies and the community:
Chris: One of our goals in BEX is to empower the community that we service. In line with this goal, we have planned various activities that directly exude that goal. A few of the activities are, (1) a fireside chat with a civil rights professor from a well known university, (2) spotlighting Black owned health and wellness companies, and (3) a self-empowerment workshop for professional elevation. These named activities along with the others unnamed, are designed with the notion that in order to make an impact, you have to be armed with knowledge. Our way of empowerment is through learning and acquiring resources to support personal growth or to fuel someone else's growth.
Esther: True to Robinhood's mission, BEX's celebration of Black History Month always includes conversations and activities around improving financial literacy and access for our community. We invite speakers who can elevate those conversations, and sponsor a non-profit that's doing meaningful work in those areas within the communities we live in. We will also focus on health and wellness, career advancement and allyship.
The theme for this year's Black History Month is "Black Health and Wellness" — can you share how you find ways to incorporate health and wellness into your life, both personally and professionally?
Esther: I consider myself fortunate because I have always been great at taking care of myself both physically and mentally, whether it's with my personal or professional life. I am a mom to two girls, and my job can be demanding, but I always try to leave some time at the end of the day for an activity that helps me unwind, whether it be reading a book, taking a walk, or catching up on a favorite series. I find being intentional about daily me-time works wonders for me, and having something to look forward to at the end of the day helps make those daily challenges a little less daunting. Robinhood also provides great wellness benefits that I take advantage of like monthly stipends that I use for massages, as well as access to therapy services if I need them. I also never let a wellness day go to waste, and I use that time to recharge.
Chris: I have always been a huge proponent of meditation. I rely on meditation to maintain my sanity both during my personal and professional life. When stressful situations arise, I do my best to step away and focus on my breath flowing in and out of my body. Besides meditation, I am focused on maintaining a healthy lifestyle by keeping active and bike riding. I am an avid bicycle rider, sometimes finding myself riding 20+ miles on any given day. In addition, my family most certainly impacts my health and wellness. By placing them first, after my faith, everything else falls into place.
We are always looking for more individuals who share our commitment to building a diverse team and creating an inclusive environment as we continue in our journey in democratizing finance for all. Check out our open positions — we can't wait to hear from you!
Robinhood Markets Inc. and Medium are separate and unique companies and are not responsible for one another's views or services.
© 2022 Robinhood Markets, Inc.