Breaking into Tech: Robinhood's Hackathon for Social Good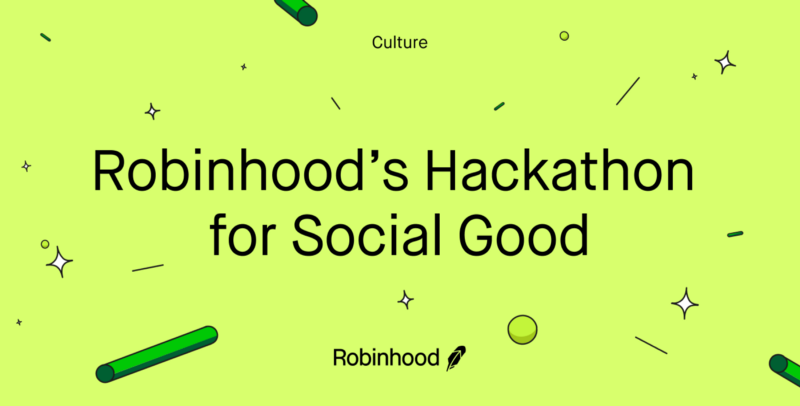 With the start of another academic year quickly approaching, we talked to the team in charge of our first ever Hackathon for Social Good, our biggest external student event this year! Taking place September 23rd — 25th, this team of Robinhoodies is gearing up to host a 3 day event which will host a diverse group of university-level students from all over the nation working on projects for social good. This event will feature tech talks, professional mentorship from Robinhoodies, group events, and prizes for the winning team.
As the team prepares for the event, we had a coffee chat with some of the organizers to discuss their motivation behind the effort, what we should expect, and their takeaways from organizing such a large scale event.
Sejal K. Parmar (she/hers), Backend Engineer, remote (Menlo Park)
Ashley Smith (she/her), Project Manager, UR Programs + Events, remote (Lake Mary)
Hiran Thacker (she/her), Corporate Development (M&A), Menlo Park
What is your inspiration behind organizing an event like this?
Sejal: As a college student, I attended various hackathons and pipeline events hosted by companies which helped me develop an understanding of what being an engineer was like. When I attended these events, I had the ability to find mentors in the industry and observe people like myself excel in their positions. This allowed me to realize that tech could be a career path for me! On top of that, Robinhood's mission is to democratize finance for all, and we focus a lot on giving back to the greater community. Combining our mission with the desire to mentor the next generation of diverse talent in the industry inspired me to write a proposal for this hackathon and float it around the company. When I saw how many people were excited about the idea for the event, I knew we had to make it a reality.
Ashley: The thought of making the world a better place with the skills you possess is a driving force on why I do what I do each day. I graduated with an event management degree with a desire to plan corporate events. What I didn't realize was how impactful those events could be. Planning events is a passion of mine, but what I've found the most rewarding are the events that give back to students early in their careers to help them gain knowledge and experience. Sejal's idea for the Hackathon for Social Good is the kind of event where I get to mix my passion for planning events and making the world a better place through the projects these intelligent students will create.
Hiran: I believe in democratizing access to education and career opportunities for all. Seeking a career in STEM can be intimidating, especially without the right mentorship and guidance. Hence, we want to provide a platform for students from diverse backgrounds to have faith in their abilities, develop trust in their talents, and gain access to a supportive community who will be rooting for them. Joining Robinhood made me strengthen my resolve to impact someone's life in a positive way, whether empowering them to become financially independent or following their passions and dreams.
What are you most excited about?
Sejal: After over six months of organizing this three day hackathon, I'm excited to see it become a reality! This event is going to be a great opportunity for students of all backgrounds, and it'll be really cool to see what everyone comes up with. Who knows? Maybe the next world-changing startup will be a result of a project here!
Hiran: Wow, it's actually happening! I can't wait for these students to put their heads together and solve real life issues and change the landscape of the future via technology.
How many Robinhoodies are organizing and volunteering over the course of the event?
Sejal: Our organizing team consists of one director, 14 direct organizers in the core group, and over 40 volunteers participating across the event.
Are there any internal Employee Resource Groups that have been involved in the organization of this event?
Sejal: This event started as the Women in Tech external hackathon, but as I started talking to others across the company, a lot of the other ERGs were interested in getting involved. As a result, this is a cross-functional effort across various Robinhood teams that is now considered the overall Robinhood Hackathon for Social Good.
How does this opportunity help Robinhood democratize finance for all?
Ashley: Robinhood has always sought to help everyone with a desire to better their financial journey. This event is marketed to underrepresented groups but is open to all because we believe that anything we do should remain inclusive and educational. This hackathon may just be an event to some, but for others it could mean connecting with someone in a professional setting that could change their entire outlook on their career journey or create a relationship that will one day help them get a job with their dream company.
Hiran: We are connectors — bringing people together, and enabling them to become financially independent. This hackathon will be an opportunity to learn from the best, gain motivation, and become inspired to pursue a career path in technology.
What is one key takeaway you want the attendees to have from the hackathon?
Sejal: Tech is an industry where you can make a ton of impact on the lives of millions of people, no matter what level you're at. I hope attendees have a great experience learning from current Robinhoodies and gain an understanding of what it's like being an engineer at a company like Robinhood.
Ashley: Go after what you love to do in life — life is too short to not take chances and participating in events like this could lead to some great inspiration and potential career possibilities.
Hiran: Believe in yourself. The sky is not the limit. Do not forget to make the world a better, happier, and more inclusive place. Onwards & Upwards!
Are you a university level student that is interested in attending in Robinhood's Hackathon for Social Good? Click here to find more details about the event and apply.
We are always looking for more individuals who share our commitment to building a diverse team and creating an inclusive environment as we continue in our journey in democratizing finance for all. Check out our open positions — we can't wait to hear from you!
Robinhood Markets, Inc. and Medium are separate and unique companies and are not responsible for one another's views or services.
© 2022 Robinhood Markets, Inc.