Building a Thoughtful Scaling Framework For Engineering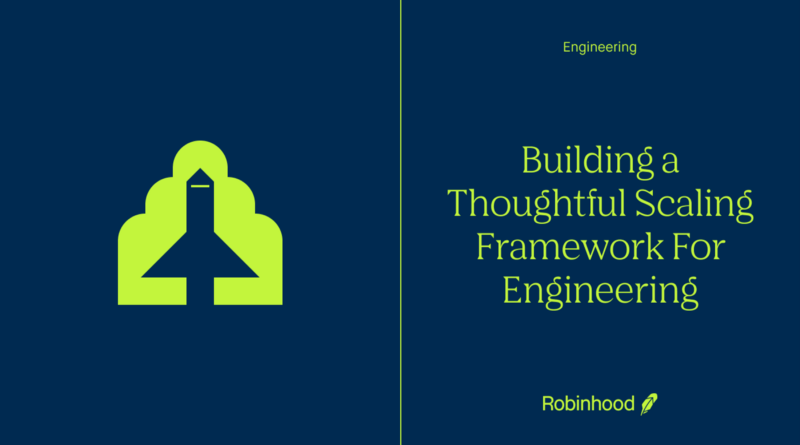 Building a Thoughtful Scaling Framework For Engineering
Robinhood customers are at the forefront of a generational shift in the financial markets, and at the intersection of technology and finance. We're taking the best of these two worlds and bringing them together by investing significantly in our core technology and infrastructure, and at the same time in being safe, compliant and secure.
We've invested heavily to prepare for unexpected rises and dips in traffic. For instance, we've more than doubled our team over the last year and hope to reach 1,000 engineers by the end of 2021. My philosophy is that in order to uphold our values, our approach to scaling must be truly deliberate, from how we onboard, to our engineering standards, to how we operate. At Robinhood, our engineering team scales through a framework informed by three core pillars:
Technology
At heart, we're a tech company that's disrupting the financial industry, and we take pride in world class engineering standards and best practices. We scale our systems through technical innovation to meet the unique challenges that come with the dynamic and unpredictable swings in the financial markets. We built the order routing system that allows us to route a customer's order to market makers to execute their trade. We went self clearing in 2018, which allowed us to clear and settle trades without relying on a third party clearing firm. Our clearing system brings value for our customers and our firm, providing the infrastructure for products like cash management, fractional shares and margin securities lending. As we look to the future, we're focused on architecting our systems to support new products for our customers that will continue to lower the barriers to participation in the financial markets.
People
The second pillar of the framework considers an engineer's career journey at Robinhood. Onboarding our talent and setting them up for success from day one means teaching every engineer what "great" looks like at Robinhood, and how we support them along the way. Our interns and junior engineers have the opportunity to do career-defining work, and the platform to present their projects at our weekly company meetings. Elliott, one of our recent grads, helped with sharding our core trading system. There's also Stuart, who worked with 10+ teams to migrate over 400+ messages to our customers as part of a project to send communications 10x faster. These are just a few examples of how our engineers take ownership of large projects, solving dynamic, unpredictable problems that have real meaning for our customers.
Process
We want to empower engineers to guide the long-term technical direction, and drive organizational change. Our structure lets our teams achieve this because the process for driving change is less ambiguous. People get support when they need it, and have clarity on how things work. Take, for example, our engineering design doc process. We introduced this into the engineering organization last year; as a review forum it provides visibility into new projects and technologies to the organization, ensures our systems are high quality, and follows clear engineering standards. It can be hard to drive a structural change like this, and our approach ensures that our most senior engineers are able to drive their work forward despite our fast scaling demands.
Let's start solving together
Robinhood spent the past six years building a top-tier product. A track record that has also brought a new set of challenges. With every new challenge, we find a completely new set of opportunities, and we're just at the beginning of our journey.
In the coming months, we hope to draw the curtain back further to give you a behind the scenes look at how we're meeting and solving system stability as well as some of our biggest technical challenges. Stay tuned!
Robinhood and Medium are separate and unique companies and are not responsible for one another's views or services. All investments involve risk and loss of principal is possible. Robinhood Financial, LLC (member SIPC), is a registered broker dealer. Robinhood Securities LLC (member SIPC), provides brokerage clearing services. Robinhood Crypto, LLC provides crypto currency trading. All are subsidiaries of Robinhood Markets, Inc ('Robinhood').
Tweet us — Like us — Join us — Get help — Disclosures