Building the Modern Day IRA Metropolis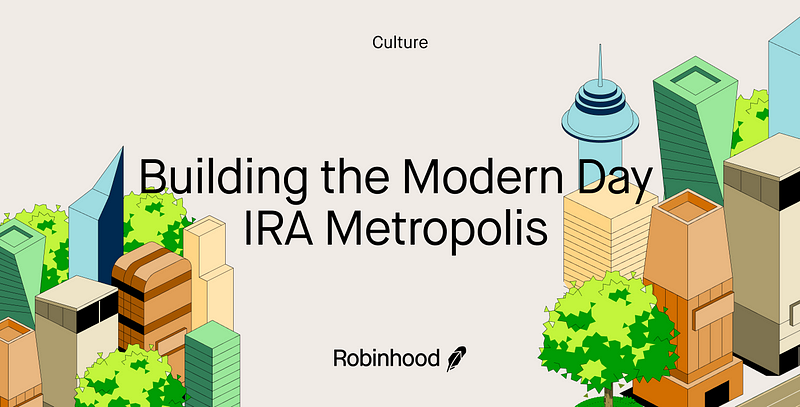 Robinhood was founded on a simple idea: that our financial markets should be accessible to all. With customers at the heart of our decisions, Robinhood is lowering barriers and providing greater access to financial information and investing. Together, we are building products and services that help create a financial system everyone can participate in.
Working at Robinhood means contributing to a mission that goes beyond just making profits. Our Robinhoodies are helping to democratize finance and give people the tools they need to achieve their financial goals. We are constantly exploring new ideas and pushing the boundaries of what's possible to make a real impact on people's lives — truly transforming the future of finance. One of the most exciting aspects of working at Robinhood is the opportunity to work on new features and products.
In today's blog, we're sitting down with and spotlighting Vincent Schaffer, a Senior Manager of Retirement Services who played a critical role in building a revolutionary product for Robinhood — individual retirement accounts (IRA). Since joining Robinhood in late 2021, Vincent played a key role in standing up the operations needed for Robinhood to offer individual retirement accounts (IRAs). His team facilitates the end to end support, coordination and supervision of the retirement account lifecycle on the Robinhood platform.
Looking back on the journey, which launched almost a year to the date of Vincent onboarding, he is still as passionate as ever about playing a role in breaking the generational chains of failing to invest early for retirement. Much like Robinhood set out to disrupt the IRA industry by offering a 1% match on IRA contributions, Vincent had a similar desire to disrupt his career as a way to unlock meaningful growth opportunities after 14 successful years at a traditional brokerage firm. He also had a desire to change the status quo of the way financial services operations roles are viewed by never settling for "the way things have always been done", and instead, asking "is there a better way to do this?"
Read on to learn more about his learnings from his first year at Robinhood and how he played a key role in standing up the operations needed for Robinhood to offer IRAs.
As an employee who recently joined Robinhood from a larger and more traditional banking institution, Vincent shares that he learned a lot during his first year here. Moving from a big bank to a startup can be a big change, but it's also an exciting opportunity to learn new things and grow as a professional. Here are Vincent's top five first-year learnings at Robinhood:
Embrace the startup culture: Robinhood is a fast-paced, dynamic environment that values innovation, collaboration, and agility. The startup culture is very different from the more traditional corporate culture, but it's refreshing to work in an environment where new ideas are encouraged and experimentation is the norm.
Customer obsession is key: At Robinhood, the customer is at the center of everything we do. We focus on the needs of our customers and think about how we can provide the best possible experience for them. This customer obsession has been a key part of our success.
Tech skills are a must: Working at a fintech startup like Robinhood requires a solid understanding of technology and how it can be leveraged to improve our products and services. Our teams collaborate closely with one another to stay up-to-date on the latest trends and innovations in the fintech industry.
Data-driven decision making: At Robinhood, we use data to inform our decision making and measure the impact of our initiatives. We embrace data and use it to gain insights into our customers' behavior and preferences, and to measure the success of our marketing and product campaigns.
Be open to change: In a startup environment, things can change quickly and often. By being flexible and adaptable, we celebrate change as an opportunity to learn and grow. This mindset will help anyone navigate the many changes and challenges that come with working at Robinhood.
So, how did Vincent apply these learnings and lead the team to stand up the operations needed for Robinhood to offer individual retirement accounts (IRAs)?
While many in the industry think that our retirement ops support is just a necessity out of offering a new account type, the reality is that it had been years in the making — strategically collaborating with many talented Hoodies to bring it all together. The term "it takes a village" took on new meaning as the team set out to stand up a new product offering from scratch and lay the foundation for a modern day IRA operations metropolis.
Rewind back to when Robinhood's application to become a retirement non-bank custodian was approved by the Internal Revenue Service (IRS), think of this as receiving zoning approval to acquire land to build a new community.
The journey of working with product then began — partnering with the product management team, the team collectively became the architects designing the blueprints for engineering to build a new product.
Much like obtaining permits and having inspections — the Legal and Compliance partnership yielded the productive friction and necessary approvals, ensuring all ops controls were in place.
The construction then began — with the Product Operations Manager (POM) partners serving as the general contractors for the offering and the Engineering teams building to spec — the framing of oversight reports commenced and the walls began to go up on the new platform tooling.
Much like a new development needs paved streets and sidewalks to travel back and forth, Robinhood needed new tax reporting functionality to send and receive tax info to reporting authorities — this is where the tax ops partners filled this critical role.
Brokerage ops partners (such as Account Services, ACATs, Margin and Treasury) helped integrate into their existing infrastructure, much like connecting the plumbing and electric to existing city services.
Finally the customer service (CX) partners serve as the HOA — the eyes and ears of the community telling the team what neighbors like about our offering, how it can be spruced it up, but more importantly coming alongside ops to deliver an innovative retirement experience for customers.
So where did the team go from here and what did they learn along the way? While the launch of IRAs seems like a finish line that was crossed — the reality for Robinhood Retirement ops is that it was a starting point. The small but mighty team is built with great talent, bringing together retirement subject matter expertise to keep our offering compliant and innovative thinking to differentiate our services and operations. There's a shared desire to automate as much as possible and use the team's knowledge and expertise to navigate the undefined areas of the business.
Vincent notes his biggest takeaway in helping build this from scratch — even though other IRA providers have a four decade head start on Robinhood, the team is using this to their advantage. There isn't a need to put bandaids on a legacy ops platform, but rather it's built right the first time. That in combination with the partnerships built across the Robinhood organization, gives a unique vantage point to connect the dots and understand the downstream importance of ops impact to the IRA owner and overall organization. Robinhood and the team are in a great position to govern the IRA metropolis that was built and continue to add to the impressive skyline in the near future!
We are always looking for more individuals who share our commitment to building a diverse team and creating an inclusive environment as we continue in our journey to democratize finance for all. Stay connected with us — join our talent community and check out our open positions!
Customers must hold the funds in their IRA for at least 5 years to keep the match. Funds must come from an external source to receive the match.
Funds being contributed into or distributed from retirement accounts may entail tax consequences. Contributions are limited and withdrawals before age 59 1/2 may be subject to a penalty tax. Robinhood does not provide tax advice; please consult with a tax adviser if you have questions.
The Robinhood IRA is available to any customer with a Robinhood brokerage account in good standing.
All investments involve risk and loss of principal is possible.
Robinhood Financial LLC (member SIPC), is a registered broker dealer. Robinhood Securities, LLC (member SIPC), is a registered broker dealer and provides brokerage clearing services. All are subsidiaries of Robinhood Markets, Inc. ('Robinhood').
Robinhood and Medium are separate and unique companies and are not responsible for one another's views or services.
© 2023 Robinhood Markets, Inc.