Celebrando Comunidad: Hispanic Heritage Month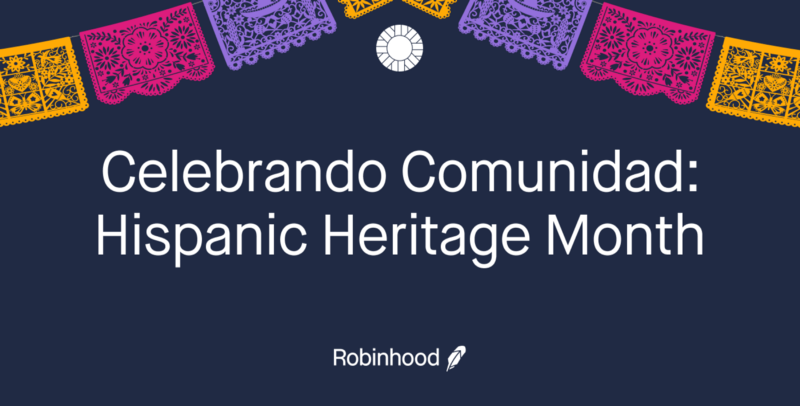 Robinhood was founded on a simple idea: that our financial markets should be accessible to all. With customers at the heart of our decisions, Robinhood is lowering barriers and providing greater access to financial information and investing. Together, we are building products and services that help create a financial system everyone can participate in.
Throughout September 15 — October 15, Latinhood, Robinhood's Employee Resource Group, will be hosting a variety of events with the shared purpose of celebrating their shared community. Join us as we feature some of our Latinhoodies and discover how they celebrate Hispanic Heritage Month.
Why is Hispanic Heritage Month important to celebrate in the workplace?
"Celebrating Hispanic Heritage Month is important because it provides an opportunity to create awareness about the Hispanic community's diversity and accomplishments." — Jemal Osejo-Santana (He/Him), CSG — Core Resolutions Desk
"By celebrating Hispanic Heritage Month everyone in the workplace has an opportunity to experience our rich culture which is present across Latin America. As Latinos we love to share our food, music and traditions with EVERYONE and Hispanic Heritage Month allows this opportunity." — Robert Velez (He/Him), Regulatory Reporting
"I believe it's important for us to showcase the traditions and cultures of each of our Robinhoodies within our organization. You don't have to be hispanic to celebrate Hispanic Heritage Month, but you can be an ally and support your fellow friends who do celebrate. Connecting with Robinhoodies with similar backgrounds is what helps make this company great. When you put all types of different people in a room, something magical comes out of it." — Ranier Lopez (He/Him), Account Operations
What are some ways you celebrate your culture?
"I love to embrace and share cultural traditions with others, such as holidays and ethnic cuisines and foods." — Jemal
"I celebrate my culture by teaching my kids the importance of their Latin Heritage and by showing support to Latin owned businesses." — Robert
"One way I celebrate my culture is by eating lots of Peruvian food such as my favorite dish Lomo Saltado with a side of Inca Kola." — Ranier
How has being a part of Latinhood impacted you?
"Being a part of Latinhood has allowed me to meet, network, and befriend fellow Latinhoodies from many different Latino/Hispanic backgrounds and countries. It has also allowed me to share more about my culture and nationality with other members of the ERG. Additionally, it's been an opportunity to develop leadership and social skills as a member of the Leadership team." — Jemal
"Latinhood has allowed me to feel proud of being Latin at Robinhood. Our customs and our nature is fully accepted through our ERG." — Robert
"I love being able to help serve and connect more with my teammates. Through Latinhood I've had the privilege to join the committee on the finance chair, which excites me to learn more about other latin cultures (and their food as well). I have also recently helped with the Color Stack Conference, where I spoke about Latinhood and the importance of diversity within Robinhood. I thoroughly enjoy being able to help and hopefully inspire future Latinx in the workplace. Always keep challenging yourself to become a better you." — Ranier
What does Hispanic Heritage Month mean to you?
"Hispanic Heritage Month is a month to celebrate both the diversity and commonalities of Hispanic culture." — Jemal
"Hispanic Heritage Month is a time to celebrate our culture with others. Our loud and vibrant customs are on center stage to share with everyone, and that's something we all love to do." — Robert
"I grew up in a half Peruvian / Filipino home, which when growing up, I always felt different or an outsider from others. Through many challenging years and growth, I realized that being different is okay. And overcoming these challenges is what helped me become the person I am today. So go be different in a positive manner and connect and learn with others; it's worth it." — Ranier
We are always looking for more individuals who share our commitment to building a diverse team and creating an inclusive environment as we continue in our journey in democratizing finance for all. Stay connected with us — join our talent community and check out our Early Talent roles!
Robinhood Markets, Inc. and Medium are separate and unique companies and are not responsible for one another's views or services.
© 2022 Robinhood Markets, Inc.