Celebrating our Parenthoodies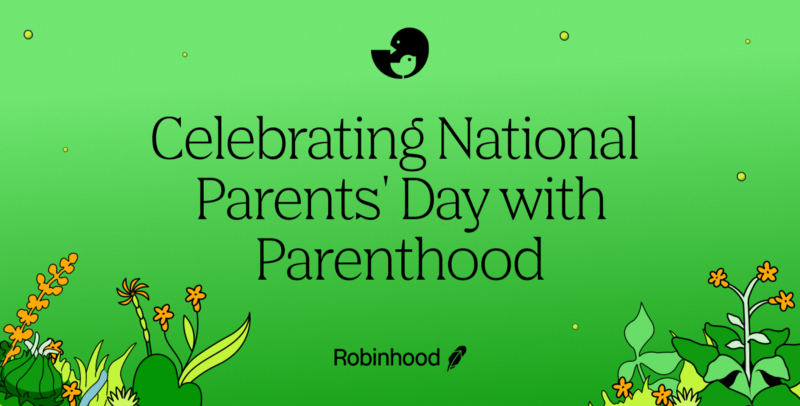 Here at Robinhood, we have an ever-growing Parenthood Employee Resource Group — a community of parents who collaborate, openly share triumphs & challenges, and support each other through the journey of Parenthood.
This National Parents' Day, we are highlighting this community and recognizing the amazing impact our Parenthoodies are making in the lives of their children. Our Parenthood ERG hosts events throughout the year that have fostered connections within the community such as "Planning Smart for Your Child's Future" and intersectional speaker series with other Robinhood ERGs such as Divergent and Rainbowhood.
Now let's meet some of our Parenthoodies!
How do you invest in your children?
I invest in my children through quality time — the afternoons and the weekends are the kids' time. We make very few exceptions to this — for work or anything else. My four-year-old daughter is cognizant of when she doesn't have my full attention, and I want her to grow up knowing the value of her time. — Anita Tseng (she/her), Brokerage — UX Research Manager
I make sure each of my kids gets time with me each day individually to talk about how they are doing, their passions, their fears, and their growing pains. I make sure to let them know that you can't be amazing at everything, but find what you are great at and I'll support you! — Ashley Csencsits (she/her), CXR — Licensed CX Rep- Core
Some of my favorite ways to invest as a parent are coaching t-ball, swim lessons, nightly reading, and art crafts. — Chris Colthurst (he/him), SRE — Say Technologies — Engineering
We try to make sure that we invest in their interests — even if that interest is intended for older kids. We'll spend the time with them to nurture interest when it takes more supervision. For example, my oldest son was 8 years old and wanted a 3D printer. We found one that was age appropriate but required some parent intervention from time to time. I've learned more about 3D printing than I thought I would ever have and over the past 5 years we've graduated to a more professional 3D printer and he's grown in both skill and interest. — Chris Montfort (he/him), CorpEng PMO — Staff Technical Program Manager
I want my daughter to be passionate about whatever she decides to do in life. Right now, her passion is dance, therefore I make sure that I am setting her up for success. It's up to her to actually follow through and make it happen. Sure it can get expensive, and it's often difficult to juggle schedules, but I know it's worth it in the end because dance will continue to help her grow, find her confidence, and could potentially provide additional opportunities when it is time to apply to college. — Stephanie Masi (she/her), PeopleX — Employee Relations Business Partner
What has been the most challenging part about being a parent? What has it taught you?
The MOST challenging part is when kids are at the stage when they are unable to verbalize their frustration, hurt, sadness, and anger with a situation and tend to yell or fight with others. Having a house of five people, with vastly different personalities and maturity levels can be stressful. But it allows me to teach them to love and accept people for where they are in life. We are who we are based on our "map". Our experiences, education, personalities, limits and skills. It's not a good or bad thing. It is just who we are at this point in life. — Ashley
Reliving childhood trauma has taught me to give myself permission to fail and take time for myself. — Chris C.
The most challenging part is finding my own parenting style and not falling back to what I experienced through my own childhood. Change is good and the way I was raised isn't necessarily the best way to raise my children. Even between kids, my parenting style has been dynamic and has shifted because each one is unique in their own way. — Chris M.
Now that my daughter has entered the pre-teen phase, the hardest part is letting go and allowing her to have some independence. I've always wanted to protect her, keep her safe, be by her side and now I find myself having to be comfortable with her wanting to do things without me. Don't get me wrong, I still know exactly where she is, who she's with, etc, but it's just the worry that I'm not there if she needs me. Call me a helicopter mom if you must, but it's an area I'm still learning. — Stephanie
What is a piece of advice you would give to a first-time parent?
Breathe. When your children are frustrating you, remember your goal is to help them learn how to navigate the world so keep your frustration to yourself and focus on them. Once the situation is handled, take your moment away to cry, yell, whatever you need to let your own frustration out. See each stressful moment as an opportunity to grow and learn both for you and your little one. — Ashley
A piece of advice I would give is to join a parent support group and forgive yourself quickly. — Chris C.
As a parent, why is transforming the future of finance important to you?
I didn't grow up with a lot, and as immigrants, my parents didn't have access to much financial education due to language barriers and cultural differences. The effects of this are still felt today in how their retirement years are playing out. Robinhood's mission has resonated from the very start because access to finance is so important and there is so much opportunity for technology to improve access to the financial markets. — Anita
After working in the 401K realm, I was able to see so many people in their 50s, 60s and 70s with nothing to live off of and struggling. There really is no fix once you are at that point. Teaching your kids financial skills and providing the opportunity to practice money management is critical to setting them up for a healthy and joyful life later on. — Ashley
I'm part of the generation that was saddled with huge amounts of student loan debt with the promise that it would be easy to pay it off regardless of what I did with my college degree. I'm fortunate to have had great jobs but I'm still paying back student loans almost 14 years later. We need to make the future affordable for our children and be transparent about the loan process and what interest is and how it can affect your loan. I see financial education as a cornerstone for Robinhood that will be the key to democratizing finance for all. — Chris M.
I want to grow old and retire knowing that my child is comfortable and secure in her finances as an adult. The school system doesn't necessarily teach children the importance of investing, saving, and spending habits. I want her to know what's available to her so that she can make sound decisions to build a nice little nest egg for herself. — Stephanie
What is your favorite bonding activity to do with your children?
My favorite bonding activities with my children involve being outside such as hiking and taking walks. My toddler has so much wonder about wildlife right now, and my daughter always asks the best questions about nature. (Plus we live in the Bay Area where the weather and scenery are perfect for exploring!) — Anita
We love camping, visiting new places, and going for swims in rivers and lakes. It's really just doing anything that means we are outdoors and spending time in nature and away from the distractions of technology. — Chris M.
It's simple, just going for a walk. Whether it's around the neighborhood or in a park — those are the times she talks and I can truly listen without distractions. We have the best conversations while getting our steps in. — Stephanie
We are always looking for more individuals who share our commitment to building a diverse team and creating an inclusive environment as we continue in our journey in democratizing finance for all. Check out our open positions — we can't wait to hear from you!
Robinhood Markets, Inc. and Medium are separate and unique companies and are not responsible for one another's views or services.
Robinhood means Robinhood Markets, Inc. and its in-application and web experiences with its family of wholly-owned subsidiaries. Brokerage services are offered through Robinhood Financial LLC, a registered broker dealer with clearing services through Robinhood Securities, LLC, a registered broker dealer. Cryptocurrency services are offered through Robinhood Crypto, LLC. The Robinhood Money spending account is offered through Robinhood Money, LLC, a licensed money transmitter. Say Technologies, LLC provides technology services for shareholder engagement and communication.
© 2022 Robinhood Markets, Inc.