Celebrating Pride Month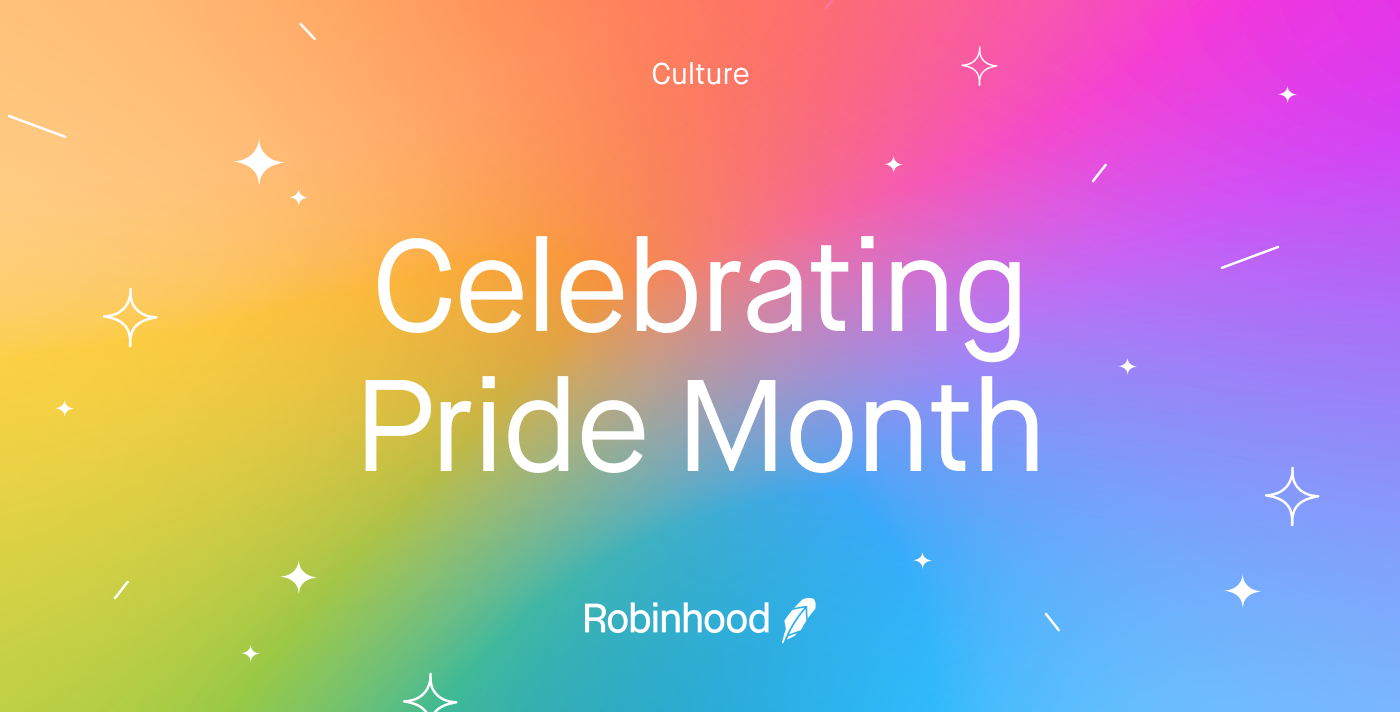 Robinhood was founded on a simple idea: that our financial markets should be accessible to all. With customers at the heart of our decisions, Robinhood is lowering barriers and providing greater access to financial information and investing. Together, we are building products and services that help create a financial system everyone can participate in.
…
Pride Month is a celebration of LGBTQ+ (Lesbian, Gay, Bisexual, Transgender, Queer, and others) culture and commemorates the Stonewall riots that occurred on June 28, 1969 in Manhattan, New York, a pivotal event that marked the tipping point of the movement for LGBTQ+ rights in the United States.
During Pride Month, the achievements and contributions of the LGBTQ+ community to society and history are recognized and celebrated on a global scale. It's a time to raise awareness, to promote equality, and to celebrate diversity and acceptance. Various events, including parades, parties, and protests, are organized during this month. It's a month of pride, remembrance, and action, celebrating progress while also acknowledging ongoing struggles for LGBTQ+ rights.
Over this Pride Month, we've united to celebrate and learn. Our Rainbowhood Employee Resource Group (ERG) organized various events throughout the month. We hosted Brooke Guinan (they/she) the First Out, Trans-Firefighter in the NYFD to speak out about their personal experience with their identity and to educate others on the nuances of gender and sexual identity. We engaged in a meaningful fireside chat with Say Technologies and their new customer, Grindr, about brand image/reputation, safety by design, and what it means to build an inclusive product. We tested our knowledge with Queer Trivia, covering everything from history to pop culture and intersectionality. In partnership with our Parenthood ERG, we had a memorable Drag Story Hour for employees and their children. As a tribute to the lives lost in the tragic Pulse Shooting seven years ago, we organized volunteer opportunities nationwide which allowed our employees to make a meaningful impact in their local LGBTQ+ communities.
We're excited to wrap up the month with our 3rd Annual Drag Bingo and by sharing this insightful Q&A session featuring Em Hinger, Chinsin Sim, and Jade Van Horn, members of our Rainbowhood ERG who share their career experiences and their favorite part of Pride.
This year's Pride theme is "Strength in Solidarity". What does "Strength in Solidarity" mean to you?
Em: Strength in solidarity is a reminder of how we got to where we are today, and how we move forward. It embraces the history of intersectionality, and allows everyone to have a space in the community.
Jade: I think that this year's theme of Strength in Solidarity is about the power the LGBTQIA+ community has when we come together as well as the important role allyship plays in our journey towards a more equitable world. It also highlights the intersectionality of the queer community especially with other minority identities, where we are all working towards the same goal of equality and we are stronger together than as individual groups.
What got you involved in Rainbowhood and how has it contributed to your experience at Robinhood?
Em: I joined Rainbowhood as a member during a really challenging time in my life, and from the moment I showed up to the first meeting I knew I found a place I belonged, and they welcomed me with open arms. Rainbowhood has been like a family to me since day one, but it also has given me the chance to meet some truly outstanding mentors, leaders, and coworkers. I am involved in Rainbowhood because Rainbowhood was there for me when I felt like I had nothing to offer, and now, I can repay that kindness and support, and be openly questioning my gender identity and discuss with my peers all of the unique emotions and feelings that come with exploring and discovering who you really truly are.
Chinsin: Rainbowhood provides a diversity rich place for people. Rainbowhood continues to provide a sanctuary and support system for people who look, act and are like me. At Robinhood, my identity, thoughts and opinions have always been respected, included and accepted at every step of the way. I continue to give back because I know how important it is for employees to feel psychologically safe and heard, especially in today's climate.
How has your identity shaped or influenced your career?
Em: My identity early on was able to be masked, I presented straight, female for most of my life, not from a family that wouldn't love me, but from a corporate world where I may not find a place, and where I would always be "othered". My career had me suppressing my identity for a really long time, because Financial firms are a hard industry for women, and even more difficult for someone with a more fluid gender expression and identity. Robinhood has made a fantastic community where I not only feel like I can fully be my authentic self, but that I know my bosses opinions of me are going to be solely performance based.
Jade: My identity as a queer woman has always been something I take Pride in but when I started my career I wasn't sure how my identity would come into play in the workplace. I knew I wasn't willing to go into the closet for a job or in a culture that did not celebrate people's identity. When looking for jobs, I was sure to ask about the company culture and ask about resources provided for queer employees. As I have moved through my career, my identity has opened networking opportunities with other leaders in my industry and community. Being in a place like Robinhood where I can bring my full self to work has made it the standard for me in the future, and I am grateful for that privilege and hope one day every workplace will be as accepting as Robinhood.
What is your favorite part of Pride? What are you most excited for this Pride?
Em: I am most excited to engage with Rainbowhood during our events this month. I always love making new connections in our Rainbowhood community, as it allows me to know people who otherwise I wouldn't interact with on a day to day. I also learn something from every single meeting or event we have. Queer culture runs deep, and is so intermingled with other identities that everyone has their own views and feelings on different experiences, and that is always amazing to learn
Chinsin: There is something quite magical when you see people live their full, authentic lives without any hesitations or fear of retaliation, and harm. And to me, that is something worth celebrating and protecting.
Jade: There is nothing quite like being surrounded by people that are just happy to be able to be seen and share their love with the world. The vibes are unmatched no matter what Pride I have attended. You can really feel the love in the air and the excitement to just be free. And let's be real, no one parties like the LGBTQ+ community. I am so excited to bring my newly out friends to their first Pride.
…
Say Technologies, LLC provides technology services for shareholder engagement and communication. Say Technologies is a wholly-owned subsidiary of Robinhood Markets, Inc. ("Robinhood").
…
© 2023 Robinhood Markets, Inc.
…
2972148