Coffee Buddies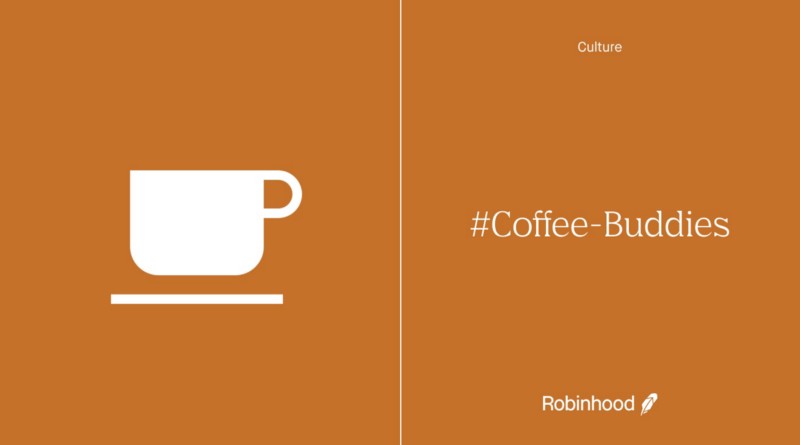 Here at Robinhood we are one big team, regardless of where you are located or what you are working on. We like to strengthen our community by staying connected as teammates and friends. Our favorite way to do this is simple — grabbing some coffee with each other — and not even working remotely can stop us!
So let's dive in and hear more on #coffee-buddies…!
Coffee Buddies is a company tradition to meet people from any and all teams here at Robinhood. Whether you're in our new Chicago office, or located in our office in Menlo Park, CA — you'll have a chance to connect with people as if you bumped into them in the break room. With COVID-19 and with new Robinhoodies across different geographic locations, coffee buddies is becoming more and more important to maintain our company culture here at Robinhood.
Fa-brew-lous beginnings
When I first joined Robinhood, we had just north of 80 employees in one office. Fast forward to today, we have over thousands of full time employees across over 10 offices.
A huge motivating factor in launching coffee buddies was to connect people across the company as if we were still in our small, humble office at Ash Street (one of our original offices). To be honest — I can't take full credit for this program — the original idea came from a seminar I attended about cultivating culture. That's when the "aha" moment kicked in and I quickly jumped to action and created our coffee buddies channel. The real success of the program is due to everyones' unwavering support and interest to continue elevating our culture. Now, this program is embedded into each new hire orientation where new hires are encouraged to join on Day 1.
A latte of buddies
Don't be fooled, coffee is not required for coffee buddies — in fact, some people get tea, sparkling water, or even ramen together! Every two weeks, each Robinhoodie who has opted into the program is paired with a colleague and encouraged to meet for 30 minutes and get to know one another (or catch up!). Nowadays, these catch ups have all been virtual. Over the past year, it's proven to be a great way for colleagues to get acquainted with one another. Hundreds of people at Robinhood have participated in the program and it's helped employees across all levels (yep, even our co-founders!), every team, and all of our offices meet more of their colleagues. It's been amazing to see how this program continues to strengthen our culture at Robinhood!
Espresso Yourself!
As we grow, our teams, clubs, offices, and Employee Resource Groups have started their own coffee buddies group so that communities within the company can stay connected with each other. Here are some of these groups!
#asianhood-boba-buddies
#people-coffee-buddies
#rainbowhood-buddies
#cafecito-buddies
#tempe-coffee-buddies
Hear what other Robinhoodies have to say about their coffee buddies experience:
Coffee buddies is literally the number one thing I tell new hires to get involved in. It's incredibly useful for building a community and meeting people from organizations and teams that you wouldn't otherwise work with in a professional capacity. As we grow — especially during COVID WFH times — this sort of social forcing function is just more and more critical to fostering integration and collaboration across the entire company.
— Marco Calderón, Product Operations Manager
The #coffee-buddies group has been an amazing way to connect with Robinhoodies on every team and in every location. I have become friends with teammates that I would normally have never interacted with, and I feel much more connected to the greater Robinhood community 🙂
— Betsy Underwood, Talent Brand Specialist
The coffee buddies group has helped with remote onboarding and getting to know others outside of my core day-to-day especially since we don't have the kitchen/hallway chats anymore!
— Brian Tao, Technical Recruiter
Coffee buddies allowed for a great space for networking across the company with different colleagues from different departments. In this work-from-home remote environment, I have enjoyed spending 30 min every so often with people that I have not met and maybe would have never come into contact with. It's socially entertaining as well as gives context that we at Robinhood are all one team working towards the same thing. I am a fan of coffee buddies.
— Allum Ross, Customer Experience Representative
We are looking to meet more growth-minded and collaborative people to be a part of our journey in democratizing finance for all. If you are interested in becoming one of our coffee buddies, check out our open positions — we can't wait to hear from you!
Robinhood and Medium are separate and unique companies and are not responsible for one another's views or services.