Democratizing Access to Financial Literacy For All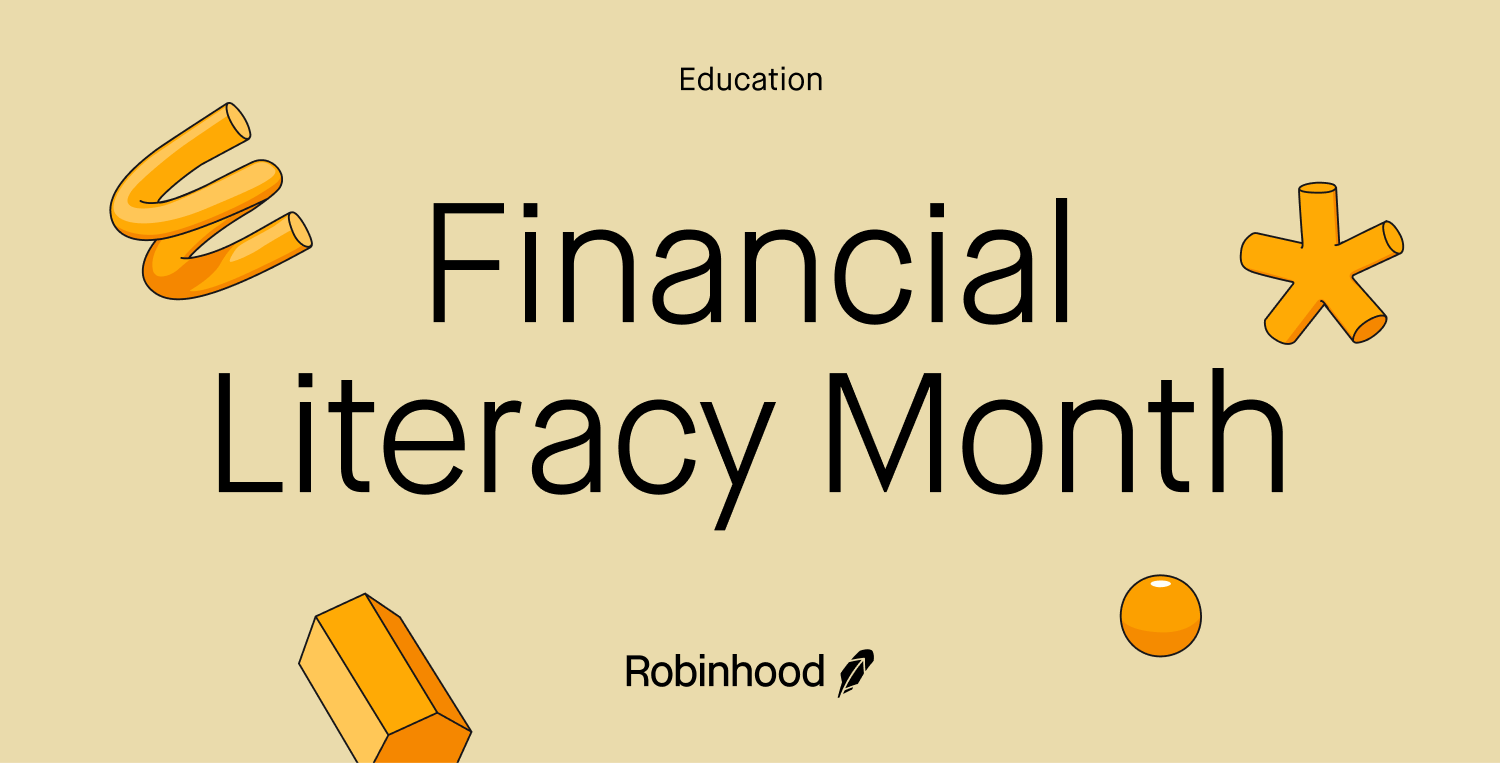 Financial literacy is central to what we do at Robinhood. We want our customers and the next generation of retail investors to feel empowered to make informed financial decisions at every stage of their investment journey.
But we can't do it alone. Improving access to financial education requires investments in technology and close partnerships with the public sector and educational institutions. While we've seen some positive momentum in Financial Literacy policy with 23 states requiring financial courses for high school students, national surveys still point to a broader gap in financial knowledge. Many people of all ages still lack a basic understanding of the personal finance concepts needed to make informed financial decisions, according to research from the Milken Institute.  To commemorate the end of Financial Literacy Month, we wanted to share some of our recent efforts as we continued to create more access to financial education for both customers and the public. 
Here are a few highlights from our progress:
Launched In-App Financial Education for All Customers with Learn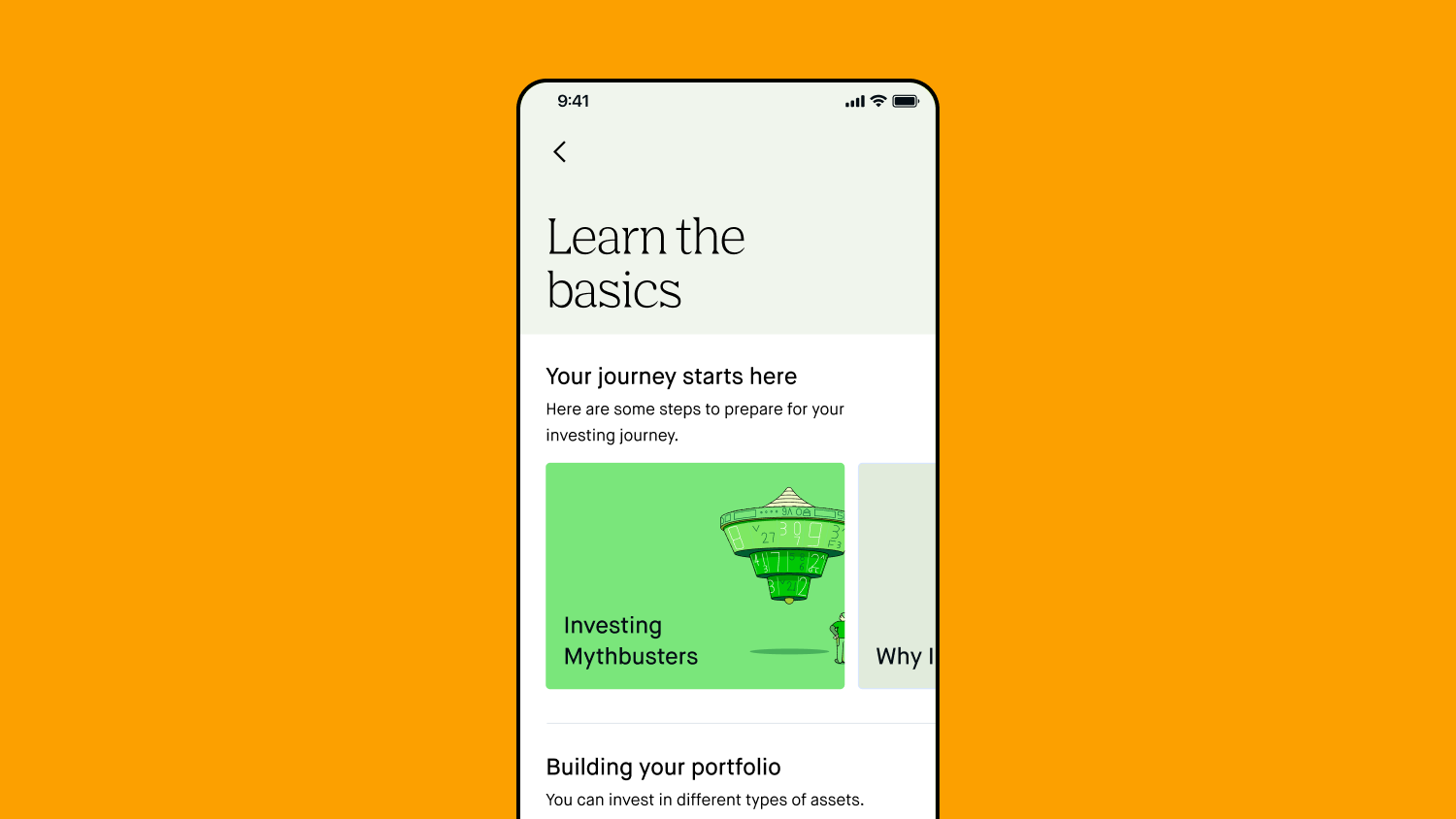 Robinhood Learn, our in-app educational experience, makes financial education accessible for all customers through easy to understand financial lessons and effortless design. Last year, we added education modules into the app as part of the onboarding process for new customers. Since then, we expanded access to all customers, and added more than 10 new financial lessons. We gave Learn a home on the browse tab, making it easier for all customers to navigate to educational materials in the app. Additionally, we added new entry points to educational content throughout the app, designed to provide our customers with in-context education opportunities, reducing their burden for additional research. We also expanded coverage of financial topics, such as education on Exchange Traded Funds, Initial Public Offerings, and Cryptocurrencies to support the needs of a wider audience of Robinhood customers.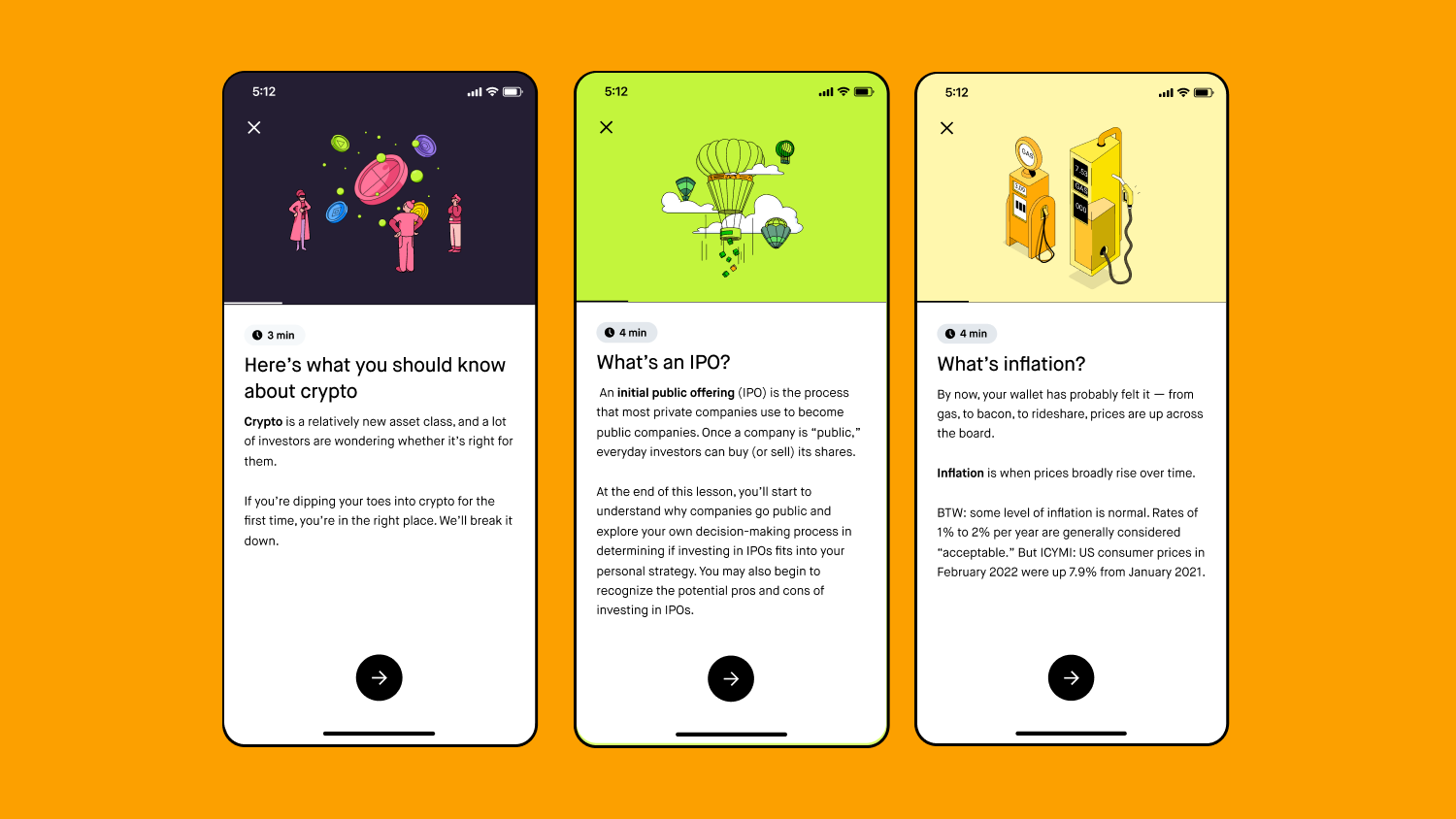 This new initiative builds on our recent addition of educational tours for stock detail pages. We know that about half of our customers are just getting started, so we recently introduced a guide that breaks down the elements on a stock detail page, from the ticker symbol to a description of the stock's chart. By giving customers contextual education, we hope to address the emotional and educational barriers that prevent them from investing in their future. In the coming weeks, we're looking to launch the same feature for Crypto and ETF Detail Pages.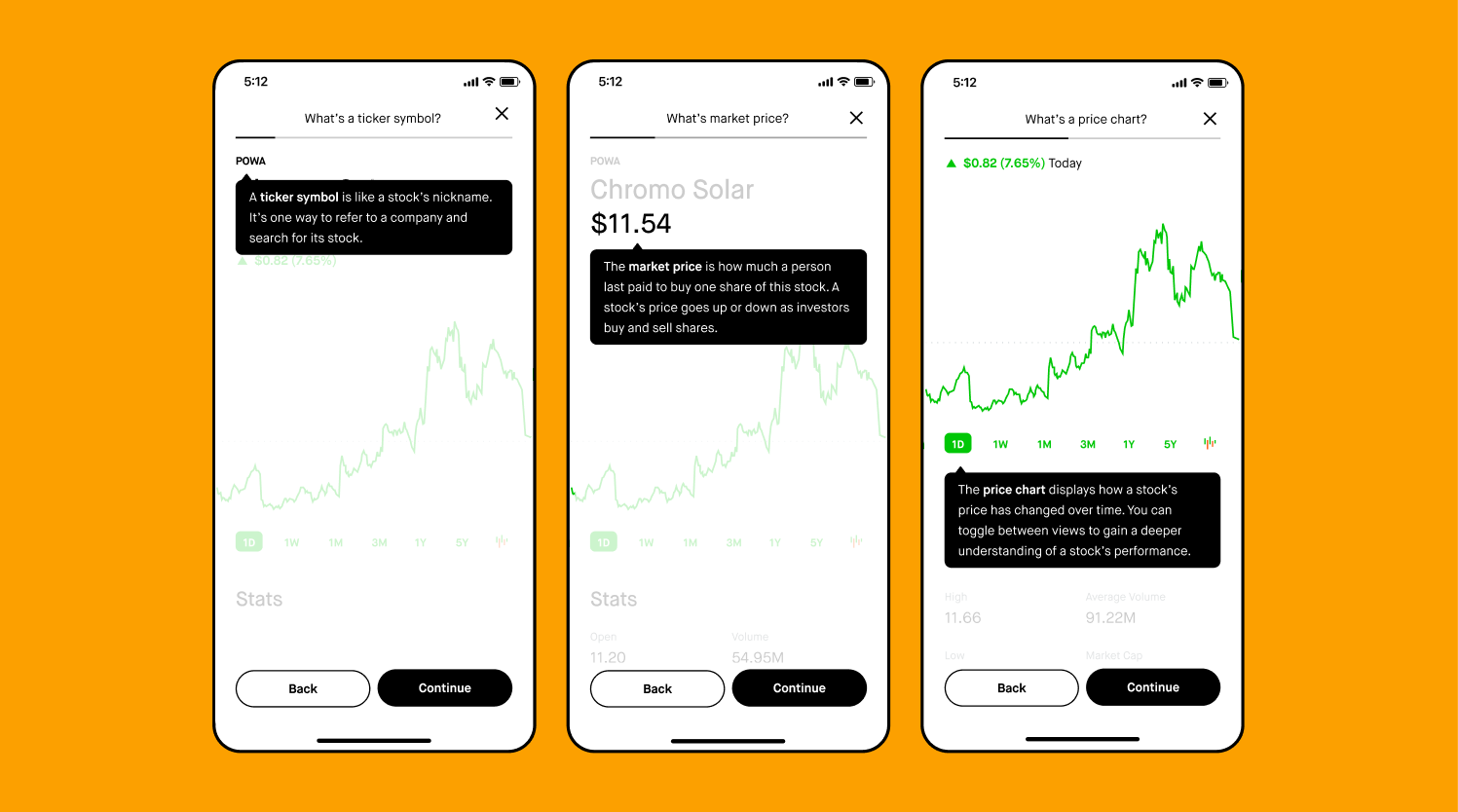 Launched The First-of-its-kind D1 Financial Education Program in the U.S.
This month, we partnered with West Virginia University to launch a financial education program for student-athletes. The four-year partnership makes WVU the first D1 university to offer financial literacy coursework for every student athlete, starting with the 2022-2023 school year. Student athletes who join professional leagues after graduation are often faced with difficult financial decisions, and lack the educational resources to help them along the way. Nearly 16% of NFL players file for bankruptcy within 12 years of retirement, and 60% of NBA players face financial challenges within five years of leaving the league. We're proud to work with WVU to provide access to financial education to help address those challenges.
While many companies offer financial education via pamphlets or one-time workshops, we're thrilled to bring the spirit of democratizing finance for all to WVU with this first-ever semester course entirely dedicated to financial education for student-athletes.
To further drive access to financial education for all communities, Robinhood hosted its first investor education workshop in Spanish for families in San Jose, CA. The workshop was conducted in partnership with Breakthrough Silicon Valley, an organization aimed at empowering low-income, first-generation students to go to college. The workshops were led by members of Robinhood's Latinhood, the company's Latino employee resource group. 
Financial Literacy Content for the Public
Our Snacks newsletter is among the most widely read financial newsletters in the country, and serves as a platform for markets education for millions of people. During Financial Literacy Month, we created a video series, with Money Mentor, Patrice Washington, which supports four women in navigating earning, spending, saving, and investing conversations. The topics span everything from student loans, to budgeting, and learning how to negotiate for a raise. 
We've also launched an educational video series on options trading. Options Trading Essentials is a comprehensive series dedicated to teaching the ins and outs of options trading. The series is built to guide viewers through the world of options, starting with the basics. The first 10 episodes cover "options 101" and explain how options contracts work, the basics of options pricing, and other topics. The goal is to educate and build our customers' confidence before they make their first trade. Licensed professionals wrote and produced the episodes, and the information is applicable to traders of all levels. 
Both video series are currently available on the Robinhood YouTube channel.
We'll continue to find new ways to improve our customers' financial education in-app, on social media, and wherever they are on campus or on the field. While we're proud to have made progress during Financial Literacy Month, we remain committed to democratizing access through education 365 days a year.
Options trading entails significant risk and is not appropriate for all investors. Customers must read and understand the Characteristics and Risks of Standardized Options before engaging in any options trading strategies. Customers should consider their investment objectives and risks carefully before investing in options. Supporting documentation for any claims, if applicable, will be furnished upon request.