Earn 3% Interest with Robinhood Gold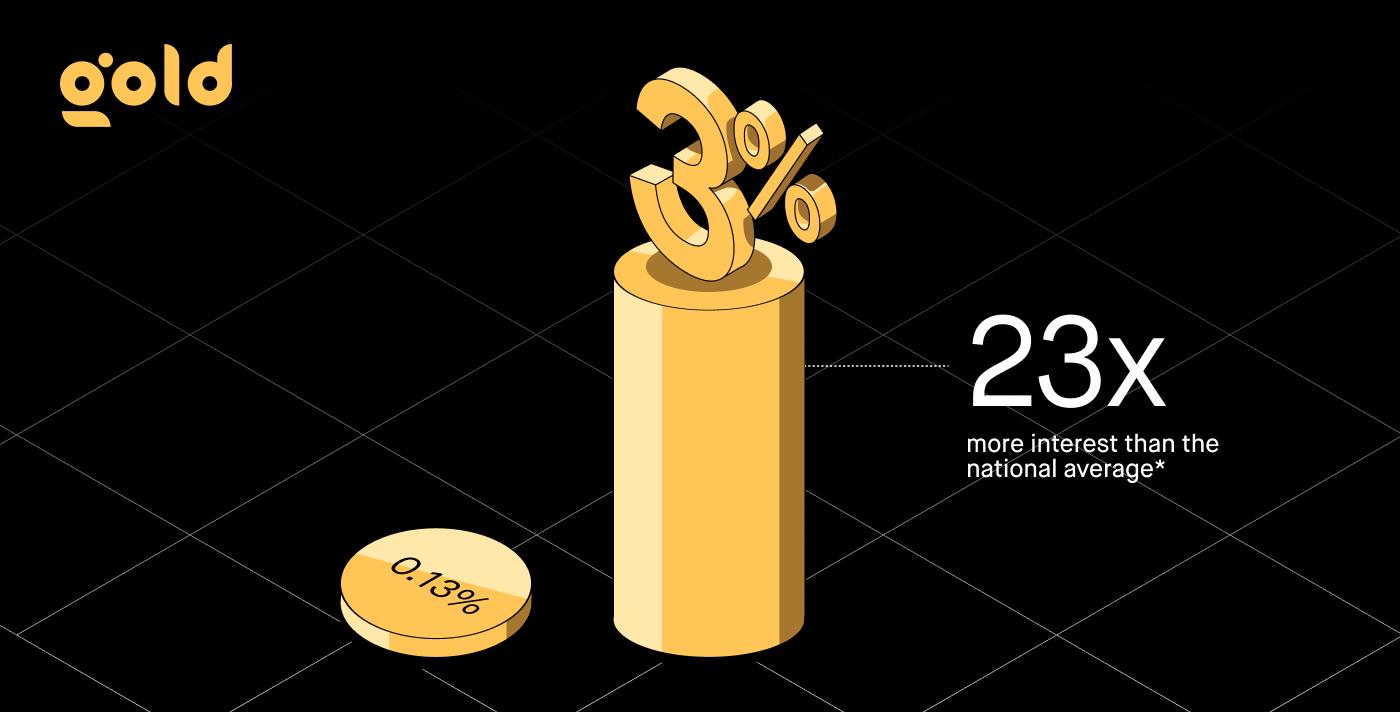 3% interest on uninvested cash is the latest benefit for Robinhood Gold customers and is one of the best interest rates in the industry
Update: As of December 16, 2022 the Gold Cash Sweep rate is now 4% APY. Read more at: https://blog.robinhood.com/news/earn-4-percent-apy-with-robinhood-gold
Today we're introducing a new Robinhood Gold benefit that enables members to earn 3% interest on their brokerage cash–up from 1.5% for non-Gold members. With the new interest rate, Gold customers can now earn even more income on their uninvested cash while they plan their next move and collect 23x more in interest when compared to the national average savings rate*. The added benefit comes on the heels of the Fed rate hike earlier this week.  
Since launching the revamped brokerage cash sweep program in May we've seen strong adoption from our Gold users, who currently have about $750 million enrolled in cash sweeps. Effective immediately, all of these cash sweep balances are now earning 3% interest with the interest compounding daily. Interest is then paid out monthly by the program banks, and customers can keep track of how much they've earned directly within the app.
Customers who wish to enroll in cash sweep can search for 'Cash Sweep' directly within the app, can find it via the 'Discover more' carousel, or they can tap the 'Account' icon in the bottom right corner, navigate to the 'Investing' tab in the top left menu, and select 'Enable cash sweep.'  
Today's interest rate increase is a new offering for Gold customers, who already receive access to a suite of benefits including: 
Larger Instant Deposits. With Gold, customers can get even larger Instant Deposits**—up to $50,000 depending on their brokerage account balance and status. 
Professional research from Morningstar. Gold members get unlimited access to Morningstar's premium, in-depth stock research reports. These reports are available for approximately 1,700 stocks and are updated frequently to reflect important company events.
Level II market data from Nasdaq. Level II market data shows multiple bid and ask prices from Nasdaq for any given security so investors can better determine the availability or desire for a security at a certain price. 
Access to margin investing at 5.75% interest. Eligible customers can borrow money from Robinhood and leverage their holdings to purchase securities. For Gold customers, the first $1,000 of margin is included, and then Gold customers pay 5.75% yearly interest beyond that. Non-Gold customers who are eligible have access to a margin interest rate of 9.75%.*** 
All eligible customers who opt in to brokerage cash sweep have their uninvested brokerage account cash automatically "swept," or moved, into deposit accounts at a network of six program banks. Cash deposited to these banks will be covered by FDIC insurance up to a total maximum of $1.5 million (up to $250,000 per program bank, inclusive of deposits customers may already hold at the bank in the same ownership capacity). These banks will pay interest on the swept cash.****
 Customers can upgrade to Robinhood Gold for just $5 a month and new customers will receive a free 30-day trial. Those not enrolled in Robinhood Gold can still earn 1.5% interest for all uninvested brokerage cash once enrolled in cash sweep. 
*As of September 14, 2022 based on data from Bankrate the average interest rate for savings accounts was 0.13% and is subject to change. Bankrate obtains rate information from the 10 largest banks and thrifts in 10 large U.S. markets. Savings account interest rates vary from bank to bank and may be lower or higher than the stated average.
**Larger Instant Deposits are only available if your Instant Deposits status is in good standing.
***Margin interest rates are as of September 23, 2022. These are floating rates and are subject to change. 
****The current APY enrolled customers will receive from these banks is 1.5% for non-Gold members and 3% for Robinhood Gold members as of September 23, 2022. Please note, for margin enabled customers, in order to earn interest, a cash balance is needed. If you have a margin balance, there is no cash balance to earn interest. Interest rates for cash sweep and margin investing can change at any time
 Disclosures: All investments involve risk and loss of principal is possible.
The brokerage cash sweep program is an added feature to your Robinhood Financial LLC brokerage account. Robinhood Gold is offered through Robinhood Financial LLC.
Interest is earned on uninvested cash swept from your brokerage account to program banks. Program banks pay interest on your swept cash, minus any fees paid to Robinhood. As of Sept. 23, 2022, the Annual Percentage Yield (APY) that you will receive is 1.5%, or 3% for Gold customers. The APY might change at any time at the program banks' discretion. Additionally, any fees Robinhood receives may vary and is subject to change. Neither Robinhood Financial LLC nor any of its affiliates are banks.
With the brokerage cash sweep program, the uninvested cash in your brokerage account (cash intended for investing but that you have not yet invested or spent) is swept to program banks, where it becomes eligible for FDIC insurance up to $1.5 million or $250,000 per program bank, inclusive of any other deposits you may already hold at the bank in the same ownership capacity. Please note that until funds are swept to a program bank, they are held in your brokerage account which is protected by SIPC. Once funds are swept to a program bank, they are no longer held in your brokerage account and are not protected by SIPC. However, these funds are eligible for FDIC insurance through the Program Banks subject to FDIC insurance coverage limits. Please see the IND Disclosures for more information.
Member of SIPC, which protects securities customers of its members up to $500,000 (including $250,000 for claims for cash). Explanatory brochure available upon request or at www.sipc.org.
Not all investors will be eligible to trade on margin. Margin involves the risk of greater investment losses. Additional interest charges may apply depending on the amount of margin used. Before using margin, customers must determine whether this type of strategy is right for them given their investment objectives and risk tolerance.
For more information, please see FINRA's Investor Alert and Robinhood Financial's Customer Relationship Summary, Margin Disclosure Statement, and Margin Agreement. These disclosures contain important information on Robinhood Financial's products and services, conflicts of interests, lending policies, interest charges, and the risks associated with margin investing enabled accounts.
Robinhood Financial charges a standard margin interest rate of 9.75% and a margin interest rate of 5.75% for customers who subscribe to Gold. The margin interest rate is calculated by adding 6.5% (for non-Gold customers) or 2.5% (for Gold customers) to the upper bound of the Target Federal Funds Rate, which is set by the Federal Reserve and is subject to change without notice. The formulas used to calculate the margin interest rate are subject to change at Robinhood Financial's discretion. The margin rates shown are as of July 28, 2022 and might change at any time without notice and at Robinhood Financial's discretion. The standard margin interest rate will be rolled out to customers who do not subscribe to Gold in phases over a period of time, subject to eligibility criteria, and so may not be available immediately to all customers.
Morningstar is not affiliated with Robinhood Markets, Inc. or its subsidiaries.
Robinhood Financial LLC (member SIPC) is a registered broker dealer.  Robinhood Securities, LLC (member SIPC) is a registered broker dealer and provides brokerage clearing services. All are subsidiaries of Robinhood Markets, Inc. (Robinhood).
© 2022 Robinhood Markets, Inc. Robinhood®