Growing the Number of Women in Crypto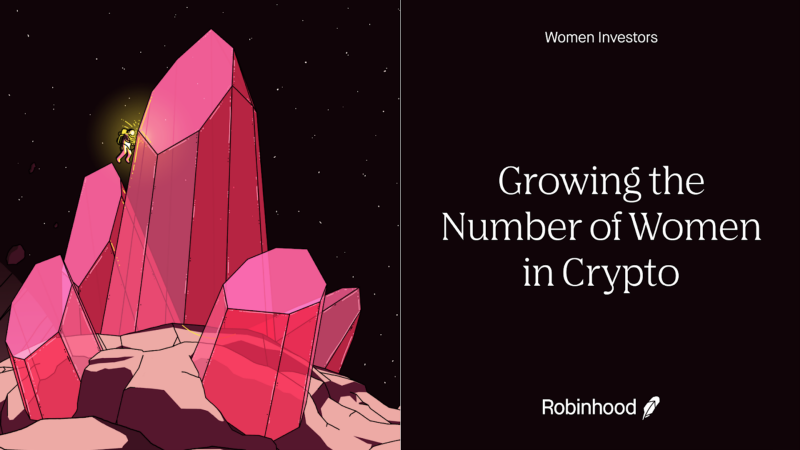 Robinhood was founded on the belief that the financial system should work for everyone. Historically, the U.S. stock market has been dominated by male customers. And while men currently still trade more than women in crypto, our data shows that things are changing.
So far this year, the number of women actively trading on Robinhood Crypto has already grown 7x compared to the end of 2020, contributing to the rapid growth we've seen across crypto this year.
There's more.
While women remain underrepresented on Robinhood Crypto compared with our total active customer base, it is notable that 40 percent of Robinhood active women customers are crypto traders.
These figures are encouraging and prove that crypto can be a powerful tool in decentralizing power in finance. Building a product that's accessible to everyone, regardless of gender, is a priority for us at Robinhood Crypto.
Currently, Robinhood Crypto offers seven tradeable coins, including Bitcoin, Bitcoin Cash, Bitcoin SV, Dogecoin, Ethereum, Ethereum Classic, and Litecoin. As with other Robinhood products, our goal with Robinhood Crypto has been to reduce barriers and offer an experience that's simple, elegant, and intuitive. And to help customers understand cryptocurrencies, we include articles in our educational resource center called Learn, and we've also launched a Medium page dedicated to all things crypto.
So how do we reach gender parity?
Provide educational resources 🧠
A recent study found that 93 percent of women would be more interested in crypto if they had more educational resources available to them¹. We offer a helpful introductory guide to What is a Cryptocurrency, Cryptocurrency Investing, and info on the 7 assets that are available to trade on Robinhood Crypto. We're also working on more educational content and adding new features to make crypto easier to use and easier to learn about.
Be inclusive 👥
We listen carefully to our customers as we build products, and that's certainly the case with our crypto features. At its core, crypto is all about equality and access, and our very foundation has been to pursue that idea at every step.
While there's still a lot of work to do to increase the involvement of women in investing — a recent study found that women make up less than 25 percent of deposits into US brokerage accounts² — we're excited by the potential of cryptocurrency to help democratize finance for all.
Are you passionate about democratizing finance for all? See our open roles and join the team!
Cryptocurrency trading offered through Robinhood Crypto, LLC (NMLS ID 1702840). Robinhood Crypto is licensed to engage in virtual currency business activity by the New York State Department of Financial Services. Robinhood Crypto accounts are not subject to FDIC or SIPC protections.