Hispanic Heritage Month Tribute: Latinos Powering Progress in America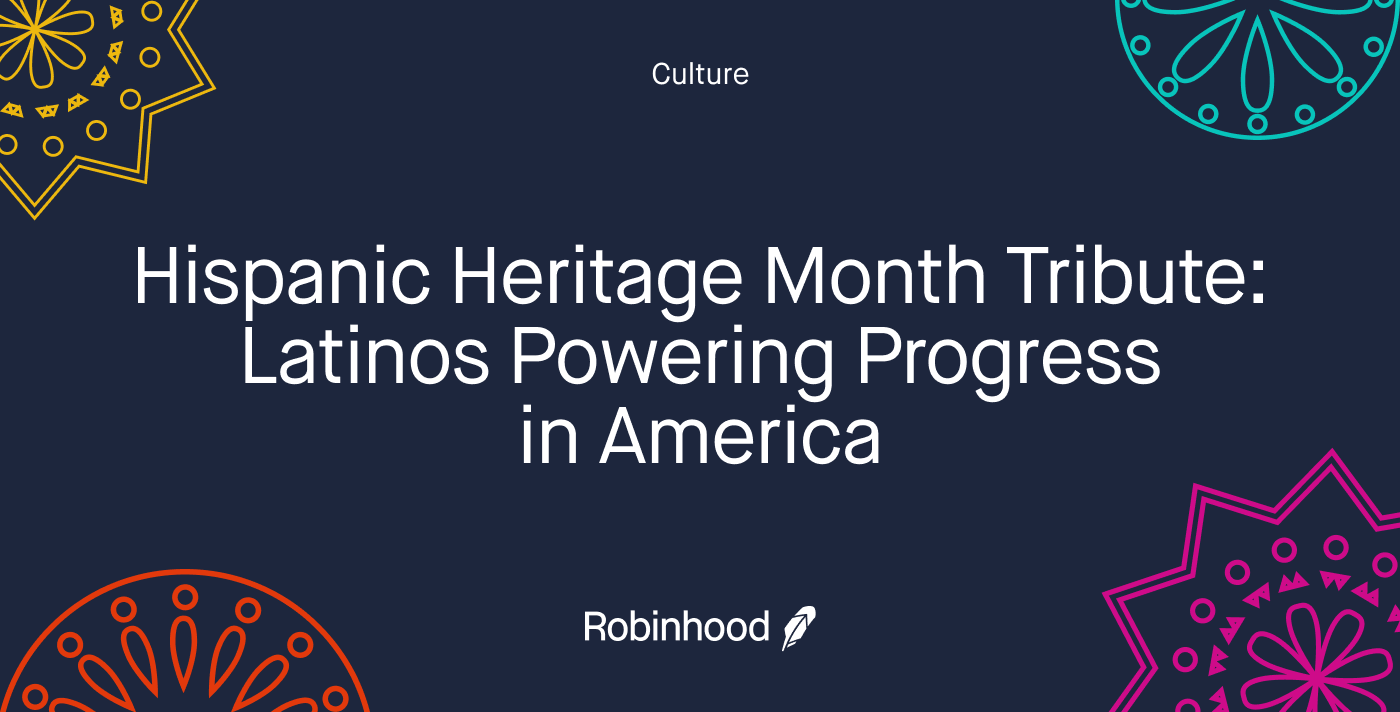 Robinhood was founded on a simple idea: that our financial markets should be accessible to all. With customers at the heart of our decisions, Robinhood is lowering barriers and providing greater access to financial information and investing. Together, we are building products and services that help create a financial system everyone can participate in.
…
We are excited to join Latinhood, our Employee Resource Group (ERG) dedicated to the Hispanic/Latino community, in celebrating Hispanic Heritage Month. Hispanic Heritage Month serves as a powerful reminder of the profound impact that the Hispanic/Latino community has made on our society, history, and progress. Our Latinhood ERG is an inclusive group whose mission is to cultivate a network within the Robinhood community that promotes cultural diversity and professional development among its members.
This year, Latinhood has chosen the theme "Driving Prosperity, Power, and Progress in America" to guide our celebrations. We are excited to share insights from Latinhood members Sabrina Hand (Customer Trust & Safety Program Specialist), Byron Lorenti Jr (Customer Experience Representative), and Estefani Alcaraz Quevedo (Customer Experience Representative), as they reflect on this theme and their perspectives on Hispanic Heritage Month.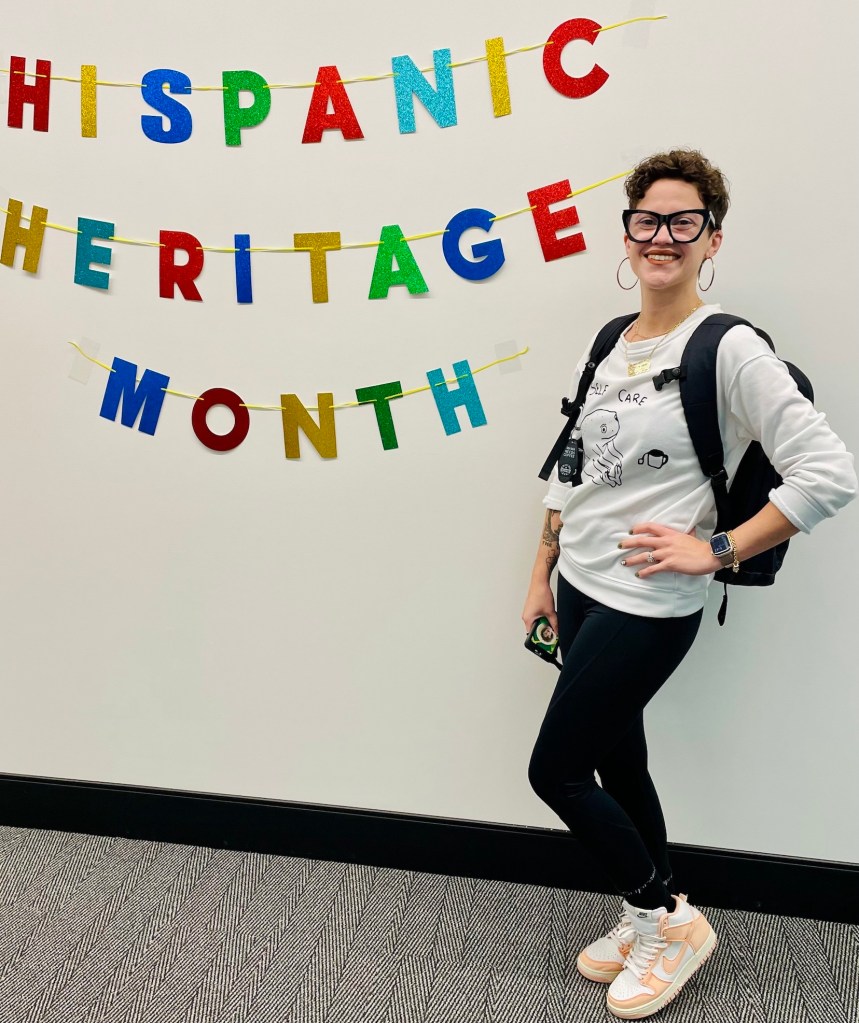 What are your thoughts on the significance and relevance of this year's Hispanic Heritage theme, "Driving Prosperity, Power, and Progress in America"?
Sabrina: During this year's Hispanic Heritage Month, the concept of power holds a multifaceted meaning for me, particularly in its relation to our mental health. It symbolizes the strength and resilience of the Hispanic community, highlighting our enduring ability to overcome adversity. It signifies our courageous efforts to confront and heal the wounds that have been passed down through generations.
Personally, I draw power from engaging in self-care practices and openly discussing them with my peers, encouraging them to prioritize self-care as well. This process, for me, represents the act of creating a healthier legacy for our descendants.
Byron: As a proud Hispanic, it is a great honor for me to witness the progress that people of my heritage have achieved over the past 10 years. I have no doubt in my mind when I say how I believe Robinhood has been an essential company in pushing for progress within the Hispanic community. As a child, I recall accepting the notion that it was challenging for Hispanics in the United States to achieve success or, at the very least, escape poverty. However, as the years passed, I noticed that our mission to democratize finance for all has truly helped the Hispanic community progress forward by providing the education and tools that encourage financial literacy. I can't wait to continue watching our people progress to a brighter financial future thanks to the work Robinhood has done and continues to do!
Estefani: Growing up in a predominantly Hispanic community, I had the first hand opportunity to witness the transformative power of Hispanic entrepreneurs in their communities. I was raised in a neighborhood that was often referred to as the "Little Mexico" of the town due to the strong Mexican residential presence. During that period, the area was largely underdeveloped, primarily consisting of residential houses, with only a handful of storefronts and businesses. Over the next decade, Latino entrepreneurs began to shape the landscape, introducing various businesses. 'Little Mexico' quickly evolved into the go-to destination for many city residents seeking authentic Mexican food, clothing, and cultural experiences. Much like in my own community, Hispanic entrepreneurs are driving prosperity throughout the United States.
According to the U.S. Small Business Administration, nearly one in four new businesses in the US is Hispanic-owned, contributing over $800 billion to the US economy annually. I take great pride in being a member of the Hispanic community and aspire to continue supporting Hispanic entrepreneurs as a member of the financial industry, contributing to the ongoing economic prosperity of the United States.
In what ways has your role at Robinhood enabled you to actively support and contribute to the Hispanic community?
Sabrina: Robinhood has personally provided me with the opportunity to launch a career in finance, which previously felt unattainable and restricted to the upper class. Robinhood has raised awareness and improved access for the Hispanic community to participate in the financial markets, enabling us to take control of our future growth. I genuinely believe that Robinhood embodies its mission to democratize finance for all by actively employing Hispanics and offering us opportunities to build our own wealth and prosperity.
Byron: Day in and day out, I talk to clients from all across the US, utilizing the Robinhood platform to help them learn about the world of investing. Hispanic clients sometimes struggle with English, but even then, they don't hesitate to call in with a curious mindset, eager to learn more about stock market terminology. It warms my heart that I'm given the privilege each day to help guide someone along their investment journey. My impact extends beyond the call because the client may then share what they've learned with their family and friends. I'm proud to witness how a platform like Robinhood can gradually boost the confidence levels of Hispanics in the finance industry.
Estefani: My primary motivation for attending business school was to assist individuals from underrepresented backgrounds in achieving financial freedom. Initially, I wasn't sure how I would accomplish this goal until I came across Robinhood's press release about commission-free trading in the Wall Street Journal. Being a Finance major, I immediately recognized the significant impact this would have on both the financial markets and people's financial well-being. Working for Robinhood has enabled me to pursue my personal mission daily, as I contribute to their efforts in democratizing finance for all. As a broker I work daily with customers who are accessing the financial markets for the first time. I often find myself assisting various first time investors on how to understand the financial markets and risk associated with investing. Through my role I am able to empower customers to take control of their financial future by understanding their investment decisions.
Nuestra comunidad Latinx impulsa la prosperidad, el poder y el progreso de Estados Unidos (Our Latinx community drives prosperity, power, and progress in the United States). What are your hopes for the future of the Latinx community, both at Robinhood and beyond?
Sabrina: Here are the facts, in 2019, 53% of families were invested in the stock market. While publicly traded stocks comprised 24% of the wealth of white, non-Hispanic families, they made up 13% of Black wealth and 10% of Hispanic wealth. My hope is that the Latinx community at Robinhood and beyond can continue to prosper in a safe, inclusive environment. At the heart of Robinhood's mission is the goal to democratize finance for all, which means the American dream is our dream too. Latinx communities deserve both health and wealth.
This is the core of what our founders fight for every day. They recognized what was holding us back, disrupted the system, and took a chance on me—a first-generation Latina from a low-income background. They built a company where I can continue to disrupt the system by being my authentic self. Robinhood doesn't ask anyone to conform to the spaces society has defined for them. Robinhood's mission is my mission. To emphasize, we are here to democratize finance for all.
Byron: As I continue to grow and live my life, I hope to see more engagement from the Hispanic community beyond the niche group that currently invests. I want my family, friends, and community to be knowledgeable on their financial situation and what options they have to prepare for the future. We should be well beyond the days of people living paycheck to paycheck, with little to no financial plan in the event of a struggle.
As for Robinhood, I hope that our wonderful company continues to nurture an inclusive environment for clients of all backgrounds. We should continue to be the company that makes the financial world look less complex, less intimidating, and instead more welcoming to any one who isn't already in this space. With Robinhood's mission in mind, I hope that we all play a role to move more members of the Hispanic Community from the traditional mindset of not being confident enough to enter the finance world, to a state in which they're empowered with the knowledge of the options that are available in the modern world!
Estefani:  My hope is that Robinhood will continue to expand its current user interface to include more investing tools for new investors that are accessible in Spanish. While Robinhood currently offers many innovative products like Robinhood Gold, the benefits of its products are often lost on users with limited English-speaking abilities. I hope that by expanding its customer experience to other languages, Robinhood can extend its mission to a broader customer base.
…
We are always looking for more individuals who share our commitment to building a diverse team and creating an inclusive environment as we continue in our journey in democratizing finance for all. Stay connected with us — join our talent community and check out our open roles!
…
© 2023 Robinhood Markets, Inc.
…
3159927