Honoring our Veterans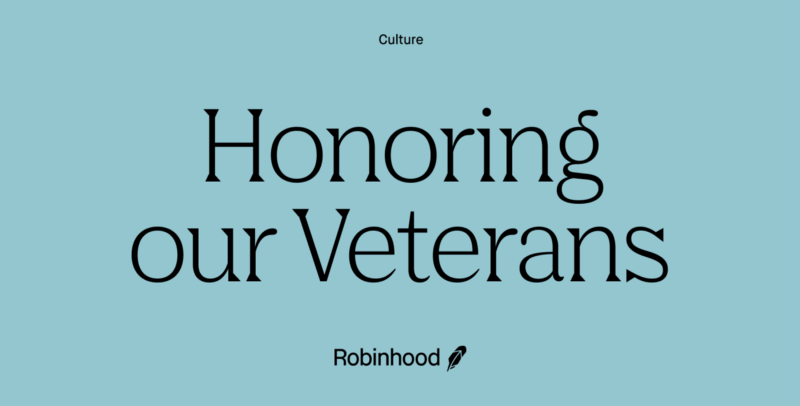 This Veterans Day, we honor the service of our Robinhoodies and customers who are a part of the veteran community. We sat down with members of one of our first Employee Resource Groups (ERG), Robinhood Veterans, to reflect on Veterans Day and their experiences being in the service.
Robinhood Veterans mission is to raise awareness about the military, build community, and organize volunteer opportunities for all interested Robinhood employees. This group serves as a community for both Veterans and for all Robinhoodies — some who have had family that served, and for those who are looking for ways to be an ally and support the veteran community. Robinhood Veterans aim to ensure we leverage the skills and experiences of our veteran employees to help better serve our customers, and to find ways to contribute and volunteer with the military and Veterans within our communities.
Tony Cavallaro, Head of Regulatory Services, Compliance Department
Braedon Martinez, Customer Experience Representative
Julian Williams, Customer Experience Representative
Brendan Davis, Customer Experience Representative
What does Veterans Day mean to you?
Tony: Veterans Day is a way to recognize those who served their country, sacrificed by spending time away from family, friends, jobs for those reservists — serving in foreign lands and in places that weren't always so nice. It's also a great day for Veterans to get together to tell their stories and to be with old friends.
Braedon: To me, Veterans day is a time to celebrate those who served, sacrificed, and gave up a part of their lives to be part of something bigger than themselves.
Julian: Veterans Day is a day to reflect on the sacrifice, courage and commitment of those who served. It means a lot to me because my grandfather, Jimmie Mosley, was a Korean War Veteran.
Brendan: This is a day to reflect on military accomplishments, and reconnect with those you served with. This is a day where we can look back on the hardships, triumphs, and how those unbreakable bonds were formed. It's a day to be thankful that we can stand here as Veterans.
What is one of your fondest memories of being in the service?
Braedon: For me, it's definitely the bonds I was able to build with so many people. I spent my formative years in the military and it's made me the person I am today.
Julian: What especially stands out is my first deployment. I matured alongside many extraordinary people. They were my friends and teammates, and I consider them my family today.
Brendan: One of the fondest memories for me would have to be the post-patrol downtime. The bonds you build with those around you are unmatched anywhere else in life. I will forever be thankful for those memories.
Tony: I always enjoyed the unit coming together to solve whatever issue or problem that we had in order to complete the mission or task. Every mission always had some unexpected issue pop up and it was the ingenuity, dedication and leadership at every level to get the job done that always impressed me the most.
How has the Robinhood Veterans ERG impacted you?
Julian: The Veterans ERG is inclusive, caring, dedicated and unlike anything I've experienced at other firms. There's a sense of community, camaraderie and resourcefulness that's truly reminiscent of my time in the service. I've enjoyed forging bonds with my fellow Veterans, even if we're doing so remotely at the moment!
Brendan: Our Veterans ERG is a great way to connect us Veterans here at Robinhood. Being able to build relationships with Veterans around the company is something special, and I'm looking forward to future events.
Tony: I really enjoy being with other Veterans and hearing about them and their stories. I always felt that the military was the most interesting place to meet people since everyone came from different backgrounds and places around the country. Being part of the Robinhood Veterans ERG brings back those great memories.
Braedon: The Veterans ERG has been a great outlet and extremely supportive group of individuals. Not everyone has the understanding of what you go through being in the military, but it's been a blessing having those around who do understand.
We are always looking for more individuals who share our commitment to building a diverse team and creating an inclusive environment as we continue in our journey in democratizing finance for all. Check out our open positions — we can't wait to hear from you!
Robinhood Markets, Inc. and Medium are separate and unique companies and are not responsible for one another's views or services.
© 2021 Robinhood Markets, Inc.