Honoring Veterans Day 2022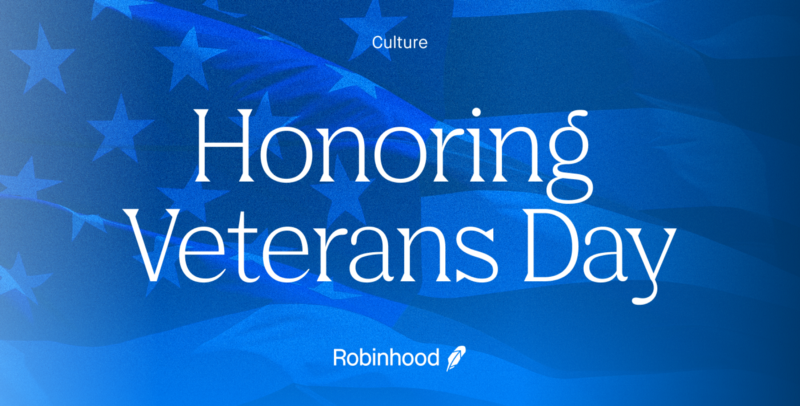 Robinhood was founded on a simple idea: that our financial markets should be accessible to all. With customers at the heart of our decisions, Robinhood is lowering barriers and providing greater access to financial information and investing. Together, we are building products and services that help create a financial system everyone can participate in.
For many of us, every day is Veterans Day. With a mission to raise awareness about the military, build community, and organize volunteer opportunities for all interested Robinhood employees, our Employee Resource Group (ERG) Robinhood Veterans holds events throughout the year to foster community and provide opportunities for Veterans to engage and network with industry professionals. Our Veterans ERG, founded in mid-2020, comprises both domestic and international service members. We turned to members of the Robinhood Veterans ERG community to answer questions about their time in service and their life beyond that time.
Meet our highlighted Robinhood Veterans:
Spencer Gareiss (he/him/his) and Thorvald Stahl (he/him/his) are Executive Office Specialists for the Executive Office Team in the Customer Care & Platform Shared Services Division. Their team builds effective operating routines that align to the company and department values, while ensuring Robinhood delivers pivotal initiatives and implements operational excellence. As Executive Office Specialists, they contribute to the department's overall culture, business strategies, and priorities.
Henry Roach (he/him/his) is a Sourcing Manager supporting the growth of Robinhood's Procurement & Insurance Team. This team ensures Robinhood and its internal partners get exceptional value from our vendors, while relentlessly improving processes and supporting communication progress in regards to vendor performance and company growth.
Andre An (he/him/his) is a Technical Program Manager for the Security Engineering Team. This team is responsible for building the tools and services that secure our platform and our users. As Technical Program Manager, Andre crafts programs to support his team's overall strategy, establish effective communication processes, build strong collaboration with cross functional partners, and ultimately drives execution towards his team's goals.
From Left to Right: Spencer Gareiss (Battalion Personnel Officer in the Civil Affairs Command), Henry Roach (Lieutenant JG), and Andre An (Team Chief).
What does Veterans day mean to you?
Spencer: Veterans Day is a day to honor all of those who have served, and family members of those who have served. It's a time to remember all who have contributed to sustaining the liberties every American has had the privilege of enjoying for over 200 years.
Henry: It is a day to show support for those who work through a constant state of sacrifice in pursuit of a common goal that enables us all. There are millions of incredible service members, both active and veteran, who deserve to know that we're appreciative of their honor.
Thorvald: After coming home, many service members thrive. It's important to note that some face physical, mental, and social challenges. This day is a way to commemorate those who have been a part of our armed services whether it be through recognition, gestures, or giving back to the community.
Andre: Veteran's Day is a time for Americans to reflect and honor all those who have served and the sacrifices they've made for our military and the American people. I'm truly grateful for the unique and special opportunities our military has offered, and to have served alongside a team of brothers and sisters who share the same passion in serving our country.
Why did you make the personal decision to join the military?
Spencer: I chose to join the Army to honor my family's heritage and to fulfill my duty to serve the great country that has served those I love. Serving our country is full of sacrifice, including treasured time with family. It was a sacrifice I was willing to make to protect the liberties we experience today, and a decision I will continue to actively make for my family and country.
Henry: There are so many role models of mine, both historical and personal, with such diverse experiences throughout the military. I trusted that I would learn from my own experience, and I wanted to provide impact along the way. I couldn't be luckier to have worked with those who were alongside me, and I'm so appreciative of everything they have/continue to accomplish.
Thorvald: I personally never served in the military, but I grew up in a household and family with veterans.
Andre: I initially joined the military to receive tuition assistance for higher education. However, I've wrestled with the idea of why I chose to stay and it's become more clear the longer I serve: I love the people. Some of my fondest memories are with the very people I worked with overseas and domestically. It truly grounds that the decision I made to join was undoubtedly a good one.
What has been the most impactful event Robinhood Veterans has hosted?
Spencer: The most impactful event for me was the veterans panel we hosted last year on Veterans Day. There were a handful of veterans from all of our military's branches, as well as allies of our armed forces. We shared about our experiences ranging from deployments to how it impacts lives at the family level- all of the beautiful and challenging aspects of serving our country.
Henry: Earlier this year, I had the opportunity to participate in a career development panel shared between the Divergent and the Veterans' ERGs. Not only did I have a chance to learn from stories of the other panelists, but the support from the organization was empowering. It's really special to work among so many great people that are mission driven and supportive. The camaraderie is high.
Thorvald: While we've had great speaker events, my favorite event of the Robinhood Veterans group is a recurring bi-weekly coffee buddies meeting. It's a great way to meet and hear the stories of veterans and allies that work at Robinhood.
Andre: I believe the most impactful thing Robinhood Veterans has done was providing a space for veterans and their allies to rally and come together. Providing a communal space to share stories and experiences with other folks who understand and empathize is thoroughly valuable and I believe this resonates not only within Robinhood Veterans but across all the ERGs in Robinhood.
How does Robinhood's Veterans' ERG help honor Veterans?
Spencer: The Veterans ERG helps honor veterans through various community-building initiatives. We have hosted panel discussions, had diverse guest speakers, supported charitable donation efforts related to the Global War on Terror, held various events on Veterans Day, and we continuously create a veteran-friendly community within our organization.
Henry: The Veterans' ERG here at Robinhood has been a wonderful place for companionship and outreach, while offering opportunities to give back.
Thorvald: We raise awareness about the military, foster a community for those who have served, and organize volunteer opportunities for all interested Robinhood employees.
Andre: Our ERG provides veterans an avenue to voice their concerns and opinions in a way that can be heard and actively listened to.
We are always looking for more individuals who share our commitment to building a diverse team and creating an inclusive environment as we continue in our journey in democratizing finance for all. Stay connected with us — join our talent community and check out our open positions!
Robinhood Markets, Inc. and Medium are separate and unique companies and are not responsible for one another's views or services.
© 2022 Robinhood Markets, Inc.