Introducing Our Inaugural Environmental, Social, and Governance Report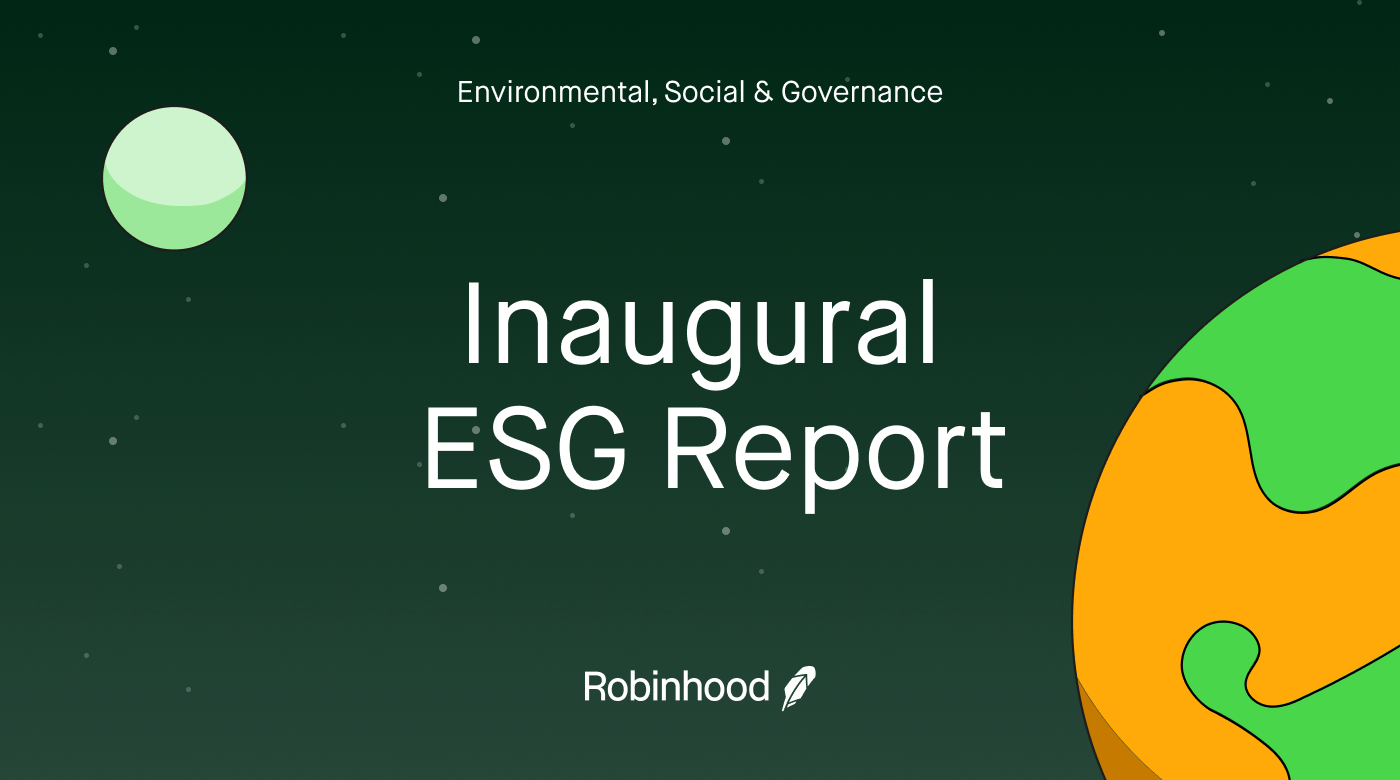 Since day one, we've sought to build a business that benefits everyday people by dramatically expanding access to the financial system. Today, we released our inaugural ESG Report to provide more transparency about our impact on the world.
It's no secret that younger generations are driving a growth in sustainable investing and using their purchasing power to hold companies accountable. Robinhood customers are no different. They're leading a revolution in retail investing, and they tell us they want to understand how the companies they invest in impact the world. We view this report as an important way to democratize investor knowledge for them. Our ESG report explains the values that guide us, the way we serve our customers, our investments in our people, our environmental impact, and our governance. 
Given our values, we felt it was important for us to start our ESG journey as soon as we became a public company to provide our customers, investors, and other stakeholders with a resource to learn more about how Robinhood operates.
Here are a few highlights from the report: 
This is our starting line. We created our first ESG report to provide deeper transparency into what we stand for, our impact on the world, the progress we made and what we're prioritizing. Next, we are conducting a materiality assessment, which will inform future strategy, reporting and transparency. 
We are committed to Safety First. This report walks through our steadfast commitment to building a secure and transparent business for our customers. In 2021, we hired our first Chief Security Officer to ensure we protect our systems and customers. We'll continue to share how Robinhood works and how we keep customers safe and secure. 
We are committed to developing our environmental strategy. This report includes our first greenhouse gas emissions footprint. From this baseline, it is our intention to set goals, develop an emissions reduction strategy, take action to address our impact, and to continue reporting our progress.
We are working to build a more diverse and inclusive workplace. In 2020, we used a third party to review all job descriptions to remove any gender bias language, and we piloted a Diversity & Belonging program on Inclusive Leadership with all People Leaders in our Customer Experience organization. Sixty percent of our employees are members of Robinhood Employee Resource Groups. And in 2021, we hired a VP of Inclusion, Equity and Belonging (IEB) to build our IEB strategy and programs.
We serve a diverse customer base. Our customers are more racially diverse than those of traditional brokerages. They are closer to the racial make-up of the U.S as a whole. What's more, in 2020, the number of Robinhood customers who identify as female nearly tripled, and now represent a higher percentage of our customer base than ever before.
We want to empower our customers with the financial education resources they need. Over seven million people read our educational articles through Robinhood Learn and our Robinhood Snacks newsletter and podcast had nearly 32 million subscribers as of March 31, 2021.
We're investing heavily in customer support. In 2020, we tripled the size of our customer support team. We've accelerated our investments in customer support, including

launching live phone support

for customers needing assistance for the most urgent account issues.

Robinhood's mission of democratizing finance will give a new generation of investors the opportunity to invest in companies that reflect their values. "The thing that inspires me most about what we do here is that we are removing barriers every day—more and more people are starting the economic, educational and emotional journey to becoming an investor. As we continue serving the next generation of investors, we're committed to making our business a force for positive change," says Vlad Tenev, our CEO and Co-Founder.