Introducing Robinhood Connect, Simplifying Access to Web 3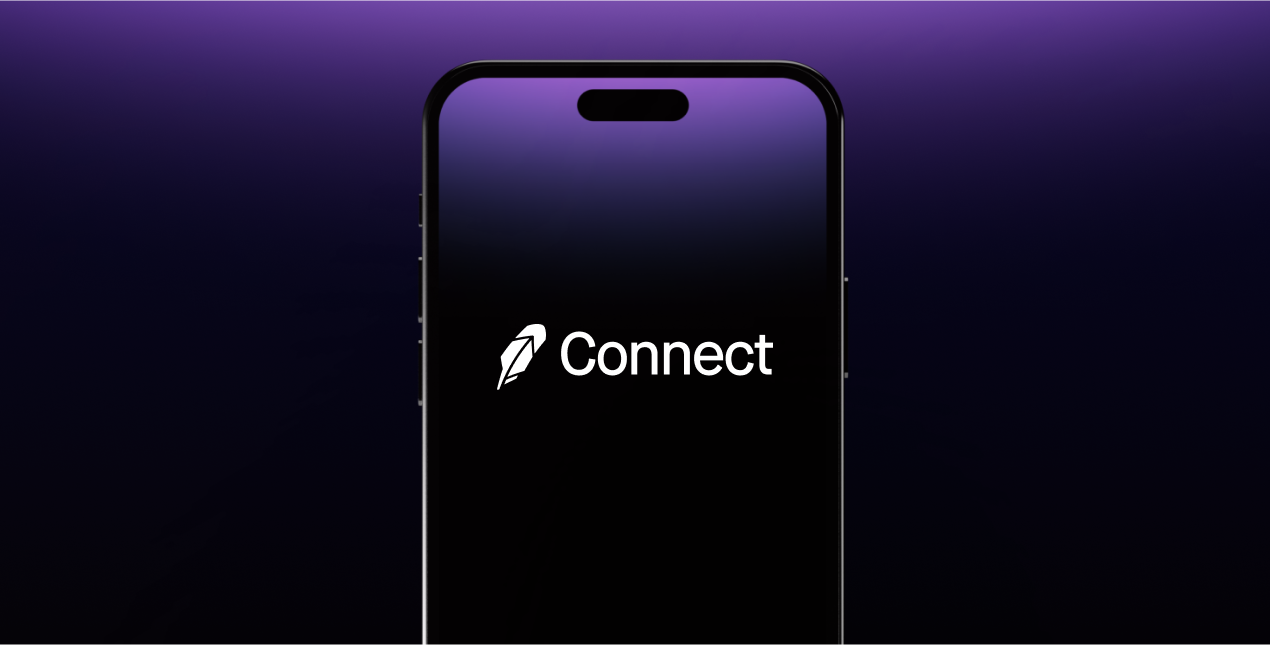 Connect helps make Robinhood Crypto the most trusted, lowest cost and easiest to use crypto on-ramp.
Today, at Consensus 2023, Robinhood Crypto GM Johann Kerbrat introduced Robinhood Connect – a new avenue for Robinhood customers to fund Web3 wallets without the need to leave the dApps or be in their Robinhood Crypto accounts. Developers benefit from being able to quickly embed the feature directly into their dApps, allowing their customers to use Robinhood Crypto to buy and transfer crypto, and fund their self-custody wallets.
Robinhood's On-Ramp to Web3
"Crypto and Web3 have the potential to change the future of the financial system for the better, but we recognize there are still significant hurdles preventing broader adoption," said Johann Kerbrat, GM of Robinhood Crypto. "Our conviction in the future of Web3 remains strong, and we've continued to build new products that put the accessibility and usability of crypto front and center for customers, positioning Robinhood as the lowest cost, easiest to use on-ramp to crypto."
With the introduction of Connect, customers will be able to access their Robinhood credentials and bypass additional steps. Connect is launching soon with Phantom and Exodus, and will begin rolling out to other platforms in the coming months.
Reimagining Robinhood Crypto
In addition to building a seamless on-ramp to crypto with Connect, we've made several improvements to our customers' in app experience. These include:
Crypto Home Tab – We've overhauled our Robinhood App design to put Crypto front and center for our 23M customers. Users will see a new, dedicated Crypto tab on the app's homepage, allowing them to navigate to Robinhood Crypto and manage their portfolios seamlessly.
Advanced Charts – This is one of the most requested features from our power Crypto users. With Robinhood Crypto's advanced charts, users can easily fine-tune their trading strategy and track technical indicators—like MA, RSI, Volume, MACD, EMA, VWAP, and Bollinger bands— to help customers find the right opportunities to enter or exit positions.
Advanced Order Types – Another one of our top requested features, advanced order types allow users to place stop orders and stop limit orders.
Price Alerts – Users can keep a pulse on the markets and trade on-the-go with the ability to build personalized pricing alerts based on their trading strategy.
Learn and Earn – Learn and Earn is an educational program that teaches customers the value and underlying technology behind digital assets to help them feel confident in buying and trading cryptocurrencies. Customers can earn small amounts of crypto by completing educational tasks like short video lessons and quizzes. Since launching at the end of 2022, more than 1M customers have participated in these modules.
Building towards the future
With lower barriers to entry, crypto presents an opportunity for those who have been historically left behind by the traditional financial system, and it has the potential to help reduce the wealth gap. With better education, a more intuitive user experience, and through products like Robinhood Connect, we will introduce more people to the world of crypto, making it easier for customers to navigate and start their Web3 journey.
To learn more, visit https://robinhood.com/us/en/about/crypto/.
2871813