Introducing the Robinhood Investor Index
The Index captures how our customers are investing based on the top 100 most owned stocks on Robinhood
Robinhood was founded on the belief that everyone should have access to the financial markets. We've been democratizing finance for all since 2015, and we've helped a new generation of investors get started on their financial journeys. Over the last several years, we've seen our customers become a powerful force in the markets and usher in a new era for Wall Street. With this has come a lot of speculation about our customers' portfolios. Today, we're unveiling the Robinhood Investor Index to show how our customers are investing.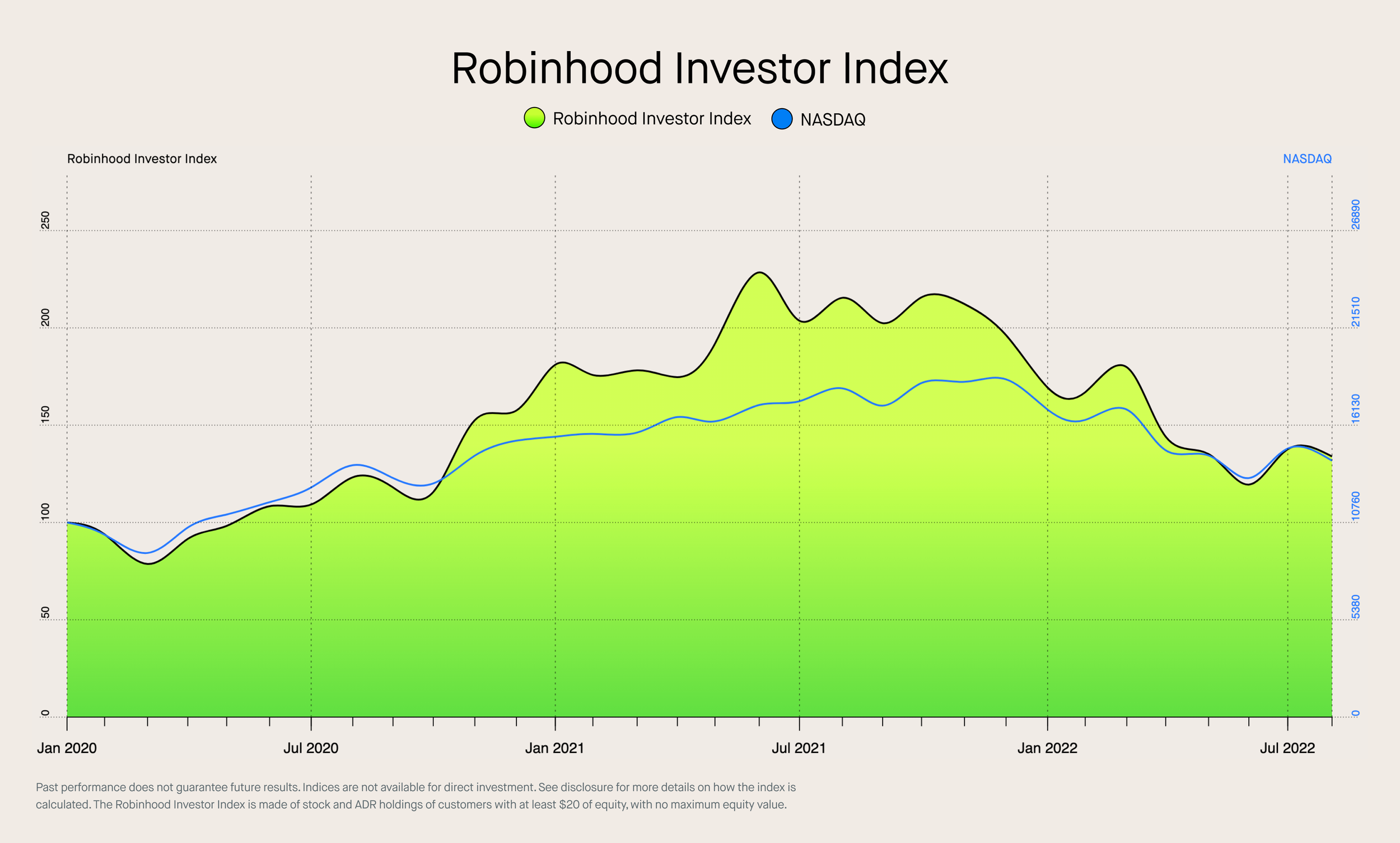 The Robinhood Investor Index is an aggregate view of our customers' top 100 most owned investments on Robinhood and tracks the performance of those investments over time. Unlike most other indices, it isn't weighted by dollars, but by conviction. We measure a customer's conviction for each investment by looking at the percentage it makes up of their portfolio. And to ensure that all customers are equally represented, we average conviction for each investment across all customers, whether they have $20 or $20 million in their account. Our data tells us that Robinhood customers invest in the companies they're passionate about, and the Robinhood Investor Index aims to make their voices heard. Learn how we calculate our Index here. 
We'll update the index once a month and plan to share valuable insights about where our customers are investing their money. Here's some data we've gathered so far: 
Contrary to what might have been heard in the news, our customers are similar to the OGs of investing. That is, they invest in what they know, understand and believe in for the long-term. 
Staples in our daily lives, like Microsoft, Apple, and Amazon, are consistently some of the top holdings. 
Customers have grown their commitment to the electric vehicle revolution with Tesla at the top, while expanding to Ford and NIO, among others, moving them up the ranking.
Entertainment is also a theme, with Disney and AMC consistently among the top securities.
Overall, the index leans towards large cap stocks with 75% in large cap, 16% in mid cap and 9% in small cap. 
Looking at the sector representation, it's quite diversified, also spanning financial services, energy and healthcare.
Over the last several years, we've seen our customers—and millions more like them—play an increasingly important role in the market. With the launch of the Robinhood Investor Index, we're giving customers, and the world, a look at everyday investor positioning and performance on Robinhood.
Index Methodology
The Robinhood Investor Index is a proprietary, relative allocation-based index of stocks created by Robinhood and designed to indicate the investments of our customer's portfolios. It measures how investors are positioned.
The Robinhood Investor Index does this by using data on the stock holdings/positions from our 20 million+ funded customer accounts. We do not include holdings in exchange traded funds (ETFs), options, penny stocks (those priced below $5 that are not traded on a national exchange) or crypto. To focus exclusively on actively acquired positions, we also exclude holdings in free stocks given to the customers by Robinhood. We include accounts that have been open for at least one month, with a minimum equity value of $20, and no maximum value, which enables us to broadly reflect our engaged customers according to our analysis.
In our construction of the index, we utilize a proprietary method based on a relative allocation within each account. If customers have more of a particular stock in their accounts, the index holds more of that stock. Thus, each customer's holdings, as a percentage of their total value in stocks, represents a contribution to the percentage in the index. In this way, everyone has the same influence.
It's important to note that the index does not reflect the positions or performance of any one individual investor, but rather it is an aggregate view of what our customers are investing in on a relative basis. The index weights are re-calculated on a monthly basis, at the beginning of each new month, utilizing values on the last trading day of the previous month. These monthly updates are expected to be published on the dedicated site within 5 trading days after the first trading day of each month. We utilize data beginning in January 2020 (the index's inception date) to calculate the index.
Statistical Information
The Nasdaq Composite Index is a market capitalization-weighted index of more than 3,700 stocks listed on the Nasdaq stock exchange. The index is constructed on a modified capitalization methodology. This modified method uses individual weights of included items according to their market capitalization. The stocks that make up the Robinhood Investor Index are not the same as the ones in the NASDAQ Composite Index. Individuals cannot invest directly in any index.
The top holdings in the Robinhood Investor Index are represented by circles that correlate to the weight of each investment.
The top sectors list the top eight sectors based on methodology by FactSet Revere Business and Industry Classification System (RBICS) of the Robinhood Investor Index for the prior month. There may be less than eight listed if there are less than eight sectors with holdings during a month.
Market capitalization evaluation is broken into three categories, large cap (greater than $10 billion), mid cap (between $2 and $10 billion) and small cap (between $300 million and $2 billion). The Robinhood Investor Index does not include securities considered micro cap (below $300 million).
Disclosures
Content is intended for educational or informational purposes only. Nothing referenced with regard to the Robinhood Investor Index is a recommendation of a security, account type, trading or investment strategy.
All investments involve risks, including the loss of principal. Past performance is no guarantee of future results.
The Robinhood Investor Index is not a tradable index. It should not be used to predict future performance or trading volumes.