January 28: One Year Later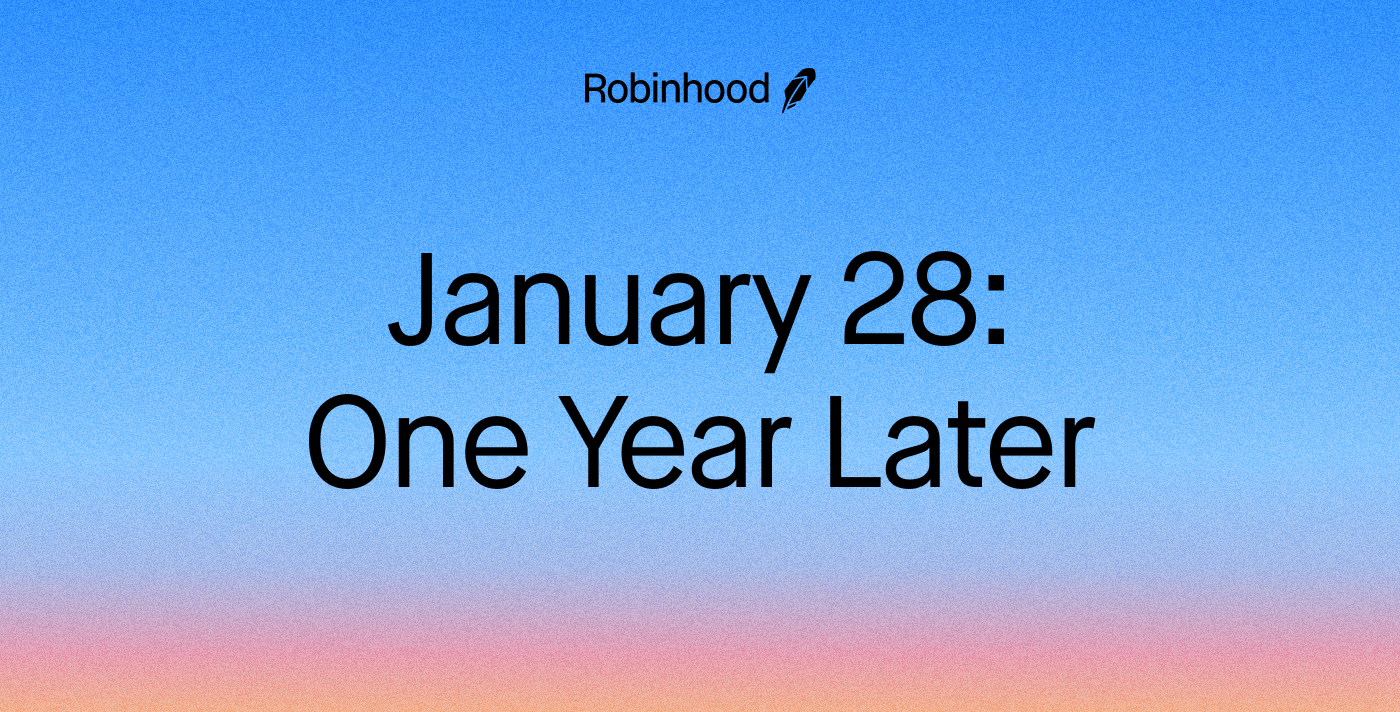 One year ago, on January 28, 2021, a new generation turned the act of investing into a mass movement that revealed the power of individual investors. That extraordinary market activity led our clearing broker to place temporary restrictions on certain securities — read the facts here and here.
We never want our customers to be surprised with trading restrictions again. So here are a few of the things we've done since last year: 
As of the end of 2021, Robinhood Securities'(RHS) net capital position is $2.8 billion: 21x what was required by the SEC, putting us in the ranks of the largest brokerage firms in the US. RHS remains in a strong position to keep serving our customers through unlikely market events. 
We

strengthened the foundation of the compliance and risk infrastructure

we'd developed in prior years by hiring dozens of experienced professionals in the past year alone. We made significant improvements to our technology scaling capabilities to further insulate the business when handling market volatility, and we added enhanced customer disclosures with respect to the use of margin on our platform.
We doubled the size of our customer support team last year and

 introduced 24/7 phone support for all issues

, so we can be there for our customers when they need us. And we doubled down on

financial literacy resources

, adding lessons in our app that help people learn the basics of investing. We also focused on delivering the investing products and experiences our customers want most,

including IPO Access

, which allows anyone to invest in a company at the IPO price once reserved for institutional investors. We also rolled out

crypto recurring investments

through Robinhood Crypto, giving customers the opportunity to invest in coins commission-free and for as little as $1. 
When it comes to how things work behind the scenes, we brought renewed attention to the antiquated T+2 settlement system and said last February that it was time for the U.S. to adopt a faster settlement cycle. SEC officials shared similar views last year, stating that a shorter settlement cycle could reduce costs and risks. And important voices like the Securities Industry and Financial Markets Association, the Investment Company Institute, and the Depository Trust & Clearing Corporation have since adopted a plan to make this a reality by 2024. We also believe in amending the Sub-Penny Rule (SEC Rule 612). 
Seeing so many new and diverse voices entering the conversation about investing is not only encouraging, it is the very heart of Robinhood's mission. Our partnerships with The Memorial Foundation, the National Bankers Association, and Operation Hope are ways in which we will help extend these conversations across the nation to underserved communities, ensuring that we are focusing on financial education as the foundation that will lead to a just economy. 
Robinhood was founded on a dream of helping more people invest for their futures. The retail investing revolution has shown us that a new generation of investors wants their voices to be heard. Our work has only just begun. 
All investments involve risk and loss of principal is possible.
IPOs can be risky and speculative investments, and may not be appropriate for every investor.  Learn more. 
Cryptocurrencies aren't stocks and they're not covered by SIPC. 
Robinhood Financial LLC (member SIPC), is a registered broker dealer.  Robinhood Securities, LLC (member SIPC), is a registered broker dealer and provides brokerage clearing services. Cryptocurrency services are offered through an account with Robinhood Crypto, LLC (NMLS ID 1702840). All are subsidiaries of Robinhood Markets, Inc. ('Robinhood').