Meet a Robinhoodie: Akanksha Gupta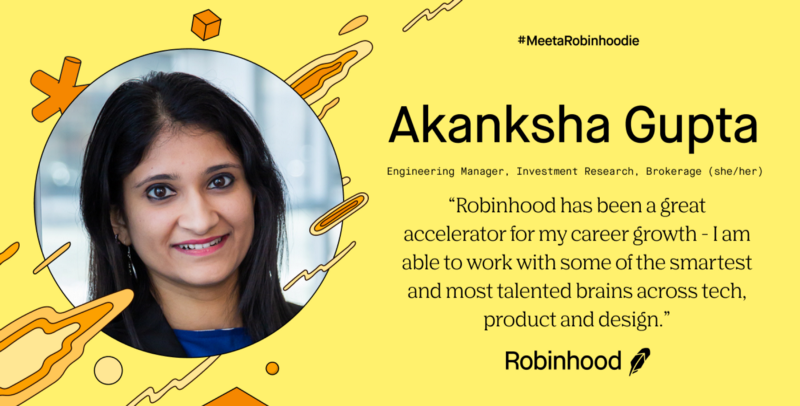 The "Meet a Robinhoodie" series is where we ask a Robinhood employee about their path to Sherwood Forest and why they joined.
Akanksha Gupta is an Engineering Manager on the Investment Research, Brokerage team based in New York, NY. Now, let's get to know her!
Why did you join Robinhood?
Robinhood is the product that got me into investing. I was introduced to it a few years back and since then I have been hooked to the product for all my stock investing needs. Also, having worked at Microsoft and Amazon, I was looking for something mid-size in the Fintech space and the mission of 'democratizing finance for all' really resonated with me. That's why I am here.
Tell us about your career growth so far at Robinhood.
Robinhood has been a great accelerator for my career growth — I am able to work with some of the smartest and most talented brains across tech, product and design. I have been supported by the Women in Tech Employee Resource Group where I get to connect with other women leaders like me and share our learnings and experiences. I have been able to mentor talent including engineers and other engineering managers through the Mentorship programs here and also learn from experienced leaders as a mentee to them.
Tell us about the product area you're focused on. What's the impact of this product?
My team is focused on the stock detail page (SDP), lists, and shareholder experience. These tools relay market data and help our customers make considerate decisions. The SDP serves multiple functions, including market data for investment decisions, a returns summary on active positions, access to shareholder products, watchlist and discovery tools, and regulatory requirements.
The lists allows users to discover new assets and create curated watchlists for potential trading opportunities.
We are customer obsessed and make all efforts to provide relevant and accurate data to our customers, keeping a Safety First approach.
Our mission is to democratize finance for all. What does our mission mean to you?
This mission is near and dear to me and one of the reasons why I joined Robinhood. Before Robinhood, I had never thought about investments or buying stocks. In my head this was a gray area that was not easily accessible, with missing tools to learn and upskill myself. It was when I was introduced to Robinhood, that I started with basic investing and gradually increased my portfolio. So to me the mission means that people like me and others, we bring in their hands a simple intuitive way to learn investing from scratch, provide them the tools they need to make informed decisions and support them in their investment journey globally.
You recently spoke at WomenTech's Global Conference about Rapid Iterations with Server Driven UI — what is this and how does this align with our value of Radical Customer Focus?
I am a big advocate of Women in Tech and helping the talent around me by sharing my learnings, experiences with them to help in every way possible. My personal goal is to do at least 1–2 conferences a year as a speaker. So recently I spoke at the Women in tech conference where I resonate with the mission to bring in more and more women talent in the technology sector, which has predominantly been a male-dominated industry. At Robinhood, one of our core principles is Radical customer focus and so we have embodied the principle through our technology practices and development. My team has been working on implementing and helping adopt server driven UI, especially as we own the critical stock detail pages with all the charts. This is a challenging problem and if done the right way, helps us to iterate and get product features faster to our customers by making a change at a single place (server) and the changes get reflected across all client surfaces. Taking reference from Lord of the Rings — One code base to rule them all.
Why is it important to you to have communities like the WomenTech Global Conference and Robinhood's Women in Tech Employee Resource Group?
It is extremely valuable to have communities like above to share and believe in a common mission and take steps in the direction. Personally, these communities have connected me with smart women leaders who I aspire to be someday. They have given me opportunities to share my experiences with a border audience and learn from others who at one point were in my shoes. I have had the pleasure to serve as a mentor as well as a mentee, getting the best of both worlds. Such communities help to build a strong, robust, diverse and inclusive culture. At the same time, it helps attract allies who will support us in the journey ahead.
Quick Facts!
What did you want to be when you grew up? Doctor
Current Netflix show? Stranger Things (the latest season!)
Favorite snack? Doritos
Unique Hobby? Canvas painting 🎨
Favorite Robinhood group? Lunch exchange slack channel — because I often forget to book my lunch 😅
Dream superpower? See the future
Robinhood and Medium are separate and unique companies and are not responsible for one another's views or services.
© 2022 Robinhood Markets, Inc.