Meet a Robinhoodie: Christine Brown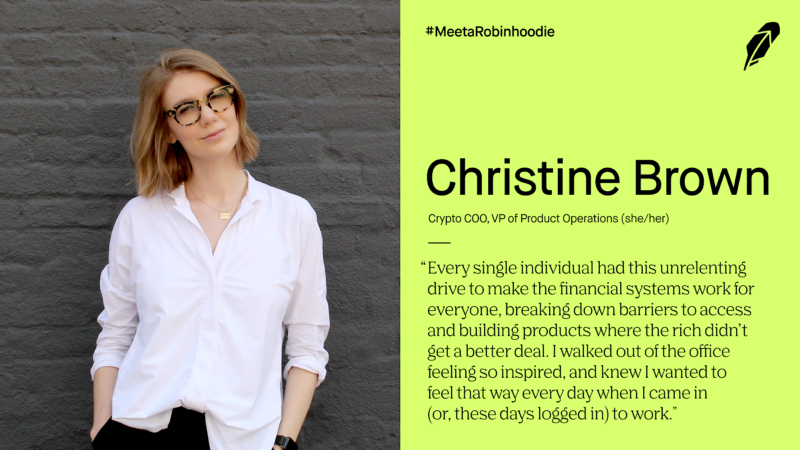 Welcome to our series "Meet a Robinhoodie"! Each post, we ask a Robinhood employee about their path to Sherwood Forest and why they joined.
Christine Brown (she/her) is Robinhood's Crypto COO and VP of Product Operations. Now, let's get to know her!
Why did you join Robinhood?
I joined in early 2017 when the company was still under 100 people. I left my onsite interviews with a distinct feeling: that the people I met that day were going to change the world. Every single individual had this unrelenting drive to make the financial systems work for everyone, breaking down barriers to access and building products where the rich didn't get a better deal. I walked out of the office feeling so inspired, and knew I wanted to feel that way every day when I came in (or, these days logged in) to work.
How did you first learn about and participate in crypto?
I was working at Google in 2013 when the first wave of crypto buzz hit. In fact, I was gearing up to start my masters in Computer Science the following Fall — so I was right in the middle of the tech ecosystem and heard about crypto constantly from friends, colleagues and classmates. But even then it felt a little too much like a club — exclusive, elitist and too technical — like there wasn't room for an "outsider" to get involved.
It wasn't until years later when I was at Robinhood launching our self-clearing platform that a project pushed me to revisit crypto and blockchain technology. I saw how precarious our more traditional finance system might be — that the infrastructure it was built on was state-of-the-art decades ago (not anymore) and that it relied on a centralized trust and authority. When I started exploring Bitcoin and other cryptocurrencies with this lens, I saw how much the ecosystem had changed since 2013 and how empowering it was for people around the world where the financial infrastructure was not as strong as in the US . Now this space is filled with people of all backgrounds; artists, diverse communities, and people like me…but it hasn't lost its technical, ambitious and rigorous origins.
Our mission is to democratize finance for all. What does our mission mean to you?
Democratizing finance for all means removing economic, educational and emotional barriers that are rampant in our financial systems. These barriers are especially pronounced for women: our research has found that 3 out of 5 women have never invested (whether its individual stocks, mutual funds, options, bonds, crypto, or ETFs). Why? We can point to larger systemic issues that have been at play for decades: the gender pay gap, different cultural expectations, and the perception that investing tools and resources aren't made for, or accessible to a lot of women.
Robinhood's mission is more than just words on a page — I've seen us ship real, tangible products that break down these barriers and aspire to fix these systemic trends for women. We remove economic barriers by getting rid of commission fees, allowing investments in fractional shares and crypto tokens, and having no account minimums. We eliminate educational barriers by building learning into the investing experience, from explanations of complex items (like trade halts or corporate actions) in-app as they happen, to our Learn library and Snacks podcast that is one of the largest financial newsletters in the world. And we can break down the emotional barriers by offering products like 24/7 phone support to everyone — a first for crypto customers.
What is your favorite Robinhood value?
Participation is Power. This one really resonates for me because before joining Robinhood, I had never independently placed a trade. Not in individual stocks, not in crypto, not in anything. And I think this is really common: not participating because the system doesn't feel built for you, because you don't see people like yourself. And investing is incredibly important in building wealth and the stock market is an incredible financial vehicle — but not enough people (especially women) participate in it due to the three barriers I mentioned.
What's one project you're proud of?
I've been feeling especially proud of standing up and building out the Product Operations function at Robinhood. The team started 2 years ago and we were charged with ensuring operational readiness for all the ambitious products we had on the roadmap. Today, after lots of growth and hundreds of product launches, I think it's our secret sauce. At many companies there's a gap between building and rolling out an innovative new product and then scaling and supporting that product for millions of customers for years to come. Product Ops lives in that space between the two, making sure we meet the needs of a complex operational organization (brokerage, clearing broker, customer support, crypto operations, compliance, the list goes on!) while supporting and enabling the velocity of our product development teams. If you're curious about what the Prod Ops team does, check out more here.
Quick Facts!
First job? Checkout cashier at Kroger
Current Netflix show? The Queen's Gambit
Favorite slack channel? #cider
Unique Hobby? Getting my pilot's license
Favorite Robinhood group? Sisterhood
Dream superpower? Teleportation
Your team is growing! Any tips for future applicants?
Treat the interview as a two-way street. You hopefully already know that through the interview we are getting to know you, your work, and whether your skills match a need that we have on the team. But you should also be evaluating us as well: to see if the role, team and company fits into what you're looking for next in your career. I love when people bring really thoughtful, genuine or tough questions for me — it shows curiosity (something that will always be useful here 😉) as well as an ownership mentality of your career.
If you're interested in working with Christine and the rest of the team to support our mission of democratizing finance for all, join our team!
Robinhood and Medium are separate and unique companies and are not responsible for one another's views or services.
Robinhood Financial LLC (member SIPC), is a registered broker dealer. Robinhood Securities, LLC (member SIPC), provides brokerage clearing services. Robinhood Crypto, LLC provides cryptocurrency trading. All are subsidiaries of Robinhood Markets, Inc. ('Robinhood').
© 2021 Robinhood Markets, Inc.