Meet a Robinhoodie: Jesse Patterson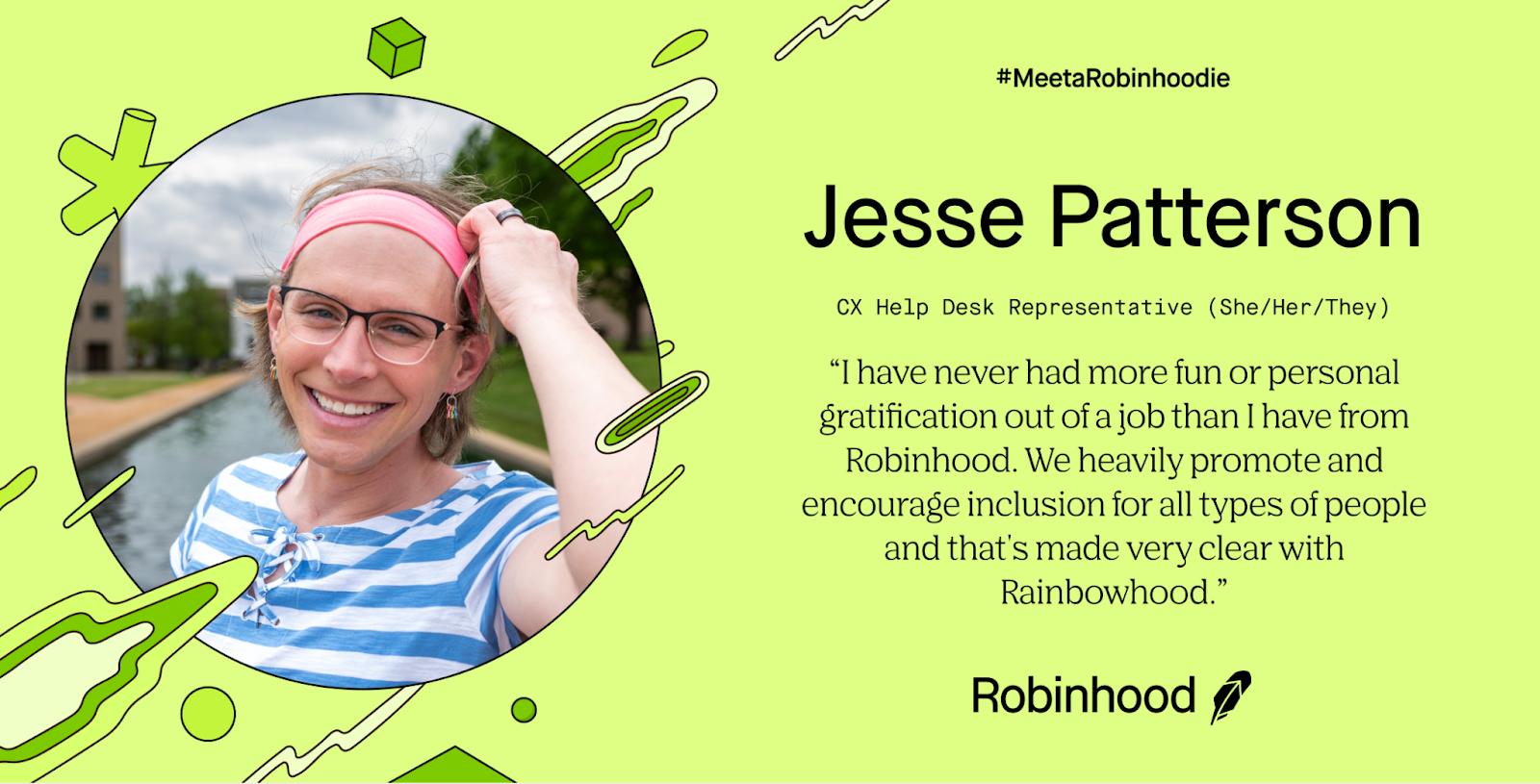 Welcome to our series "Meet a Robinhoodie"! Each post, we ask a Robinhood employee about their path to Sherwood Forest and why they joined.
Jesse Patterson is a CX Help Desk Representative, Rainbowhood Community Liaison and Gender Care and Affirmation Culture Ambassador in Westlake, Texas. Now, let's get to know her!
How do you celebrate Pride Month?
I only came out in 2021 so it's all so new to me still and I don't know what to do with all the freedom! So far, my wife and I celebrate by just enjoying the present, it's ok for me to be me. I may celebrate by buying a few pride related momentos or some cute clothes for the new me.
What has been your experience at Robinhood and as a member of the Rainbowhood ERG?
I have never had more fun or personal gratification out of a job than I have at Robinhood. This has been the best place to work for both professional and personal reasons. We heavily promote and encourage inclusion for all types of people and that's made very clear with Rainbowhood. In fact, people here are so supportive of each other that I came out publicly to Rainbowhood before coming out to most of my family. Even though we're colleagues, the Rainbowhood members are so responsive and uplifting that I felt comfortable in my journey. Not being afraid to be myself at my job with my colleague has made me more engaged in my job, and a feel closer to the culture and the people around me.
How do you demonstrate pride at work?
By being truly authentic. The biggest reward has been getting to live and dress the way that expresses who I am, and not what I'm supposed to act like traditionally. I express my full happy self so much more than I thought possible in the workplace. I can bring my compassion, care and energy to what I do while still being able to joke and have fun. It's a big burden taken off my shoulders not having to worry about what people will think, I can dedicate all that energy to being helpful to others and not worrying about what others think about my sexuality.
Why did you join Robinhood?
I first heard of Robinhood at my previous firm during some water-cooler talk. When asking questions about Robinhood one day, my boss pulled me aside and warned me about new companies. Naturally this piqued my interest further. Watching a large firm feel threatened enough to warn its employees about a competitor certainly means something. I knew that if firms like mine were worried about Robinhood, then it meant Robinhood was challenging the industry and I wanted to be part of the change.
Our mission is to democratize finance for all. What does our mission mean to you?
I was always interested in the markets, even as a kid, but as I got older it felt overwhelming, like it was out of reach. It took becoming a broker to get over that perception. Looking back, Robinhood spoke to the younger me: the one that felt lost, confused, interested but always an outsider. I felt like I didn't belong just by looking at a stock's chart. Robinhood makes the markets accessible without making you feel like it's overwhelming. They provide education to everyone wherever they are in their life regardless of their knowledge. We want it known that you don't need to know everything, or have learned the tricks of the trade, or have an economics degree. Just know that we're here to walk with anyone that wants it, as far as they want to go.
Tell us about your career growth or career journey so far at Robinhood, and how that's impacted you.
My industry knowledge has increased dramatically here. I've been able to move into a solutions-driven role that lets me learn more about the inner workings of the market. It's allowed me to specialize in different areas of the market, and share that knowledge with others.
What is your favorite Robinhood value and why?
Participation is Power — being there for the little guy means everything to me. Everyone is invited, included and no one gets a better deal than the next person, regardless of their financial status.
How has our Future of Work plans to be remote-first empowered and enabled you personally and professionally?
Getting to spend my mornings and evenings with my wife and children (instead of 2–4 hours commuting) has been immeasurably healthier for me. It's so nice to be able to take my kids to school and pick them up instead of sending them to the bus stop. It also makes my decision to go into work, when I do, meaningful and I enjoy the office so much more that way.
Quick Facts!
What did you want to be when you grew up? A diplomat- getting to travel, meet new people and helping people with big issues of all cultures
Favorite snack or food? Waffles or Hamburgers (yes I can snack both of those, lol)
First job? Server at Cici's Pizza
Any pets? 1 puppy doggy
Dream superpower? Super Speed- going fast makes sense for someone with ADHD, lol
If you're interested in working with Jesse and the rest of the team to support our mission of democratizing finance for all, join us!
Robinhood and Medium are separate and unique companies and are not responsible for one another's views or services.
© 2022 Robinhood Markets, Inc.