Meet a Robinhoodie: Karthik Rangarajan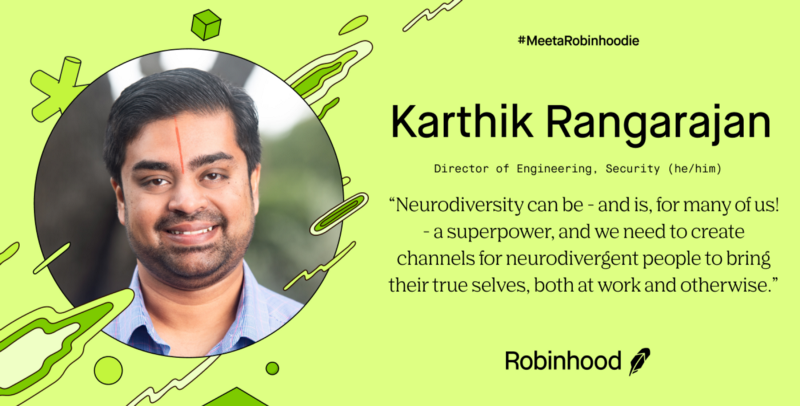 Welcome to our series "Meet a Robinhoodie"! Each post, we ask a Robinhood employee about their path to Sherwood Forest and why they joined.
Karthik Rangarajan is a Director of Engineering, Security for the Security & Privacy team based in Menlo Park, CA. Now, let's get to know him!
Why did you join Robinhood?
I was working in the fintech space already, but focusing more on enterprise wealth management and ultra high net-worth individuals. The opportunity to work on a product that was focusing on the everyday investor that was fundamentally changing the narrative around investing and money management was very exciting. Applying my expertise in information security and privacy into consumer investing drew me to Robinhood, and it has been a very rewarding journey.
Tell us about your career growth so far at Robinhood.
I joined as Robinhood's first security engineer, and I've been fortunate to have had the ability to grow multiple teams here — both within Security & Privacy and elsewhere. The teams we have scaled and the focus we have on building the right product for customers — with a Safety First mindset! — has been very rewarding.
Our mission is to democratize finance for all. What does our mission mean to you?
I remember getting my first paycheck out of grad school and someone told me to go invest some of it in the markets. Back then, I had to pay $15 per trade, and it was unthinkable for me to spend that much money to invest (especially as an immigrant converting USD to INR). When I discovered Robinhood, and the ease with which I was able to invest my money, it felt like a breath of fresh air. Since then — both as a customer and as an employee — I've heard amazing stories from people about how this new access to financial markets has made an impact in their lives.
You are a co-lead of our Divergent ERG at Robinhood. What does it mean to be neurodivergent?
Everyone views being neurodivergent differently, and I think it is important to create an accepting community and space for people whose brains may be wired differently. Personally, I've had ADHD for a large part of my life and that has enabled me to function very effectively in chaotic and ambiguous situations. However, it also means that in calmer times, it is harder for me to focus on things that may come easily to others — writing documents, paying attention for the full length of a meeting, or even making personal connections easily. I've been fortunate to have an incredible support system — both at Robinhood and outside — as I navigate through my neurodivergent journey, and I want to ensure others are able to receive the same support and acceptance as I have.
April is Neurodiversity Awareness Month (what we at Robinhood are calling "Neurodiversity Pride Month") — What do you wish more people knew about neurodiversity?
People still use the words "ADD, OCD, autistic" etc. as slurs or a way to describe behaviors that may not be typical. This makes it harder for people that are neurodivergent to bring their true selves into these settings which in turn makes them feel less than and unable to engage with others meaningfully. Neurodiversity can be — and is, for many of us! — a superpower, and we need to create channels for neurodivergent people to bring their true selves, both at work and otherwise.
Quick Facts!
First job? Principal Security Consultant
What did you want to be when you grew up? Journalist or Lawyer
Current Netflix show? Not Netflix, HBO — Veep
Any pets? One dog, Candice! 🐶
Favorite Robinhood group? Of course it's #divergent
Dream superpower?
The ability to convert thoughts and ideas into concise Google Docs that are beautifully written. Yeah, I am boring.
If you're interested in working with Karthik and the rest of the team to support our mission of democratizing finance for all, join us!
Robinhood and Medium are separate and unique companies and are not responsible for one another's views or services.
© 2022 Robinhood Markets, Inc.