Meet a Robinhoodie: Kevin Naseri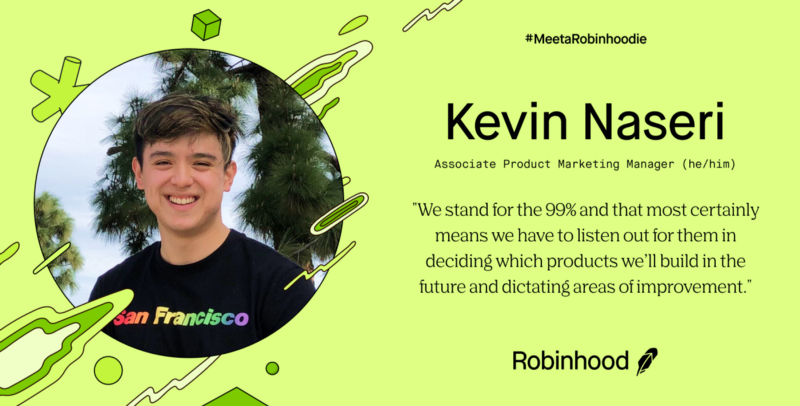 Robinhood was founded on a simple idea: that our financial markets should be accessible to all. With customers at the heart of our decisions, Robinhood is lowering barriers and providing greater access to financial information and investing. Together, we are building products and services that help create a financial system everyone can participate in.
Kevin Naseri (He/Him) is the Associate Product Marketing Manager in the Product Marketing Team. The Product Marketing Team develops go-to-market strategies that drive adoption and sustained growth for new and existing products. As the Associate Product Marketing Manager, Kevin is a customer champion- responsible for developing strategies that resonate with customers while helping to drive post-launch marketing programs.
Why did you join Robinhood?
Back when I was in high school, my dad was looking to get back into investing and tasked me with helping him research various brokerages to find the most cost effective way to invest. Robinhood came up and I told him about their commission-free offering. He laughed and told me to keep searching, claiming that nothing like that existed — my dad didn't believe that commission-free investing was possible. That's when I knew that Robinhood had made a product for the 99%, the folks out there that couldn't afford the $8 or $10 fee that came with each trade. Since then, Robinhood has been a company and brand that I've respected. Come college, I kept a close eye on their careers page for an opportunity to shoot my shot and join the team.
Tell us about your career growth so far at Robinhood.
Last summer, I joined as a product marketing intern and stayed on the team as I wrapped up college. After graduating, I was fortunate to have gotten the opportunity to return to the team full-time. Since going full-time, the scope of my work shifted from doing competitive analyses and developing a brokerage product narrative to defining the go-to market moments for key brokerage features. Throughout the process, I've had amazing peers and mentors who were always there to support me and show me the ropes. I wouldn't be where I am without their selflessness and devotion to help others prosper.
What's one project you're proud of?
Stock lending* has been an amazing product that I've been able to support, from drafting and refining our launch communications to working with our communications and social team to ensure we had a consistent product narrative across all channels. It's more widely known as fully paid securities lending and is sometimes reserved for wealthy brokerage clients with tens of thousands of dollars in their account. Helping to bring stock lending to market felt very inline with our mission of democratizing finance for all and reminded me that there is still lots of work to be done in democratizing a financial system built for the 1%.
Our mission is to democratize finance for all. What does our mission mean to you?
Robinhood exists to help people take charge of their financial future — people just like my dad who want to invest but have always felt limited by high financial barriers to entry. We came in with the aim of giving everyone the ability to invest, changing the narrative and industry for the 99% — that's what we stand and strive for.
What is your favorite Robinhood Markets value? (Safety First, Participation is Power, Radical Customer Focus, First-Principles Thinking)
Radical Customer Focus is my favorite value. Every time I listen to our customers in research surveys or in conversation, I gain deep knowledge and insight as I hear about their financial experiences and what they need from a brokerage in order to get them to their goals. We stand for the 99% and that most certainly means we have to listen out for them in deciding which products we'll build in the future and dictating areas of improvement.
What was your journey transitioning from intern to new grad?
The transition was quite the shift in terms of the work I was doing. I hit the ground running and was helping out with launches such as Extended Hours and our in-app Learn experience. I'm forever grateful to my Product Marketing Management family, my manager Bryan, and mentor Mike for guiding me through it all and always having my back. You guys rock!
Quick Facts!
What did you want to be when you grew up? Pilot
Current Netflix show? Westworld (not Netflix, sorry)
Favorite snack? Lenny & Larry's Lemon Poppy Seed Cookie
Any pets? Dash the cat
Unique hobby? Badminton
Dream superpower? Flight
*Stock Lending entails certain risks and is not appropriate for all customers. For more information, read About Stock Lending, which outlines risks and potential benefits.
Robinhood and Medium are separate and unique companies and are not responsible for one another's views or services.
Trades of stocks, ETFs and options are commission-free at Robinhood Financial LLC. Other fees may apply. Please see Robinhood Financial's Fee Schedule to learn more.
All investments involve risk and loss of principal is possible.
Robinhood Financial LLC (member SIPC), is a registered broker dealer. Robinhood Securities, LLC (member SIPC), is a registered broker dealer and provides brokerage clearing services. All are subsidiaries of Robinhood Markets, Inc. ('Robinhood').
© 2022 Robinhood Markets, Inc.