Meet a Robinhoodie: Melody Jackson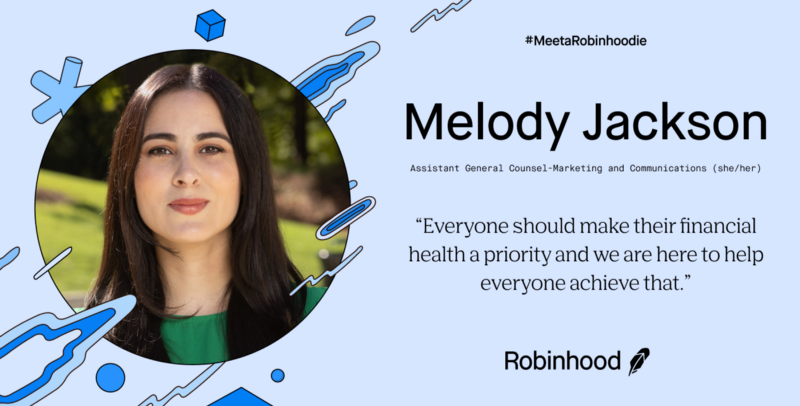 Robinhood was founded on a simple idea: that our financial markets should be accessible to all. With customers at the heart of our decisions, Robinhood is lowering barriers and providing greater access to financial information and investing. Together, we are building products and services that help create a financial system everyone can participate in.
Melody Jackson (she/her), is the Assistant General Counsel of Marketing and Communications for the Product and Regulatory Legal team. The Product and Regulatory Legal team is responsible for making sure all Robinhood products and services are following legal company standards, while protecting the security and privacy of our customers.
Why did you join Robinhood?
I joined Robinhood after spending a few years at a legacy broker dealer with a very traditional model of investing. After seeing that so many younger investors were taking charge of their finances and embracing technology, I knew I needed to make a change. Robinhood was the perfect place for me to help build the future of investing, to be part of something new and bold, to embrace innovation, and use my skills and knowledge to grow the next generation of financial services. During one of my interviews, I spoke with Chief Legal Officer Dan Gallagher, and those 30 minutes flew by as we talked about Robinhood's mission, how it was different than anything he had done in prior roles and how he loved his job and the people he worked with. His genuine passion for the company's mission was inspiring to me and I was convinced Robinhood was where I belonged. I was right.
Can you tell us about your career growth so far at Robinhood?
Since joining Robinhood a year ago, I've reviewed countless public-facing content from business units like Communications, Marketing, Growth, and Partnerships. In collaboration with my Compliance counterparts, I've been able to reduce and mitigate legal, regulatory, and reputational risks to protect Robinhood as a brand and as a financial service provider. I've been fortunate enough to work with extremely creative people whose ideas have come to life by helping them navigate the complexities of the financial regulatory environment. Two months into the job, I worked on one of our most successful growth campaigns thus far; a partnership with Burger King to give a side of crypto with your purchase. Working on this campaign challenged me to find creative ways to reduce and eliminate risks, find creative solutions to have content meet our regulatory and brand standards, and ensure the goals of both partners were still met. This project was a crash course to prepare me for many other big projects.
During the first half of 2022 I took more ownership of certain projects and was able to drive the decision making process in several product launches. One of my favorites to date was working on the teaser video to announce our highly anticipated non-custodial wallet for crypto. The Legal team worked collaboratively with the production team and we were able to get the rights to produce a video inspired by the movie "2001: A Space Odyssey." This video was ultimately presented by our founders at the Permissionless conference to great applause. The licensing, production, and launch was executed in 6 weeks- the shortest turnaround time for an announcement of this size in recent years. 1 million people joined the waitlist for the non-custodial wallet this summer, and it all started with one epic 30-second video with a monolith, apes, and a few cats.
Tell us about the product area you're focused on. What's the impact of this product?
My role has a unique function, where I get to focus on literally all of our products. I have the distinct joy of being the counsel that reviews all of our marketing content for our products and services. As the Marketing Counsel, I take a careful look at our messaging, communications, and creative content to ensure that we are truthful and precise about what our products can do for our customers, while ensuring we put safety first and meet our industry's regulatory standards. Since joining Robinhood in 2021, I've worked on the launch of new crypto coins and crypto gifting: the Robinhood Money Cash Card, launching extended trading hours and several growth campaigns, including our partnership with Burger King. Being able to advise our product, marketing, and communications team during all stages of a product launch is a rewarding experience because every single addition we make gets us one step closer to our mission and that's the driving force that keeps me going as a Robinhoodie every single day.
Our mission is to democratize finance for all. What does our mission mean to you?
Working in very established corporate models exposed me to some harsh realities, one being that there's resistance in embracing the obvious shift towards using technology to improve our quality of life. The internet has made us all more self aware of how the world works, and it's awakened a sense of self reliance and desire for more autonomy. Our mission is to empower every person to take control of their own financial well being and make decisions based on what they want for their future, their individual goals and their way of life, no matter how novice or expert you are in the topic of finance. I do believe our company's statement- that we are all investors. Everyone should make their financial health a priority, and we are here to help everyone achieve that. Onwards and upwards.
What is your favorite Robinhood value: Safety First, Participation is Power, Radical Customer Focus, or First-Principles Thinking?
The lawyer in me favors Safety First. It's rooted in my professional DNA, and I put our regulatory standards top of mind (as well as complying with consumer protection regulations, privacy, and security). But the millennial in me favors Participation is Power- which I believe is the core value of our company. We want to empower every person to be a participant in the financial sector, since for so long the younger generations weren't taught how the economy really works, how to manage their money, and understand the responsibilities that come with entering adulthood. Our app is a tool to help everyone take ownership of their financial future and debunk the myth that investing is too complicated and difficult to understand or that you need to be wealthy to see any benefits. Do not leave for tomorrow what you can do today.
How are you celebrating your culture this Hispanic Heritage Month?
I started my Hispanic Heritage Month celebration a bit early by going to the Bad Bunny concert in August. Being able to sing along with thousands of people from different countries in Latin America to Benito's songs about life in Puerto Rico reminded me that our language is universal and despite the differences in our culture, history, food, and even slang, music is a unifying force. Aside from my early celebration, with football season coming back in September, I invite my family and friends over on game days and we make some mofongo, churrasco, and ceviche with tostones.
What is your favorite thing about the Robinhood app?
My favorite feature on the Robinhood app is the ability to set recurring investments and buy fractional shares. This feature has allowed me to prioritize my financial wellbeing by investing at my own pace and gradually build my portfolio. I just set it and forget it and I can always go back to make changes, set up new ones, cancel others, and adjust the amounts and the schedule for each purchase.
Quick Facts!
First job? Ran marketing booths for a soft drink company at soccer events (Puerto Rico Islanders- FC)
Current favorite shows? Industry and Severance
Favorite snack? Popcorn
Any pets? A teacup Pomeranian named Dolly (like Dolly Parton)
Unique hobby? Following beauty pageants
What did you want to be when you grew up? An anchor woman on the news
Favorite Robinhood Group? Divergent
Dream superpower? Teleportation
All investments involve risk and loss of principal is possible.
Fractional shares are illiquid outside of the Robinhood platform and are not transferable to other brokerage accounts. Not all securities available through Robinhood are eligible for fractional share orders. Recurring investments do not ensure a profit or guarantee against a loss. Not all securities on Robinhood are eligible for recurring investments. Recurring investments may result in a purchase of fractional shares, which are illiquid outside of Robinhood and not transferable. For a complete explanation of conditions, restrictions and limitations of both, visit www.robinhood.com.
Robinhood Financial LLC (member SIPC), is a registered broker dealer. Robinhood Securities, LLC (member SIPC), is a registered broker dealer and provides brokerage clearing services. Cryptocurrency services are offered through an account with Robinhood Crypto, LLC. Robinhood Crypto is licensed to engage in virtual currency business activity by the New York State Department of Financial Services.
Self-custody cryptocurrency wallet and related services are offered through Robinhood Non-Custodial, Ltd., a limited company organized in the Cayman Islands, and other third-party providers. Availability may be subject to regulatory approval in certain jurisdictions.
All are subsidiaries of Robinhood Markets, Inc. ("Robinhood").
© 2022 Robinhood. All rights reserved.