Meet a Robinhoodie: Rossi Reyes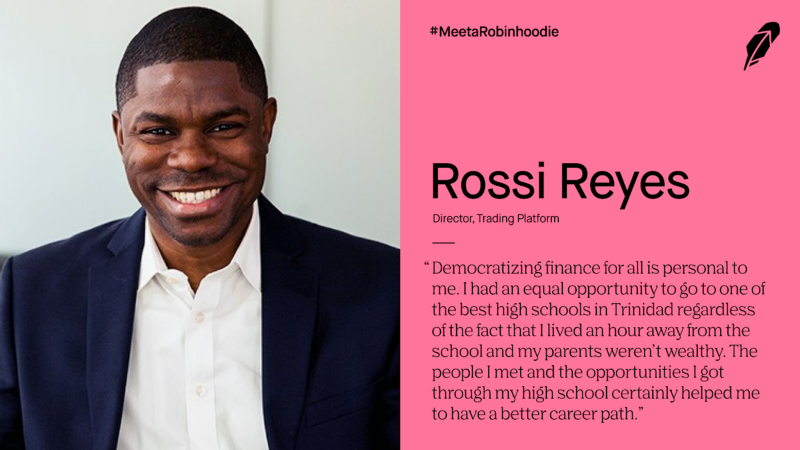 Welcome to our series "Meet a Robinhoodie"! Each post, we ask a Robinhood employee about their path to Sherwood Forest and why they joined.
Rossi Reyes is the Engineering Director of the Trading Platform team in the New York, NY office. Now, let's get to know him!
Why did you join Robinhood?
One of the main reasons I joined Robinhood was because of the company's mission to democratize finance for all. While doing my undergrad at Morehouse College, I was introduced to the world of economics and began to understand how the financial decisions made in US markets impact everyone in the world. I've always wanted to make a difference and I knew that I could use my quantitative skills to improve the economy and the lives of underserved people in the world. I went on to work at traditional finance companies for the next 14 years, however I never got the sense that my work directly helped the underserved. When Robinhood reached out to me about this Engineering Director role, the aspects which piqued my interest were the people, company values, the opportunity to solve interesting technical problems, and, most of all, the chance to work at a company which was built on the premise that the financial markets should be available to all.
Our mission is to democratize finance for all. What does our mission mean to you?
Democratizing finance for all is personal to me. I had an equal opportunity to go to one of the best high schools in Trinidad regardless of the fact that I lived an hour away from the school and my parents weren't wealthy. The people I met and the opportunities I got through my high school certainly helped me to have a better career path. In the U.S., children who grow up in underserved communities where the schools are not well funded have a lower probability of career success and building generational wealth. I believe that if people have access to good financial tools and training, this will improve their chances of building generational wealth and eventually gaining access to better schools and career opportunities. I don't think economic empowerment for some is the entire solution for educational inequity in our country, but it will provide opportunities for people to build wealth and plan for their future.
Tell us about the product area you're focused on. What's the impact of this work?
The mission of the Trading Platform team is to enable our customers to reliably trade any asset, anytime, any way, from anywhere. In general, I see my team as a force multiplier which enables Robinhood to build innovative customer facing products without having to think about how to book a trade. The Trading Platform software ensures that our customers get the best prices on trade execution while ensuring Robinhood meets our regulatory reporting requirements. We also ensure that the business has the right type of tools to monitor and respond to actions related to trade flow.
What should people know about Robinhood's New York team?
Robinhood's expansion to New York is critical to attracting the best talent in the financial industry. The NYC metro area has traditionally been the hub of finance and engineers who specialize in this domain flock to this area. Robinhood is uniquely positioned to disrupt the world of traditional finance, so it's a great place to attract talent with a traditional financial background who are passionate about innovating for the future.
At Robinhood, we believe we are all investors — How do you invest in yourself?
I invest in myself by continually learning. There's so much in the world to learn and you can never know too much. I'm always adding to my book collection and I've also gone back to traditional school a number of times over the course of my career while working — I did my Masters degree and MBA part-time.
Quick Facts!
First job? Engineer building equity derivatives trading software at Morgan Stanley
Unique Hobby? Soccer!
Favorite Robinhood group? Black Excellence
Dream superpower? Mind reading
Your team is growing! Any tips for future applicants?
We're looking for innovative, driven engineers who believe in our mission and values. Be authentic!
If you're interested in working with Rossi and the rest of the team to support our mission of democratizing finance for all, join our team!
Robinhood and Medium are separate and unique companies and are not responsible for one another's views or services.
© 2021 Robinhood Markets, Inc.