Meet our Campus Ambassadors!
Robinhood's Early Talent Recruiting team is extremely excited to welcome our 2022 Campus Ambassadors — Doreen Du (Northwestern University), Olivia Bass (University of Florida), and Sammi Su (Loyola Marymount University)! Robinhood's Campus Ambassador program is an opportunity for past interns to represent Robinhood's values and culture to student communities and beyond. Our previous Robinhood interns share their experiences, knowledge, and creativity to elevate and raise awareness of events and job opportunities for students at Robinhood.
Let's get to know our amazing ambassadors!​​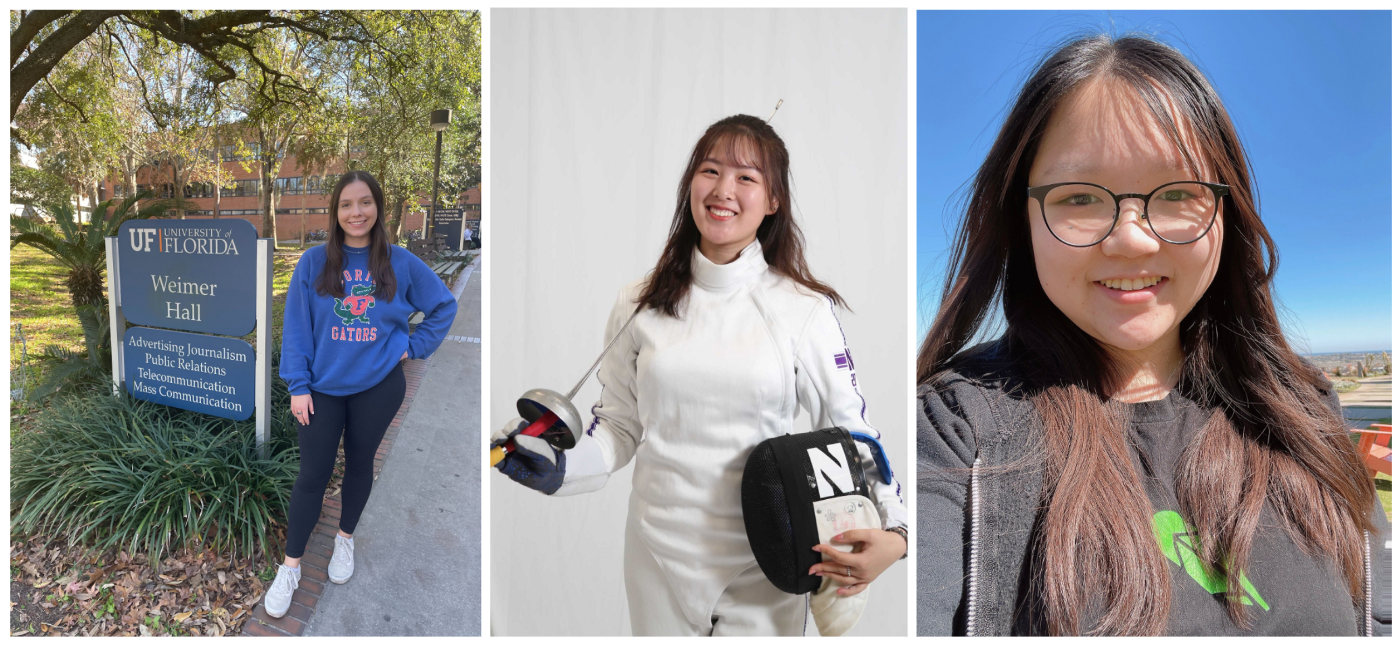 Why did you join Robinhood's Campus Ambassador program?
Doreen: I am super passionate about our mission and had the best internship experience in my six months on Robinhood's Lifecycle Marketing Team. I am actively involved in student organizations on campus and that has helped me identify a lot of opportunities to raise awareness and attract young talent to Robinhood. I am excited to be an advocate and share my experiences to support any student who wants to join Robinhood!
Olivia: I joined the Campus Ambassador program because I had such an amazing internship experience on the Public Policy Communications team at Robinhood, and I want to share that experience with other students who are searching for internships or considering applying to a Robinhood internship.
Sammi: I joined the Campus Ambassador program because I had a great experience interning at Robinhood on the Integrated Marketing Team and wanted to share my experience with others.
How has Robinhood provided learning and growth opportunities in your career?
Doreen: I never imagined that I would be able to ideate and develop a campaign at Robinhood with the support of a cross-functional team of professionals on content marketing, design, data teams, and more. Working collaboratively with other teams allowed me to dive deeper into the business and realize that this is where I want to work after graduation.
Olivia: I learned so much throughout my internship because I was treated as a true member of the team instead of just an intern. I worked on a wide variety of projects, was asked about my perspective in meetings, and collaborated with people across different functions of the company. Most importantly, I developed strong connections with the people on my team, and I know those people will continue to support me throughout my career.
Sammi: While interning in the Brand/Integrated Marketing department, I worked on projects with the team and was able to make a tangible impact. I was also able to learn more about what strategies go into marketing and planning for a campaign, which I didn't have as much experience in prior to the internship.
What events and activities are you looking forward to as a Robinhood Campus Ambassador?
Doreen: I look forward to being the ambassador and the main contact for Robinhood on Northwestern University campus. When I first joined Robinhood, I was struck by how clear it was that all Robinhoodies are firmly dedicated to our mission to democratize finance for all. Now I want to convey the same level of passion and commitment to all Northwestern students who are interested in Robinhood.
Olivia: I am looking forward to talking about my Robinhood internship experience on social media and coordinating events on my campus for students to learn more about my internship experience at Robinhood. Keep an eye out for events on the University of Florida campus!
Sammi: I'm looking forward to meeting others who are interested in Robinhood internships on my campus! I love sharing what I've learned with others, and if I could be of assistance during the program, that would be most meaningful to me.
How do you spend your time outside of school & work?
Doreen: In addition to school, my other identity is a Division I student-athlete at Northwestern. I'm on the fencing varsity team. And as a senior, I'm enjoying my last season now!
Olivia: Outside of school and work, I find myself watching a lot of reality TV shows. My current obsession is Survivor, and I have made it one of my 2022 goals to watch all 41 seasons of the show. I'm currently on season 10, and I'm planning on applying to be a contestant when I finish watching.
Sammi: Outside of school and work, I enjoy looking for new food spots, going to Disneyland, and spending time with my friends!
If you could design your own product, what would it be and why?
Doreen: I would develop an app that allows all international students within the United States to exchange information and interact with each other. There's a big population of international students in the US and there is a clear need for a platform to support each other. This potential app could become the source for individuals to network and obtain up-to-date information on hot topics, such as visas and employment.
Olivia: If I could design my own product, it would be a Keurig-style machine for cold brewing iced tea. I drink iced tea pretty much constantly every day, and I would love to have an iced tea machine that offers the same ease of use and variety of flavors for tea that a Keurig provides for coffee.
Sammi: If I had to design a product, I would love to work on a mobile app someday. In terms of genre, I would like for it to be either a productivity app or a simple game.
What about Robinhood do you like most?
Doreen: I love how user-centric Robinhood is. One of our four values is Radical Customer Focus and that is implemented in our day-to-day work. Robinhood's research team is strong and amazing. They are always providing fascinating research insights that spark a lot of great ideas.
Olivia: I love Robinhood's culture the most. Even though I am still early in my career, I know that most organizations see their employees as just employees, and treat them as such. At Robinhood, there is a culture of trust and respect, and that was evident to me even as an intern.
Sammi: When I interned at Robinhood, I loved meeting and working with everyone there! Everyone I reached out to was more than willing to make time to share their experiences to help me when I needed it and I felt like there was room to grow.
Interested in learning more about our early talent opportunities? Read more about our Early Talent program.
We are always looking for more individuals who share our commitment to building a diverse team and creating an inclusive environment as we continue in our journey in democratizing finance for all. Check out our open positions — we can't wait to hear from you!
Robinhood Markets, Inc. and Medium are separate and unique companies and are not responsible for one another's views or services.
© 2022 Robinhood Markets, Inc.