Meet the Team: Asset Movements Operations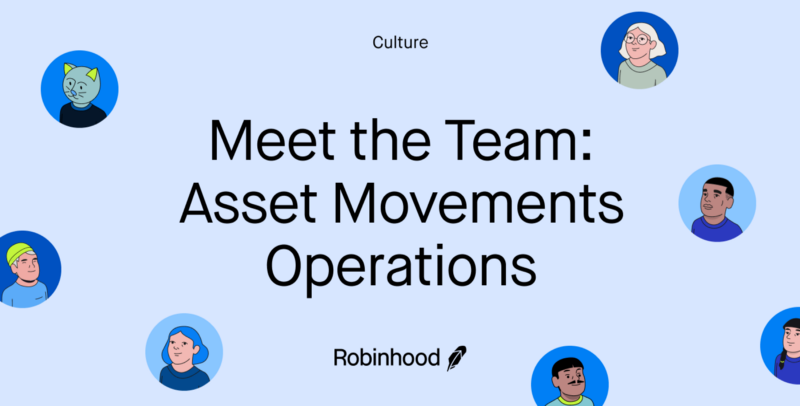 We recently had a virtual coffee chat with Cody Ipock, Hanna Neisz, Scott Shields, and Steph Macias from the Asset Movements Operations — ACATS Team to learn about the impact of their work. Let's hear what they are up to!
First I should ask, what does ACATS stand for?
ACATS stands for Automated Customer Account Transfer Service. This service essentially makes the transfer of assets in a customer's account from one brokerage firm to another brokerage firm possible! — Hanna Neisz (she/her, Asset Movements (ACATS) Lead)
What's a day in the life on Robinhood's Asset Movements Operations — ACATS team?
A day in the life of Robinhood's ACATS team includes assisting our phenomenal customers in all transfer matters, and creating and improving processes for all incoming asset transfers. Our team is excited to help assist with our newly developed inbound asset transfers, and we work closely with our processing team to ensure all transfer requests are completed. Our responsibilities include connecting with customers to provide transfer information, updating accounts for money movement requests, and assisting our asset movement processing team and customers throughout the transfer process. We eat, sleep, and talk about asset transfers constantly — our team is very passionate about ensuring our customers' transfer requests are completed. We hope to help assist with your asset transfers in the future! — Scott Shields (he/him, Brokerage Operations, Asset Movements (ACATS) Associate)
How is the Asset Movements Operations — ACATS team unique at Robinhood?
The ACATS-in team consists of four amazingly talented individuals. Hanna Neisz is our team lead, Cody Ipock, Scott Shields, and myself are our Asset Movements Operations Associates. Each of us have such diverse backgrounds both in careers and as individuals, which helps foster fresh and well-rounded perspectives on our projects. We are a small, yet effective team where we have a mutual respect and understanding for one another, and we believe passionately in our mission to democratize finance for all. — Steph Macias (she/her, Asset Movements (ACATS) Associate)
What's something exciting you are working on?
Our team has been involved in improving outbound ACAT communications with customers and internally with the ACATS HelpDesk for CX HelpDesk Agents. With the introduction of inbound ACATS, our team has been able to build standard operating procedures to best help both our customers and Robinhood colleagues efficiently. With handling all ACAT-in matters, we get to help new and existing customers bringing their accounts to Robinhood! — Cody Ipock (Brokerage Operations, Asset Movements (ACATS) Associate)
What does it take to be successful on the Asset Movements ACATS team at Robinhood?
The Asset Movements — ACATS team is small but mighty! To be successful on our team, teammates have to work together and be flexible. There are many new and exciting challenges we get to tackle together, so being innovative, ambitious, and solution-minded go a long way into the success of our team. — Hanna
How does your team align with our mission to Democratize Finance for All?
In our team's day-to-day work, allowing customers to transfer their assets into and out of Robinhood is vital to our mission to democratize finance for all. Assisting with escalated cases and situations help ensure that our customers feel valued and assured that we provide detailed information to allow them to freely move their money. As more and more options become available for our customers to truly benefit from freely moving their assets, our team will be helping ensure the process goes as smoothly as possible. — Cody
How has Robinhood's move to being a Primarily Remote company empowered and enabled your team professionally?
Robinhood being a primarily remote company has enabled our team to work seamlessly across time zones. This flexibility allows our diverse and incredible team members to always support our customers, no matter where in the country we may be. Our team does need to be located within an area close to our corresponding home office, but Robinhood's primarily remote policy has enabled travel flexibility and minimized commute time. — Scott
What's something we should know about your team?
Our team is starting themed virtual dance parties and our first theme is going to be legendary ladies like Tina Turner, Dolly Parton, Whitney Houston and Britney Spears! — Hanna
Your team is growing! Any tips for future applicants?
We have a united and inclusive team. If you are interested in a fast-paced work environment where you have the freedom to express your ideas and create new and innovative processes, this could be the perfect opportunity for you! — Steph
We are always looking for more individuals who share our commitment to building a diverse team and creating an inclusive environment as we continue in our journey in democratizing finance for all. Check out our open positions — we can't wait to hear from you!
Robinhood Markets Inc. and Medium are separate and unique companies and are not responsible for one another's views or services.
Robinhood Financial LLC (member SIPC), is a registered broker dealer. Robinhood Securities, LLC (member SiPC) is a registered broker dealer and provides brokerage clearing services. Both are wholly-owned subsidiaries of Robinhood Markets, Inc. ("Robinhood").
© 2022 Robinhood Markets, Inc.