Meet the Team: Crypto Engineering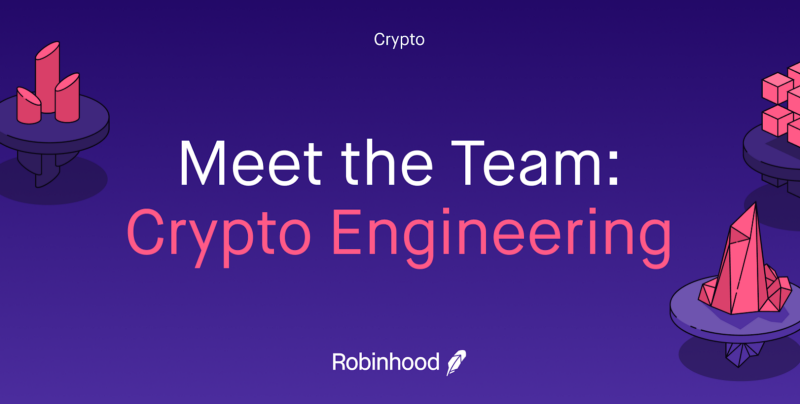 Hi, my name is Johann and I'm head of Robinhood's Crypto engineering team. And it's been so exciting to see that in the past year the interest in Robinhood Crypto has increased dramatically, driving unprecedented volume through our systems and requests for new features from our Crypto community. Just last quarter, nearly 60% of our customers bought or sold crypto on Robinhood! I first became interested in decentralized technology during the financial crisis in 2008/9, witnessing the impact from the crisis on everyday people led me to look for alternative solutions. Bitcoin was, and continues to be, a way to democratize finance more than ten years ago — and Robinhood continues this mission today. One of my worst purchases has been a domain name for way too many Bitcoins, but at the time, it was thrilling to be able to use Bitcoin for a real life good, and it's so exciting to see Bitcoin and other cryptocurrencies becoming more and more mainstream every single day. I'm proud to lead a team of engineers that I believe will play a key role in empowering more people to start their crypto journey.
And as we continue to scale the team, I'm delighted to continue to grow the engineering team with top talent, improve our trade flow systems, and build some of the highly anticipated offerings our customers have asked for, including crypto wallets, adding new coins, and even more educational resources for our customers.
Now let's get to know some other members of the team — Aashna, Eugene, Chris, and Joy, so that we can learn more about their work and the impact it's had on our customers.
Name: Aashna
Role: Engineering Manager
What product area are you focused on?
I'm Aashna, Engineering Manager on the team responsible for building Crypto Wallets. My team has been hard at work to ensure we are adding the functionality swiftly and efficiently to Robinhood.
Why wallets?
We want to make crypto more accessible, and we're building wallets in public with our customers, which we hope will create a fresh experience . This feature builds a fully functional transfer flow for Cryptocurrencies. This is somewhat analogous to having an ATM at the bank — enabling our customers to deposit and withdraw the coins we support. The feature gives customers the ability to move their coins efficiently and also be the foundation for multiple features we want to add to our crypto domain.
What makes Robinhood a unique place to work?
First and foremost Robinhood is building Crypto products from scratch. This means we can 100% focus on our customers' — many who will be buying their first crypto — and create the smoothest experience to buy, send and receive coins. It's always very rewarding to be the part of a zero-to-100 journey and move forward in our mission to democratize finance for all via decentralized currencies.
Name: Eugene
Role: Software Engineer
Tell us about the product area you're focused on.
I'm Eugene, a backend engineer on the Crypto team. I 've been working on many projects on the Crypto product — from launching new coins, to revamping our in-app trading flow experience, supporting new tax requirements, or designing improvements to our accounting ledger to support new transaction types.
What's the impact of this product?
When Robinhood first started offering crypto trading in 2018, the design of our accounting system was quite lean. This lightweight system served us well over the past three years and enabled us to vertically scale to meet the demand but lacked extendability to support new features. Our team is now focused on building, implementing, and making a safe migration to a new accounting ledger that has the extensibility to support these future product offerings.
What makes Robinhood a unique place to work?
Back-office accounting details might sound boring, but the product opportunities from building a robust and reliable system really excite me. One of Robinhood's values is "First-Principles Thinking", and when you work with engineers across the company, everyone has a singular focus on making a product that our customers love. We collaborate closely with cross-functional teams to improve the crypto experience — with the Growth team for crypto rewards, with the Order Routing team for better order execution, with the Recurring team for recurring crypto investments, with the Notifications team for crypto price alerts, the list goes on.
Name: Chris
Role: Senior Software Engineer
Tell us about the product area you're focused on.
I'm focusing on the Crypto platform. Our goal is to provide scalable and robust infrastructure and frameworks for crypto microservices at Robinhood. We take on a variety of projects, such as:
Sharding our service layers to achieve horizontal scalability (and more importantly, abstracting the concept of sharding from adjacent services, and from developers).
Providing APIs and frameworks for developers to more easily deliver new features, like supporting robust automated order placement, or a framework for adding new coins.
What's the impact of this product?
Our team is directly aligned with our "Safety First" company value. Our customers expect high availability and reliability of our products, and the Crypto Platform team seeks to provide this for all our customers buying and selling crypto. We've made huge strides on this front in the last 3–6 months. Our updated systems can handle spikes in traffic due to market volatility and that gives our customers confidence in our platform and allows them to trade when it matters most.
What makes Robinhood a unique place to work?
Robinhood provides a unique opportunity to learn about the financial markets. I have learned so much about a variety of topics, from transaction settlement and clearing services, to order routing via the financial information exchange (FIX) protocol, to, of course, blockchains and the broader crypto markets. Engineering teams frequently give internal tech talks about their services for anyone interested, so there is plenty of opportunity to improve your financial literacy, and learn more about what goes on behind the scenes in our markets.
Name: Joy
Role: Software Engineer
Tell us about the product area you're focused on.
I am working on two services that are responsible for 1) assembling withdrawals and broadcasting to the blockchain, 2) reading from the blockchain to observe transactions. This will enable our customers to send and receive coins on the blockchain, and will allow them to interact fully with the entire crypto ecosystem.
What's the impact of this product?
The new wallet feature opens an opportunity for our customers to participate in the decentralized blockchain networks. This means they are able to transfer money through the peer-to-peer network faster settlement than traditional fiat currencies.
What makes Robinhood a unique place to work?
Working at Robinhood's Crypto team is unique because the product we are building is impacting our mission to democratize finance for all. And I find this special because we have access to such a unique set of customers on our platform — and Crypto is a really exciting opportunity for us to integrate with the larger ecosystem of all Crypto offerings.
In closing, I would also like to express my deep gratitude to our entire Crypto team who is working hard behind the scenes to support the entire business and of course to our customers for their patience and engagement. The engineering team has been growing at a quick pace to support our scale and build the features our customers are requesting. We're looking for more growth-minded and collaborative people to be a part of our journey in democratizing finance for all and removing the barriers to access crypto. Check out our open positions — we can't wait to hear from you.
Robinhood and Medium are separate and unique companies and are not responsible for one another's views or services.
Robinhood Financial LLC (member SIPC), is a registered broker dealer. Robinhood Securities, LLC (member SIPC), provides brokerage clearing services. Robinhood Crypto, LLC provides cryptocurrency trading. All are subsidiaries of Robinhood Markets, Inc. ('Robinhood').
© 2021 Robinhood Markets, Inc.