Meet the Team: QA Engineering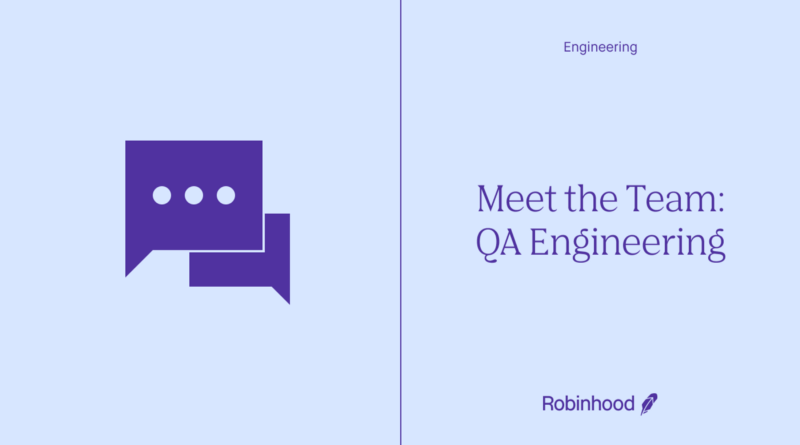 We recently had a virtual coffee chat with Kristina, Sid, Ivy, and Savi who are all on the QA Team, to learn about the impact of their work.
Supporting our customers at every stage of their investing journey requires an extreme intentionality behind the products we build and the experiences we provide. At Robinhood, our mission to have world class customer service helps to drive a degree of excellence throughout our entire ecosystem of services. That level of excellence defines the tempo at which our cross-functional teams work to help provide delightful experiences for our customers. Driving these high standards at Robinhood is our Quality Assurance (QA) Engineering team.
Robinhood's QA engineering professionals champion and maintain quality standards across the company and have developed testing procedures that hold our products to high standards for our customers. QA engineers have such a unique experience at Robinhood because the entire company, across every discipline and domain, respects and supports this imperative human professional testing and the work we do to help ensure a seamless and intuitive experience across our products.
When executing the manual testing strategy for new products, QA engineers have a simple and effective framework for comprehensively testing a new product or experience: Analyze, Plan, Architect, Execute.
Analyze: A thorough analysis of the new product gives the QA engineer a holistic understanding of the intention and goal behind the product, and how it will impact our customers. Understanding our customers' needs is essential, so that our QA engineers can advocate for them within Robinhood.
Plan: The planning phase allows us to proceed with pragmatism and intention, to collaborate with Design, Product, and Engineering on delivery of a satisfying customer experience.
Architect: When architecting our test suites, QA considers all potential use cases, from the blindingly obvious to the extremely fringe, in order to craft exhaustive, end-to-end test cases across all of our supported clients. This process requires creativity, thoughtfulness, and a comprehensive technical understanding of the entire tech stack. It also benefits from insight and input from stakeholders outside the engineering department.
Execute: The QA engineer explores the feature by embodying that end-customer, working collaboratively with the vertical product team to identify and resolve any broken or confusing experiences.
Although the team is relatively young at Robinhood, we have significantly scaled up our QA Engineering team over the past year striving to maintain consistent quality for our growing suite of products. Now let's introduce a few of our amazing QA engineers, and let them explain why they're so motivated and passionate about providing the best possible customer experience from Robinhood.
Name: Kristina Tuchkova
Role: Customer Care QA Lead
Tell us about the product area you're focused on.
I'm leading the quality efforts for Customer Care, which is focused on building customer trust. Our mission is to deliver delightful customer support experiences, provide quality live support and continuously improve the experience through automation. I've been focusing on the Pathfinder Triage and Voice Support product areas, helping to ensure that our customers have a seamless and high quality experience, can find the answers they need and connect to the real-time agents to resolve complicated problems.
What's the impact of this product?
Pathfinder Triage flow is personalized and leads customers to either an email form, an article, or phone support based on their needs. There are self-service flows for common problems like requesting a new debit card. The Voice Support feature is now available for Fraud, issues with selling stocks, and all Options use cases, enabling customers to request a connection to an agent via phone. We also design tools and processes that empower agents to solve customer problems quickly and empathetically. We want to help make sure our customers feel supported, confident, secured and empowered.
What makes Robinhood a unique place to work?
Robinhood is solving a very important problem by providing financial education, and making a variety of financial instruments accessible for almost anyone who wants to be an investor. I personally feel motivated and supported by the many smart, passionate and result-oriented 'Robinhoodies' that surround me.
Name: Sid Vartak
Role: Sr. QA Engineer
Tell us about the product area you're focused on.
I'm focused on leading the quality effort within the long term investing team, delivering features centered around product areas such as recurring investments and dividend reinvestments.
These products help users automate their investments over a period of time and can help work towards their investing goals.
What's the impact of this product?
Investors at all levels can leverage recurring investments to help build responsible habits around investing in stocks and funds on an ongoing basis. Users can schedule automatic recurring investments in thousands of stocks & ETFs and potentially grow their nest egg for the future.
What makes Robinhood a unique place to work?
Robinhood was founded with one mission in mind: to democratize finance for all. Knowing that the product that I work on impacts millions of people gives me immense satisfaction and joy.The awesome responsibility that we all have helps me stay motivated and passionate about our goals.
Name: Ivy Murphy
Role: Brokerage QA Lead
Tell us about the product area you're focused on.
Balancing exceptional, rapid growth in our service with the sustained reliability of our critical brokerage experiences required substantial horizontal scaling — I have been leading the quality of this immense scaling effort to help ensure that users could stay unaware of any changes beneath their interfaces.
What's the impact of this product?
This scaling underpins every one of our customer experiences,like placing equity, options, or cryptocurrency orders and receiving prompt updates to those orders, even in moments of tremendous traffic in the market. To grow with our customers, we must continue serving them when they need to rely on us most.
What makes Robinhood a unique place to work?
The fast paced, challenging problems we are collectively solving requires shared output from individuals across extremely diverse disciplines. I'm always inspired by the effort and innovative drive of each individual at this company, working diligently and in unison to embody our mission and truly change the industry.
Name: Savi Acharya
Role: QA Engineer
Tell us about the product area you lead the quality for at Robinhood.
I lead the quality effort within the Stock Trading Product Team. This feature is the core product at Robinhood. It includes share-based orders, dollar-based orders, and conditional orders for buy and sell. My job is to help ensure that users can have a smooth experience of trading shares, whether that's during market and after hours.
What's the impact of this product?
Users without any investing background can begin their investing journeys on Robinhood. The fractional shares feature may provide investing opportunities to people who might not otherwise be able to participate in the stock market.
What makes Robinhood a unique place to work?
Robinhood has helped bring in a new generation of investors to the stock market. I'm thankful to be part of a great company and be part of a stock trading team that is impacting millions of users every day.
We're looking for more growth-minded and collaborative people to be a part of our journey in democratizing finance for all. Check out our open positions — we can't wait to hear from you.
All investments involve risk and loss of principal is possible. Recurring investments do not ensure a profit or guarantee against loss. Fractional shares are illiquid outside of Robinhood and are not transferable. Not all securities available through Robinhood are eligible for fractional share orders. For a complete explanation of conditions, restrictions and limitations, visit www.robinhood.com. Any mentions of products or features are for illustrative purposes only and is not a recommendation of a security or investment strategy.
Robinhood Financial, LLC (member SIPC), is a registered broker dealer. Robinhood Securities LLC (member SIPC), provides brokerage clearing services. Robinhood Crypto, LLC provides crypto currency trading. All are subsidiaries of Robinhood Markets, Inc. ('Robinhood').
Robinhood and Medium are separate and unique companies and are not responsible for one another's views or services.