Meet the Team: Technical Program Managers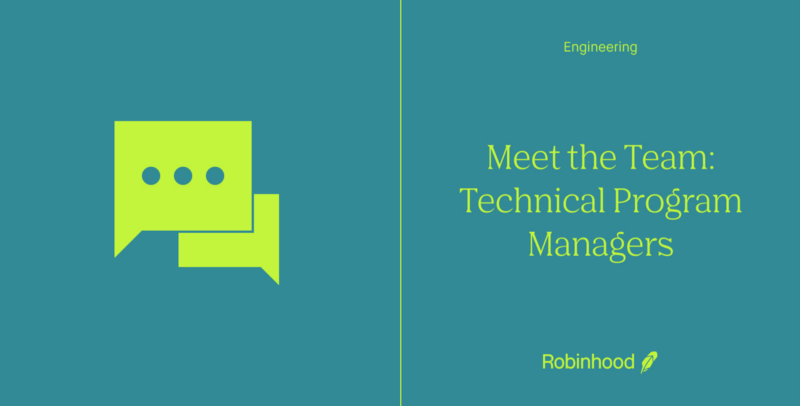 We recently had a virtual coffee chat with Zhanat, Vasavi, and Mike, who are all on the Technical Program Management Team, to learn about the impact of their work.
A core tenet of Robinhood's mission is that our services should aim to help to make investing friendly, approachable, and understandable for newcomers, and experts alike. In order to achieve this, it takes many people coming together to tackle tough, ambiguous engineering problems. As our company and service rapidly grows and scales, Technical Program Managers (TPM's) play a key role in helping to bring Robinhoodies together to achieve these goals.
It's not an uncommon occurrence in the industry to find TPM's playing different roles across companies (or even within the same company!). When building out the TPM team at Robinhood, we first started by defining a technical program by 5Ps: A program stitches projects, processes, and products together in a plan that delivers a solution to a problem. Programs typically cannot be completed by a single team alone and require inputs from diverse perspectives, alignment on priorities, and strong collaboration with partners. A TPM at Robinhood leans on their technical expertise to help turn these ambiguous or unknown situations into comprehensive and deliverable action plans.
Recently formed in early 2019, the TPM team is already making a huge impact across Robinhood and is just getting started! So we asked a few members of the team to tell us about the programs they lead and why their work is important to helping our mission to democratize finance for all.
…Now, let's hear what they had to say!
Name: Vasavi Bollaram
Role: TPM, Infrastructure
Tell us about the program you lead at Robinhood.
I am the TPM for the Incident Management Program, also known as our SEV program. Incidents are a part of building software and running a service and what sets apart a stellar engineering team is its ability to react and respond to unforeseen incidents in the least amount of time. The SEV program is focused on centralizing and orchestrating incident management across the company, while investing in the right tooling to provide teams with insights to run an ideal response process both consistently and in real-time.
What's the impact of this program?
At Robinhood we are constantly navigating change — it's in our DNA. SEVs are challenges that put our firm, customer funds, or internal operations at risk. Robinhoodies, typically sourced from Engineering and Operations teams, must respond efficiently to resolve the issue. The silver lining of SEVs are the learnings we gain from incident analysis and the improvements we make to our systems and processes.
What makes Robinhood a unique place to work?
I joined Robinhood from an incident management world where I worked with many Fortune 500 companies who spend years to implement an incident response process — but here I was amazed to see how quickly Robinhoodies embraced the incident response process. This speaks a lot about the culture of the company and how teams are willing to adapt and iterate through processes and build upon internal tools to help to bring Robinhood's vision to life.
Name: Mike Tom
Role: TPM, Brokerage Infrastructure
Tell us about the programs you lead at Robinhood.
I'm a TPM overseeing two key programs — the first is an initiative directed at scaling our primary customer-facing backend trading service to keep up tremendous growth in our service. The second is an org-wide initiative to systematically go through and harden all critical services in order to maximize our uptime when serving customers.
What's the impact of these programs?
With the steady growth in 2020, our primary trading system's database began steadily inching towards our forecasted redline. Even after instituting read replicas, leveraging caches and optimizing costly queries and DB workloads, CPU and disk throughput were at risk of hitting capacity limits. In order to keep up with Robinhood's long-term growth, it was clear we needed the ability to scale horizontally. In the following months we planned, designed, and rolled out a solution which enabled us to 1) spin up multiple instances of the entire back-end system to handle new user growth 2) rebalance users across these instances to provide a reliable and consistent customer experience.
This introduced new challenges such as routing external and internal requests to correct destinations, deploying code to multiple copies of the infrastructure, balancing data and workloads among the DB instances and of course more complex troubleshooting. Included in the program were workstreams to ensure each of these challenges were given the appropriate level of attention.
What makes Robinhood a unique place to work?
I've been at large companies and startups with bright people but this is the first time I've seen coworkers really jump with such eagerness to solve hard problems with such natural coordination. It makes my job as a TPM that much easier when the vast majority of folks here have a highly positive and collaborative attitude.
Name: Zhanat Abylkassym
Role: TPM, Data Platform
Tell us about the programs you lead at Robinhood.
I'm focused on the Data Platform Compliance program. At Robinhood, we take money seriously and given we operate in a highly regulated domain, we need to ensure that we treat all data with integrity. I collaborate with various teams across Data Platform, Security, Legal, and Finance to identify the regulatory requirements, build an implementation roadmap, and to engineer the state of the art solutions.
What's the impact of these programs?
The amount of data the company logs can grow tremendously during a phase of hyper-growth. Driving technical programs in Data Platform helps us to stay ahead of that curve, foresee challenges ahead, and plan accordingly. The platform is used by multiple internal customers for business critical needs and powers several features available to our customers. We strive to provide the best possible customer experience — so that requires a thorough prioritization between future-proofing our platform and introducing new capabilities. As a TPM I help various stakeholders to align on the end goal driven by our mission to democratize finance for all.
What makes Robinhood a unique place to work?
Robinhood is built on an intersection of seemingly disparate areas. It is a technology company providing a consumer product to the financial industry. This unique blend brings together people from diverse professional backgrounds and I am always amazed by their talent and caliber. Even though we are a startup, we operate as a mature company.
We're looking for more growth-minded and collaborative people to be a part of our journey in democratizing finance for all. Check out our open positions — we can't wait to hear from you.