Meeting Our Responsibilities to Customers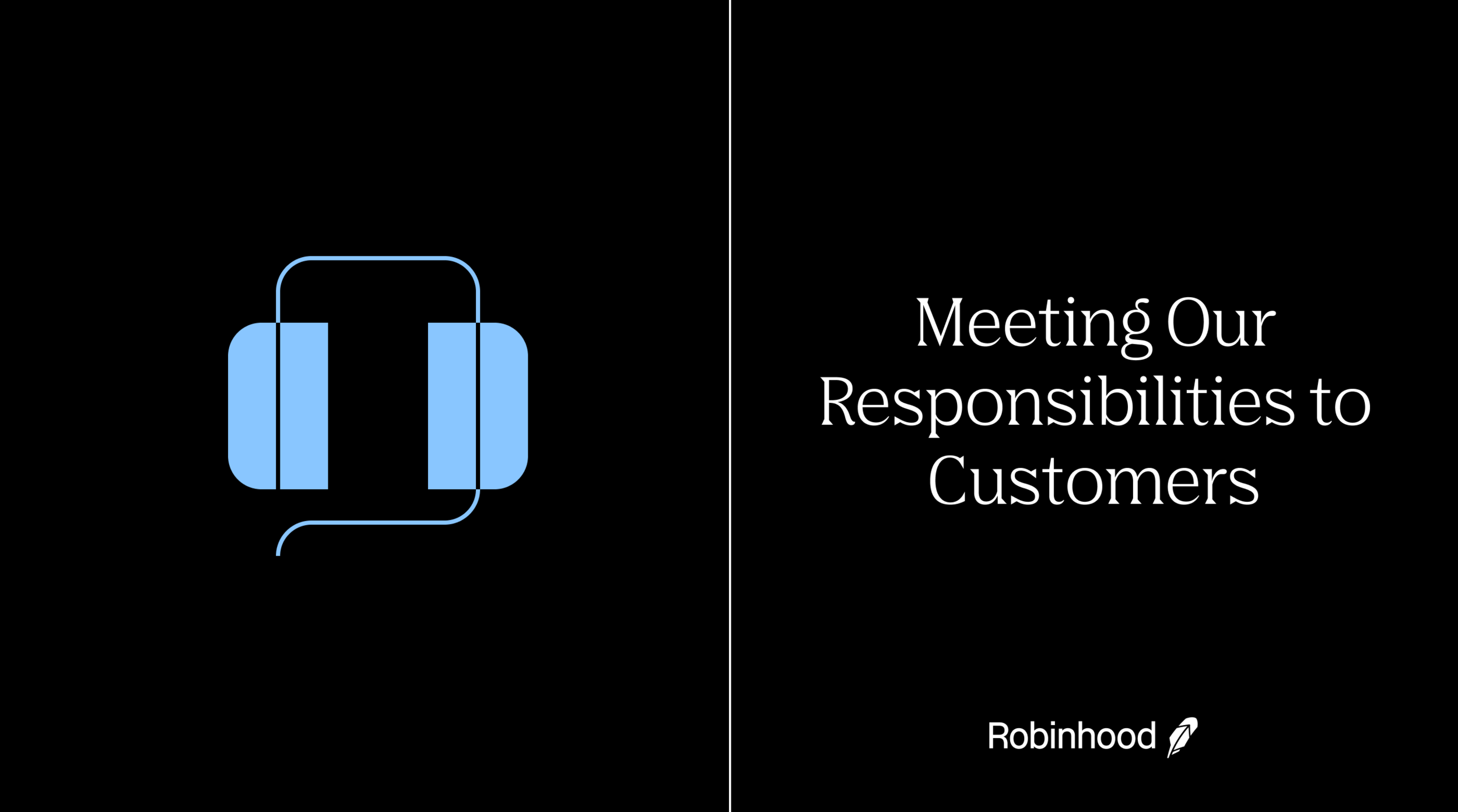 Here at Robinhood, we take our responsibilities to our customers very seriously. We want to bring you up to speed on what's been happening recently.  We've made investments in expanding customer support – and are now offering phone support for several areas, including options and equities trading, account security, and other use cases. We've enhanced our options offering, education about options, and how information is displayed in the app. Read on for more details.  
Expanded customer support
We have substantially expanded and enhanced our customer support resources and services, including services provided to options and margin customers.  We've hired hundreds of new customer support team members, with plans to double the number of registered reps throughout 2021, including in our recently opened customer support sites in Charlotte, North Carolina, Westlake, Texas, and Tempe, Arizona, as well as existing locations in Denver, Colorado, and Lake Mary, Florida.  We've also recently announced a new customer support site in Chicago.  
Robinhood now has approximately 2,700 customer support staff, more than triple the number that we had in March 2020, and we're continuing to grow this team to meet your customer support needs.  
Through the Robinhood app, you can request phone support Monday through Friday from 8 am to 8 pm EST and speak with a registered representative across several issue types including account security, banking issues, equities trading, restrictions as well as Options. We offer extended hours for options support that span 24 hours per day from Monday 5 am to Saturday 5 am EST. We're also working to expand our phone channel to other customer support use cases and continue to provide support for all inquiries via email on a 24/7 basis.
Enhanced In-App Educational Resources
In line with our commitment to meeting our customers where they are, we've made more educational tools available right in the app. This includes learning modules deployed at timely and relevant moments in your investing journey. Learn about the basics of investing, why people invest, and what the stock market is and how it works, all while using the app. We put the power in your hands and want our customers to feel informed, confident, and knowledgeable when using our app. This is only the beginning — our team continues to work on and integrate more accessible, interactive learning tools to help you make informed investment decisions.
Strengthened supervisory structure
We've made significant improvements to the way we supervise our technology and our engineering infrastructure.  
For example, we've taken steps to address the root causes of the March 2020 outages, reduce the risk of future outages, and increase the resilience of relevant systems, including by increasing system redundancy, better distributing load on Robinhood's systems, and deploying a risk-based testing system.   
Customer communications and data displays
We've added customer disclosures with respect to the use of margin, and have been correcting buying power displays, cash balances (including negative cash balances), historical performance figures, and customer communications regarding the risk of loss in debit spread transactions. We have also provided customers with additional educational resources.
Improved supervision of options
In September 2020, we implemented more rigorous criteria for customers' eligibility for options trading and have continued to improve our options approval process.  We also augmented our supervision of options trading by implementing systematic monitoring of options customers to confirm their ongoing eligibility for options trading.  Since April 2020, we have conducted monthly account reviews and downgraded options accounts that no longer meet the eligibility criteria.  
Enhanced legal, compliance, risk, and anti-fraud functions
We continue to grow and enhance our legal, compliance, and risk functions and programs, and have hired dozens of experienced professionals in the past year alone.  
Our customers are at the forefront of every decision we make and we're committed to making continuous improvements so that investing can be accessible to all.
Options carry a significant level of risk and are not suitable for all investors. Certain complex options strategies carry additional risk. Please read the Characteristics and Risks of Standardized Options before engaging in any options trading strategies. Supporting documentation for any claims, if applicable, will be furnished upon request.