Neurodivergent: Awareness Goes Mainstream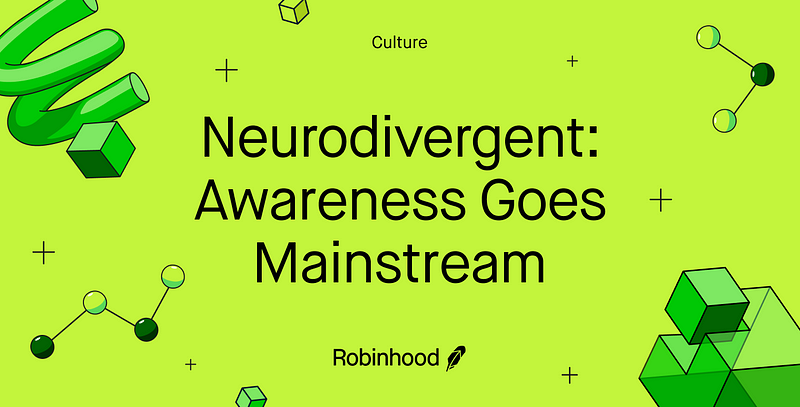 Robinhood was founded on a simple idea: that our financial markets should be accessible to all. With customers at the heart of our decisions, Robinhood is lowering barriers and providing greater access to financial information and investing. Together, we are building products and services that help create a financial system everyone can participate in.
A note from author Melody Jackson, Assistant General Counsel, Communications & Marketing at Robinhood
Neurodivergent: Awareness Goes Mainstream. That statement was up there with a blinking cursor, just waiting to get answered. After several hours of false starts, dozens of tabs open for everything from recipes, tax documents, shopping carts and Twitter threads, it was now 9pm and time to clock in at Waystar Royco for my date with Succession. That went on for 2 weeks.
I managed to make several graphics for our Divergent events, created decks for upcoming presentations, made bracelets to give to my friends, and even tried a really great chili recipe. Why could I find the time to complete all these other projects, but not the blog post?
That is what it's like being neurodivergent: a brain wired completely different. Some skills come naturally to me; sometimes I have control over what tasks I want to complete. Other times, I struggle to get to the finish line. I get easily distracted, my coping mechanisms and strategies fail, and I get stuck. It takes me a bit longer to get out of the blur and refocus my attention. Getting to this place of self awareness and honesty wouldn't have happened if not for the Divergent charter at Robinhood. For the first time, my workplace offers a place for our community to access resources, share our stories, and learn from each other how to navigate neurodiversity together. Because I am empowered to think of my skills as a superpower, an asset, and a gift, I am able to be myself and embrace being neurodivergent. I am grateful for the opportunity to share more about our amazing charter and how neurodiversity has gone mainstream.
Neurodivergent: Awareness Goes Mainstream
We're thrilled to commemorate Autism and Neurodiversity Awareness Month alongside our employee resource group (ERG) Divergent. "Neurodiversity" is a word used to explain the unique ways people's brains work. While everyone's brain develops similarly, no two brains function just alike. Being neurodivergent means having a brain that works differently from the average or "neurotypical" person. In fact, the awareness of neurodiversity is relatively new, with celebrations dating back to 2018. Divergent serves as a powerful showcase of the neurodiverse (ND) community. Divergent showcases the power of the neurodiverse (ND) community, facilitating an equitable and brave space to de-stigmatize and ensure members' talents are embraced by Robinhood. Guided by core values of Equity, Accountability, Representation, First Principle Thinking, and Advocacy, Divergent lives by the motto "Nothing About Us Without Us." This motto showcases how being neurodivergent is a skill to be nurtured, by breaking down barriers for success, and by creating a culture where we are seen as equals with our neurotypical peers.
This year's theme for Autism and Neurodiversity Awareness Month at Robinhood is "In it Together," which perfectly encapsulates the empowerment of divergent individuals from all walks of life. We are shedding light on individuals who are breaking free from stigmas and proudly sharing their stories as parents, siblings, veterans, celebrities, athletes, founders, and more. They are proving that they can dream big and excel in life, breaking barriers in various fields. Neurodiverse individuals are all around us, transcending language and cultural barriers.
Neurodiversity has gained prominence in various realms of entertainment, from dating shows where singles openly share their neurodiverse stories, to reality shows where contestants vie for prizes, and aspiring musicians on shows like American Idol. In the past, neurodiverse characters in movies were often portrayed by A-list stars as main plot points, with negative or sad portrayals in movies like "Rain Man," "Forrest Gump," and "What's Eating Gilbert Grape." However, in the early 2000s, neurodiverse characters became main characters with arcs and redemption, as seen in "A Beautiful Mind," "Monk," "Big Bang Theory," and "Sherlock." Neurodiversity became an aspect of their personality, not the entire plot, and their skills were positively portrayed. More recently, shows like "The Good Doctor" and "Atypical" have brought neurodiversity to the forefront of pop culture, and reality shows like "The Bachelor" and "The Challenge" now feature contestants openly sharing their neurodiversity stories.
In the workplace, the myth that self-identifying may have negative consequences has been debunked by our own employees. Since its inception in 2021, Divergent has empowered our community at Robinhood to openly discuss their diagnoses and differences without shame or stigma. Members have reported increased self-confidence, enhanced managerial and ally skills in communication, support, and collaboration with both neurodivergent and neurotypical individuals, and a shift in perception of neurodivergence from a disability to a superpower that benefits work and the organization. With over 250 members and continuing growth, Robinhood demonstrates its commitment to valuing the talent of divergent individuals who may have been overlooked elsewhere.
As we witness a paradigm shift, we are doubling down in our second year to promote awareness, inclusion, equity, and belonging for our neurodivergent community. This month, we are offering a series of skill-building programs where participants are able to explore and practice relationship-building behaviors that foster effective communication and collaboration. We will continue to incorporate the innovative ideas and creative problem-solving of our neurodiverse team members into our business model and product designs, to deliver a unique and beneficial in-app experience for both neurodiverse and neurotypical users. We will leverage our seat at the table to drive the firm's ESG strategy and promote neurodiversity in internal and external cognitive diversity metrics.
We are always looking for more individuals who share our commitment to building a diverse team and creating an inclusive environment as we continue in our journey to democratize finance for all. Stay connected with us — join our talent community and check out our open positions!
Robinhood and Medium are separate and unique companies and are not responsible for one another's views or services.
© 2023 Robinhood Markets, Inc.