Options Trading in Cash Accounts is Now Available at Robinhood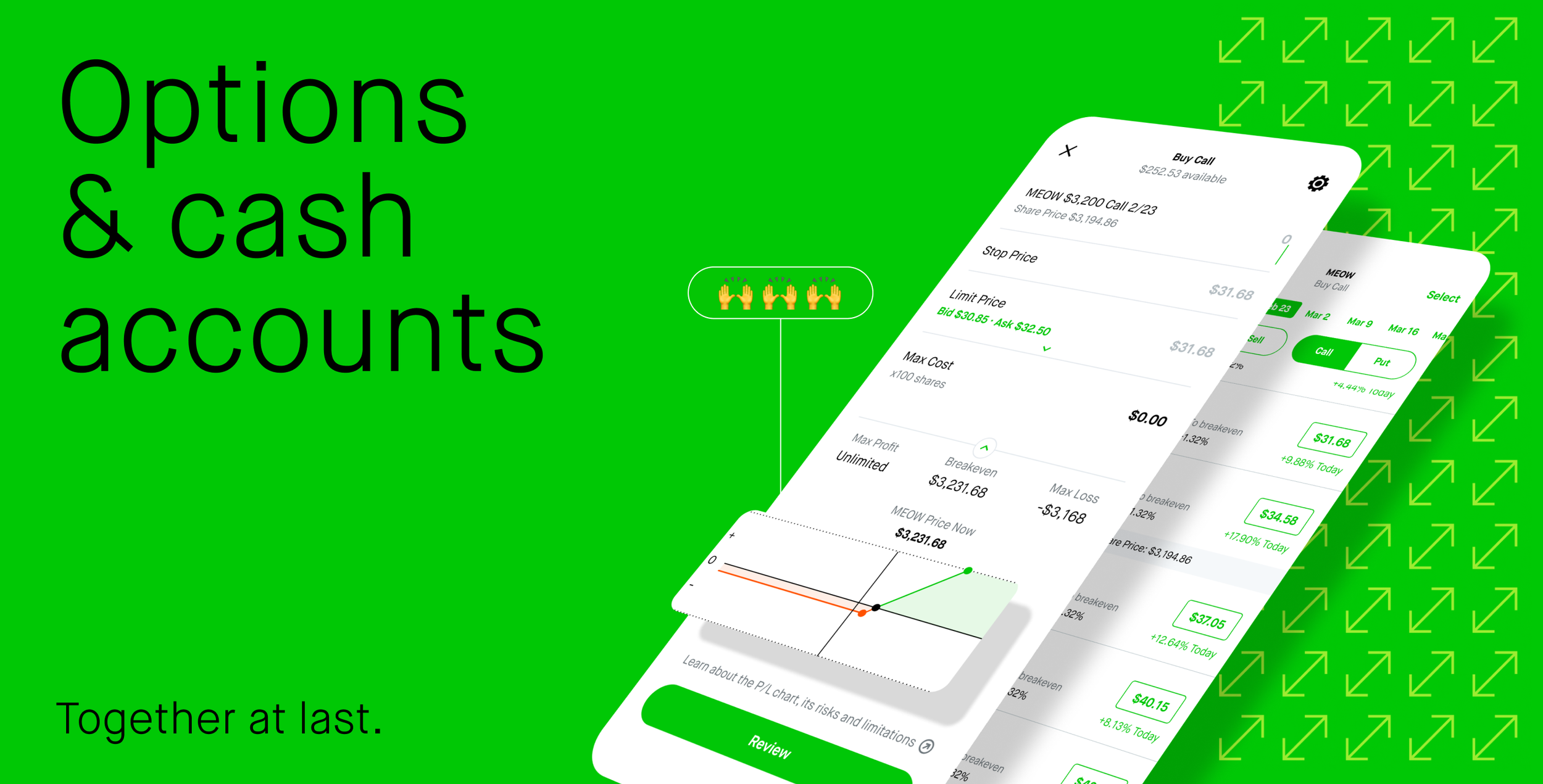 Options trading in cash accounts is one of the most requested features from our advanced customers
Robinhood was founded with the mission to democratize finance for all, regardless of where they are on their financial journey. This means building new products, services, and educational tools for both our novice and advanced customers, and empowering them to choose how to manage their money and help meet their financial goals. 
That's why we are excited to announce that options trading in cash accounts is now available to all eligible Robinhood customers. This is one of the most requested features from our advanced customers and builds on the work we've already done this year to improve their trading experience (more on these below).
Options Trading in Cash Accounts
With a cash account, customers can only use deposited cash or settled funds to make trades. As a result, FINRA's pattern day trading regulations*, which limit the number of day trades a customer can make in a margin account over a five day period, no longer apply. This means advanced customers with a cash account can trade stocks, ETFs, and now options without worrying about their number of day trades. You can read more about the differences between Robinhood account types here.   
Options trading in cash accounts is a standard industry offering. Options trading entails significant risk and is not appropriate for all customers, which is why all interested customers must apply for options access and have their account reviewed to determine if they are qualified. 
Customers who wish to trade options in a cash account can click here or open the app and navigate to the Account tab → Menu → Investing → Day trade settings → Switch to cash account. On Web, navigate to Account → Settings → Investing → Account type → Switch to cash account. 
Investing in our Active Customers
Options trading in cash accounts is the latest example of how we're launching important features and services for our most advanced customers. See below for an overview of progress we've made over the last 6+ months: 
We launched our Options Trading Essentials hub in 2021 – a dedicated site on Robinhood Learn, available to everyone, providing education on the ins and outs of options trading, risk management, and plenty more. We've also expanded our Help Center with extensive resources on both options and margin trading. 
 *FINRA's pattern day trading regulations require that any customer who makes four or more day trades within five business days must have at least $25,000 of equity in their margin account and cannot trade in excess of their day-trading buying power. Read more at: https://www.finra.org/rules-guidance/rulebooks/finra-rules/4210
**The program banks may change the APY at any time at their discretion. Please see the Insured Network Sweep Program Disclosures (IND Disclosures) for more information regarding the FDIC insurance coverage available for funds swept to the program banks. Neither Robinhood Financial LLC nor any of its affiliates are banks.
Disclosures: All investments involve risk and loss of principal is possible.
Please note, trading options in a cash account is limited to Level 2 positions only. 
Options trading entails significant risk and is not appropriate for all customers. Customers must read and understand the Characteristics and Risks of Standardized Options before engaging in any options trading strategies. Options transactions are often complex and may involve the potential of losing the entire investment in a relatively short period of time. Certain complex options strategies carry additional risk, including the potential for losses that may exceed the original investment amount. 
Robinhood Financial does not guarantee favorable investment outcomes. The past performance of a security or financial product does not guarantee future results or returns. Customers should consider their investment objectives and risks carefully before investing in options. Because of the importance of tax considerations to all options transactions, the customer considering options should consult their tax advisor as to how taxes affect the outcome of each options strategy. Supporting documentation for any claims, if applicable, will be furnished upon request.
Options Watchlist: This feature provides hypothetical returns based on when you select a contract to be added to the watchlist, and does not guarantee future results. No contract has been bought or sold. The Watchlist is for informational purposes only and should not be considered a personalized recommendation or investment advice. Actual profits or losses may differ based on a number of factors not accounted for in these assumptions.
Please see Robinhood Financial's Form CRS for important information about the brokerage services we offer you.
Stock lending is not appropriate for all customers. Stock Lending income depends on feature eligibility and can vary based on which stocks are loaned out. Stock Lending income is not guaranteed and stocks must be matched to a borrower in order to earn Stock Lending income. For risks and more information about Stock Lending, please review the Fully Paid Securities Lending Risk Disclosure Statement and the Fully-Paid Master Securities Lending Agreement.
Robinhood Financial LLC (member SIPC), is a registered broker dealer.  Robinhood Securities, LLC (member SIPC), is a registered broker dealer and provides brokerage clearing services. All are subsidiaries of Robinhood Markets, Inc. ('Robinhood').  
Shareholder Q&A events are made available through Say Technologies, LLC ("Say"), which provides access to events through a proprietary Q&A platform. Say, an affiliate of Robinhood Financial LLC (member SIPC) and Robinhood Securities, LLC (member SIPC), and a wholly-owned subsidiary of Robinhood Markets, Inc., is not a licensed broker-dealer and does not offer to sell any securities or investment products. 
© 2022 Robinhood Markets, Inc. Robinhood®