Our best rate yet. Earn 5.0% APY with Robinhood Gold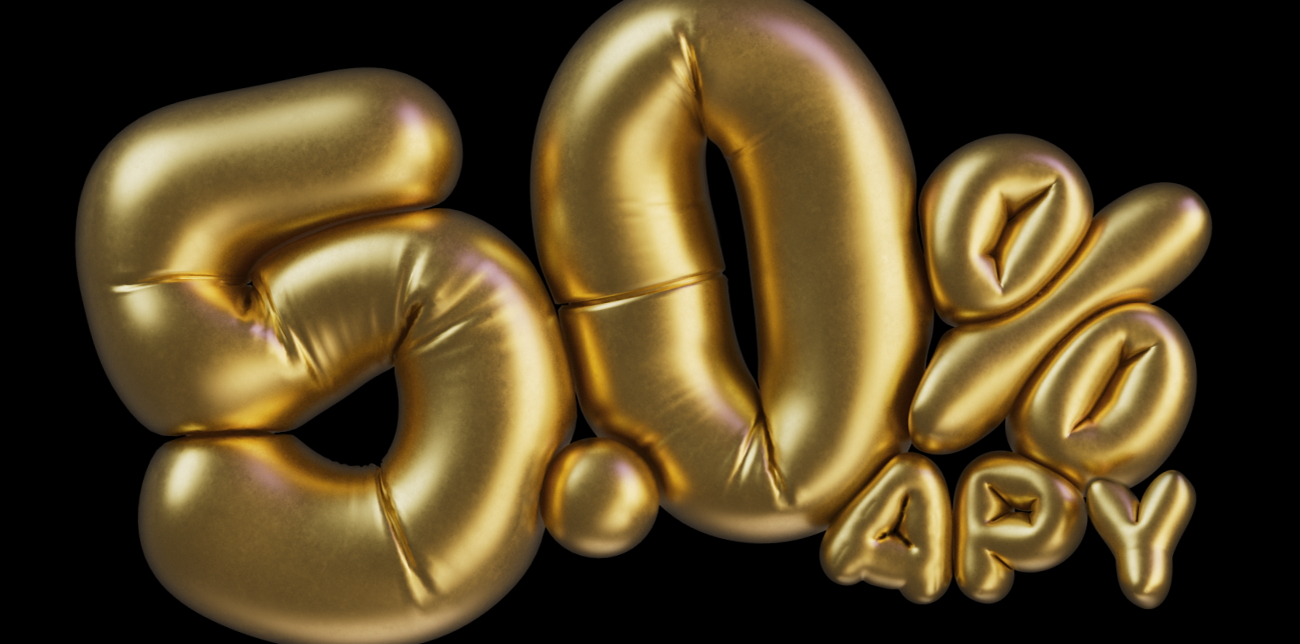 Robinhood is raising interest rates once again for Gold members, 8x higher than the national average savings rate*
We're raising our Robinhood Gold rate again – this time to 5.0% APY, our highest rate yet. Starting today, new and existing Robinhood Gold customers can earn even more interest on their uninvested cash while they plan their next move, with no cap on earnings and the ability to withdraw or invest at any time.
At Robinhood, we're focused on passing value back to our customers so their money works for them. The 5.0% APY rate is 8x higher than the national average savings rate*, making it one of the best available.
All eligible Robinhood Gold customers have their uninvested brokerage account cash automatically "swept," or moved, into deposit accounts at a network of program banks. The cash deposited to these banks is covered by FDIC insurance up to a total maximum of $2.25 million (up to $250,000 per program bank, inclusive of deposits customers may already hold at the bank in the same ownership capacity).
In addition to the new rate, Robinhood Gold customers have access to:
Bigger Instant Deposits. With Gold, customers can get up to $50,000 of their deposits instantly so they can invest right away.
3% Extra on Robinhood Retirement IRA Contributions**. By staying with Gold for a full year, customers can save even more when it comes to retirement.
Real-time market data. Customers can see people's bids and asks on securities with Level 2 market data from Nasdaq.
Professional research. Customers can plan their next move with stock research by financial analysts at Morningstar.
Customers can try Robinhood Gold for just $5 a month and new subscribers will receive a free 30-day trial. Those not enrolled in Robinhood Gold can still earn 1.5% interest for all uninvested brokerage cash by enrolling in cash sweep.
*As of November 13, 2023 based on data from Bankrate.
All investments involve risk and loss of principal is possible. Robinhood Gold is offered through Robinhood Financial LLC and is a subscription offering premium services for a $5 monthly fee.
**5.0% APY on uninvested cash only applies to brokerage accounts, it does not apply to IRA accounts. IRA transfers and rollovers receive a 1% match. You can keep the additional 2% IRA match by staying with Gold for at least 1 year. For more information, read the IRA match limitations.
You must have earned (wage) income in order to contribute to an IRA. The funds that earned the match must be kept in the account for at least five years to avoid a potential Early IRA Match Removal Fee.
The current APY enrolled customers will receive from these banks is 1.5% for non-Gold members and will be 5.0% for Robinhood Gold members as of November 15, 2023.
The Brokerage Cash Sweep Program is an added feature to your Robinhood Financial LLC brokerage account. Interest is earned on uninvested cash swept from your brokerage account to program banks. Program banks pay interest on your swept cash, minus any fees paid to Robinhood. The APY might change at any time at the program banks' discretion. Terms apply. Additionally, any fees Robinhood receives may vary and is subject to change. Neither Robinhood Financial LLC nor any of its affiliates are banks.
Bigger instant deposits are only available if your instant deposit status is in good standing.
3233376