Our Investments in Customer Support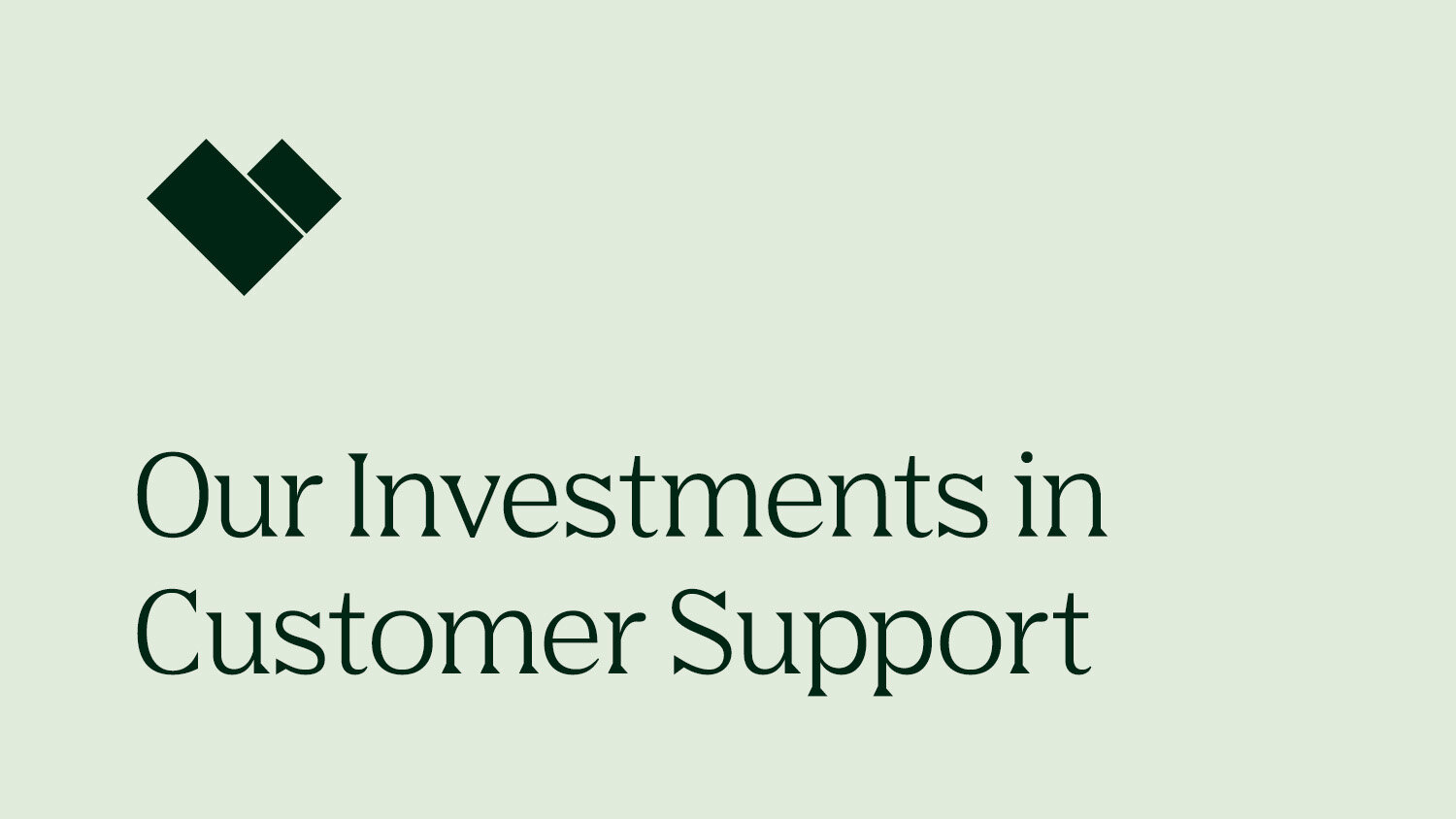 We've always sought to make Robinhood a different kind of brokerage—one built for everyday people. And that means it's important that we provide you with the help you need, when you want it.
Over the past year, we've accelerated our investments in customer support. We believe great customer service incorporates a combination of real people and the best technology, and we continue to invest in both. Here's an update about how we're continuing to improve the support we provide to you.
Expanding live phone support
We want to make sure we're there for customers, especially in time-sensitive situations. Over the past several months, we've rolled out phone support for options issues through a new in-app contact feature. Now, customers can request to speak by phone with a registered financial representative at Robinhood for help with an open options position or recent expiration. And last week, we rolled out live phone support to customers needing assistance with account security.
Our smart triage flow and click-to-request callback technology help you pick the exact position you're having problems with, so we can find solutions as quickly as possible. This has helped us introduce a solution to phone support that doesn't force customers to wait on hold for long periods of time. 
Over the coming months, we'll expand across a number of additional situations, including trading and transfer issues.
Investing in automation 
Advancements in the applications of machine learning and natural language understanding over the past several years have unlocked new possibilities for customer support. With this additional intelligence brought to automation, we are able to improve your overall experience while reducing the load on human agents. Automation provides us with insights, helps us manage the support pipeline, and allows us to dynamically optimize routing, ranking, and proactive case prevention.
We're also helping our customers correctly identify their problems, solving them with minimal friction, and prioritizing the most time-sensitive or urgent cases. To do this, we've heavily invested in machine learning, automation, and advanced analytics in customer support over the past year. We are constantly improving our smart triage flows through feedback from our customers.
We'll continue to use automation and machine learning to help us offer you more timely and customized support. 
Growing the team and reducing response times
In 2020, we more than tripled the size of our full-time customer support team, and hired hundreds of new registered financial representatives to help customers with their account issues. We opened new offices in Tempe, AZ, Southlake, TX, and Denver, CO to create additional centers of excellence for customer support, and continued to grow our customer support team in Lake Mary, FL. 
We plan to more than double the number of full-time registered reps at Robinhood throughout 2021, and will expand to new geographies to support this hiring goal.
We're also hard at work to reduce the time it takes to respond to customers. Our support team is available daily to help our customers and operate around the clock for the majority of case types. This year, we've seen a significant increase in interest in and activity on our platform. Serving our customers through this volume has meant it has taken us longer than usual to respond, and we know this has been frustrating. Rest assured, we are working diligently to get back to you and resolve any issues as fast as we can. 
Building self-service and educational tools
We'll continue to invest in self-service tools that help you get questions answered without having to talk to someone. Just this year, we've added functionality that makes it easier to cancel a pending or queued deposit, exercise options, or deactivate your account without having to connect with a representative. 
In an effort to provide an intuitive and informative investing experience, this year we've invested more than ever to deliver personalized messages and broadcast home screen cards in the app. We're adding more detail to explain what's happening in your account and in the broader markets, such as a personalized card alerting you when a stock split happens to one of your holdings.
We also continue to expand our educational resources that help you learn more about the markets and investing. Through our Help Center, Robinhood Learn, and in-app news resources, we provide answers to questions about our products and financial information to educate customers on financial terms, concepts, and timely market trends. 
We are witnessing one of the greatest financial transformations our country has seen. Millions of people are making their voices heard through the markets. We're investing heavily in customer support and remain committed to improving to serve you.
All investments involve risk, including the possible loss of capital. Options trading entails significant risk and is not appropriate for all investors. Options transactions are often complex and may involve the potential of losing your entire investment. Investors should consider their investment objectives and risks carefully before investing in options. To learn more about the risks associated with options, please read the Characteristics and Risks of Standardized Options before you begin trading options.
Securities trading offered through Robinhood Financial LLC, Member SIPC, a registered broker-dealer, and a subsidiary of Robinhood Markets, Inc.