Parenthoodies Working from Anywhere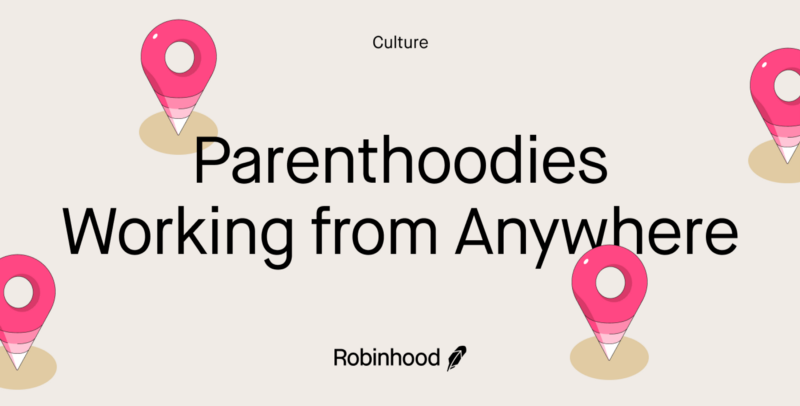 We recently announced that here at Robinhood, we'll be staying primarily remote. So what does that mean for Robinhoodies and their families? Hear from members of our Parenthood Employee Resource Group (ERG) about how working in a primarily remote environment is providing them the flexibility to feel supported and present, both at work and at home.
Freida Lo (she/her) — Director of Technical Accounting and Reporting, Menlo Park
Sidney Muse (she/her) & Mabruk Bessiouni (he/him) — Customer Experience Representatives, Westlake
Sy Na (he/him) — Infrastructure Engineer, Menlo Park
Luis Zapata (he/him) — Account Servicing Team Lead, Lake Mary
Robinhood recently announced that we're staying in a primarily remote work environment — can you share the impact this has and what it means to you?
Sidney & Mabruk: This means more time at home with our son and being closer to our family. It gives us time to enjoy breakfast as a family instead of rushing to drop our son off at daycare and commuting to the office. It means we can end our work day sooner, as we don't have to spend time commuting home. We can eat lunch as a family every day and we are close enough to daycare that we can be there so much faster if there is an emergency or if our son gets sick than we would ever be able to if we were at an office. Being primarily remote also means that we can take our son to visit relatives out-of-town without having to take too much time off — we can work while he visits and then catch up when the work day is done.
Sy: Primarily remote means a lot less pressure on us parents who don't have to decide if they can attend that recital or soccer game because of traffic concerns. It means that 3 PM extracurricular activities are now possible, where before there would have been no way of doing that. It means being there when my kids have questions about homework, and more time spent with them in general. The impact cannot be overstated — primarily remote basically means the gift of time to all parents and the flexibility to integrate work with family life, not having to choose one or the other.
Every parent knows, there's never enough hours in the day! How do you structure your work day so that it best fits into your life, giving you time for the moments that matter at home?
Freida: At first, I wasn't really good at managing my calendar working from home and there were no clear boundaries between personal and professional life. I was able to finish all the work and mom duties, but I didn't have time to sit down and eat peacefully or to have a quiet moment to recharge. I didn't feel good about the time I spent with my kid because I was constantly on my phone to answer questions or respond to emails. To change that, I block time for my daily lunch break (and try really hard to not eat at my desk). This little lunch break really helps me to feel recharged and be productive in the afternoon. For evening, I block time after my kid gets home for family time and because there is no commute, I can have a good quality few hours spent with him during most nights. Then after he goes to bed, I would go back to work if needed. This method has been working well for me, allowing me to get through work but also spend time with my family.
Sidney & Mabruk: Being remote has meant so much to us. We had our son in the middle of lock-downs, where our planned daycare wasn't accepting new children anymore and we didn't feel comfortable having people over. We were able to work and care for our son without missing a beat. We were present for every first — first smile, first laugh, the first time he rolled over and crawled. Working from home means that we can continue to share those firsts. It means that we can eat breakfast with our son without rushing, clean up the house during breaks, eat lunch together, and end our work day sooner. This also optimizes our after-work family time. We have less housework to do and no commute, which means more play time with our son before bed.
Luis: The first thing I do is establish my work and home boundaries, and I like to utilize my calendar to show free time blocks when I'm available for work-related requests. Time for family obligations (evenings, weekends, or even the time it takes to drive my son to school) is labeled "private" to alert others that I'm currently not available for requests. This allows me to make the most of my days.
As both a parent and Robinhoodie, how have you managed (and survived!) both home and work life, and the competing priorities, during the pandemic?
Sy: At the beginning of the pandemic, it was tough. All the uncertainty about what could give you COVID, what is safe or unsafe, and how to best protect our children was psychologically draining. I think the way we survived was mostly less screen time for parents (friends don't let friends doomscroll), slightly more screen time for kids (blippi is a necessary evil), and having management that understood that this wasn't just your normal Work From Home (except 5 days a week), this was Work From Pandemic. That meant daycare was closed, remote schooling had just started, and everyone was scared to even go to the grocery store. Having management that understood that workers have to put their families first and encouraging us to take mental days off, or sick days to care for sick family members was amazing. So my answer is, GREAT management helped us survive the pandemic.
Luis: It has all been a process, as with the start of the pandemic it was a learning experience that took time to adjust for all members of my household. It has really boiled down to communication with my team and the understanding that every day brings a possible new set of challenges. Luckily in my case with a younger child (age 3 when we went remote) it was a bit easier to utilize my time off to focus on the needs of my family. What has also helped is the communication with my manager and team, and working a flexible schedule which allowed me to be available during certain core hours or for core meetings. My managers have provided clear guidelines and allow for flexibility provided the work gets done, enabling me to take care of all of the competing demands for my day.
Sidney & Mabruk: The pandemic has placed us in a unique situation where we are both full-time parents and employees. Planning of our schedules to work around each other's needs and the baby's needs is essential. The flexibility to manage our own breaks and lunches helps to put family time where needed and is a major plus. Having a Robinhoodie spouse working in the same home helps with collaboration and problem solving in a way that most people don't get in the remote environment. Our managers have also been very understanding and are always looking to support us in career and personal growth.
What support or resources have you leaned into through Robinhood as a parent?
Freida: First, I can't thank my team enough — everyone is so supportive and understanding! Secondly, Robinhood has generous benefits for back-up care and fertility. For the back-up care, I have a babysitter come for a few hours during the nights that both my husband and I absolutely need to work late. For the fertility benefit, it was really a great help financially for our family. Lastly, the Parenthood ERG, where parents ask questions and share knowledge/information about anything from eating habits, sleeping training, to speech delay, you name it! I am so grateful we have this group and that we can lean on each other!
Sy: Robinhood's backup-care benefit is HUGE. It enabled us to pay for a vaccinated babysitter to give us parents that much needed mental health day off. At least for us, taking care of children is mostly a mental game; there's no doubt that there is some physical hardship, but it's mostly a mental fatigue game, at least for my family. Having the ability to recharge every once in a while is super important and that's what the backup-care benefit means to us. The other Robinhood resource that cannot be understated is the Parenthood ERG. Being able to ask, talk, and commiserate with other parents over parenting issues is such a huge help. Anyone who says you cannot build a community online simply has to look at how the Parenthood ERG has grown during the pandemic and see that it's really about having a common set of issues and problems that brings people together.
What are you excited for most about our future in a primarily remote work environment? Anything you'd share with prospective candidates who are parents and thinking of joining Robinhood?
Luis: The work-life integration at Robinhood is phenomenal and if individuals are concerned if their own family-first mentality will ever be challenged, that is simply not the case here. I'm looking forward to this year where I'll be able to get my work done from the comforts of my own home, while enjoying my family time more and not having to worry about missing out on those life moments.
Freida: The primarily remote work environment makes it so much easier to have flexibility and I am looking forward to being creative with exploring different forms of flexibility that will help me be more productive and efficient, both at work and at home! Robinhood genuinely cares about the people and we have such a strong support network from our team, my fellow parents from Parenthood and the company. I am also excited to see what other benefits that Robinhood will continue to offer to parents!
We're proud to have been recognized on the Great Place to Work US Best Workplaces for Parents™ 2021 list. See the full list.
We are always looking for more individuals who share our commitment to building a diverse team and creating an inclusive environment as we continue in our journey in democratizing finance for all. Check out our open positions — we can't wait to hear from you!
Robinhood Markets Inc. and Medium are separate and unique companies and are not responsible for one another's views or services.
© 2021 Robinhood Markets, Inc.