Remote Roundup — Meet Our Interns
It's that bittersweet time of year when we bid farewell to our summer interns. However, it's also the time when we kick-off fall recruiting season for next year's interns and new grads!
We thoroughly enjoyed hosting our first-ever remote intern class. By doubling down on mentorship and support, having our interns work on core initiatives, and planning interactive events, we were able to build a sense of community and belonging during this unpredictable time. The past four months have been filled with weekly check-ins, coffee chats, our leader-led speaker series, and countless laughs. Adapting to new norms as a result of the pandemic forced us — as well as many other companies — to get creative, constantly iterate, and to operate with even higher levels of empathy.
We're fortunate to still be able to provide interns with an excellent experience and opportunity to work on core products and features, present at company wide all-hands and even lead panel discussions. Our interns made such a significant impact, and we wanted to provide them an opportunity to tell you about it.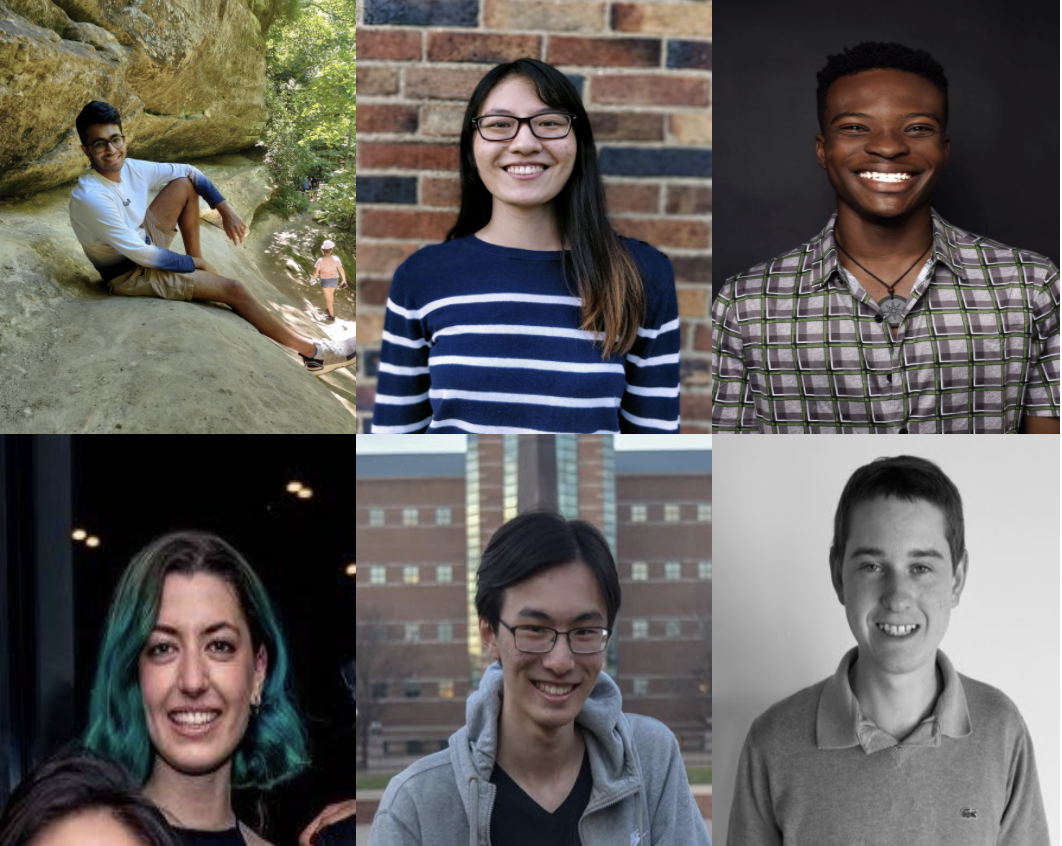 Top row from left to right:
Jatin Mathur (Backend Product Engineering Intern), Helen Ye (Backend Product Engineering Intern), Tony Attipoe (Backend Product Engineering Intern)
Bottom row from left to right:
Maya Koneval (Web Engineering Intern), James Wang (Security Software Engineering Intern), Jason Scharff (iOS Engineering Intern)
Why did you decide to join Robinhood?
James: I really enjoyed my interview experience. I enjoyed talking with the security team and had fun solving problems that weren't purely algorithmic. This set Robinhood apart and made the decision easy for me.
Jatin: My experience interviewing with Robinhood was surprisingly simple and fast-paced, which was perfect for someone like me.
Helen: The culture was incredibly positive, highly collaborative, and promoted people first. This was the biggest factor in my decision of where I'd be most successful interning this summer.
Jason: I first became interested in learning about investing in middle school however, getting started was really hard. It's been incredible to see how Robinhood has continued to make investing more accessible for a new generation of investors and I am excited to be part of that journey.
How has your experience been this summer?
Helen: This summer has exceeded all of my expectations, I've learned so much from my mentor, manager, and team. Not to mention the fun, engaging activities planned for us by the University team. I also picked up quite a few different technical skills in our remote working environment that wouldn't have been as possible in person.
Tony: It's been extremely fulfilling overall. My team has been working on high priority projects that are crucial to the success of Robinhood. I was able to serve as the primary backend engineer to roll out certain new features and be part of the team who monitors performance.
Maya: My experience has been great! I was able to connect with folks at the company easily and get the information I needed to be confident in my work and the company. I learned more than I thought I would, and I even found myself going back to code I wrote in the winter and seeing tangible improvement in my code writing.
Jason: If I were to describe my experience in one word it would be impactful. I had the opportunity to work on three major projects across the summer and was trusted to truly own the engineering behind those projects. There's something really rewarding about knowing your work is impacting a large customer base.
What project(s) did you work on this summer?
Jatin: I worked with the team that owns how communications reach customers in-app. We wanted to make push notifications more useful for our customers, so I developed an automatic load detection algorithm and a new one-to-many push system.
Helen: I worked on aligning the backend of our recurring deposits model to our product suite. This allows increased frequency and flexibility for users making recurring deposits.
Maya: I worked as a Web Engineer Intern on the spending team. I was the web engineer on a project related to our Cash Management feature and debit card on Robinhood and worked closely with another intern who was working on iOS. I also spent time working on the backend towards the end of the summer, as I wanted to expose myself to as much of the stack as possible while I was still an intern.
James: My main project involved adding new features to the alerting and response platform, including enhancing the existing pipeline for detecting unusual activity to allow for more complex detections.
Jason: I worked on three major projects this summer all related to our Cash Management feature, to make it easier for our customers to have greater visibility into their spending and money.
What's your favorite memory from your internship?
Jatin: My mentor organized a call with everyone I knew at Robinhood at the end of my internship. I recounted one memory for each person there that really stood out. By the end of it, I realized that I'd met some extremely talented, helpful, and fun people. Despite the challenges of a remote internship, I still felt like I was a part of Robinhood.
Helen: My favorite memory from this summer is probably playing Codenames and all the other games in our small group. I think our intern group was a lot of fun, and I really appreciated the time spent getting to know other interns well 🙂
Tony: 1:1 conversations where I was able to get to know people. Whether it was my mentor, fellow interns or other full time employees, those conversations provided a great opportunity to step outside of work and chat about life and each other's interests. I enjoyed those a lot.
James: My intern group did a virtual escape room together. I didn't know what to expect since I've never done a virtual escape room before, but it turned out to be a lot of fun! This was just one of many events that I did with my intern group that really made this internship experience memorable.
Do you have any advice for students applying to or starting internships?
Helen: The most important thing in applying is to just start doing it. You'll never know if you can or can't get that internship if the recruiter never even sees your application!
Tony: Tap into your network! If you have friends, school alumni, mentors, etc. who have worked at a company you are interested in, reach out to them! To be honest, even if it is a 2nd or 3rd degree connection on LinkedIn, reach out and ask them about their experience and/or for a referral.
While you're interning, figure out how your project fits into the bigger picture of the company. Having that perspective will remind you of the importance of the work you are doing and help to propel you over any obstacles you may face along the way.
Maya: My advice for folks is to always cast a wide net and practice technical interviewing! For people starting internships, I would encourage them to be confident because their voice matters. If you have ideas of how a certain org can do better, or how the product could perform better, and you work in a place that is hyper-responsive to feedback as Robinhood is, speak up. You will almost always be respected as long as you are respectful.
Jason: Join a company whose mission truly resonates with you!