Robinhood Acquires MarketSnacks to Bring You Financial News
Introducing Robinhood Snacks – free, daily, digestible financial news
We're thrilled to announce our acquisition of the media company MarketSnacks, a top-rated daily financial news podcast and newsletter. Today, we're re-launching these products as Robinhood Snacks. As part of the acquisition, MarketSnacks Co-Founders Jack Kramer and Nick Martell are joining us as Managing Editors of News.
Over the past year, we added more resources to Robinhood to help you better manage your investments. We improved market news coverage on our platform, added discovery tools on mobile, and revamped our Help Center to better answer your questions. Robinhood Snacks is a major step towards building out these resources and helping you get more informed on market news.
Robinhood Snacks brings you digestible and easy to understand financial news you'll enjoy. We'll break down some of the trends and top stories shaping markets to help keep you informed about the news that affects your finances, decisions, and lives. Our newsletter gets you informed quickly in just three minutes, and our podcast breaks down the day's news in 15 minutes. Starting today, anyone can subscribe to the daily and weekly Robinhood Snacks newsletters, and find the daily podcast, "Snacks Daily," on Robinhood.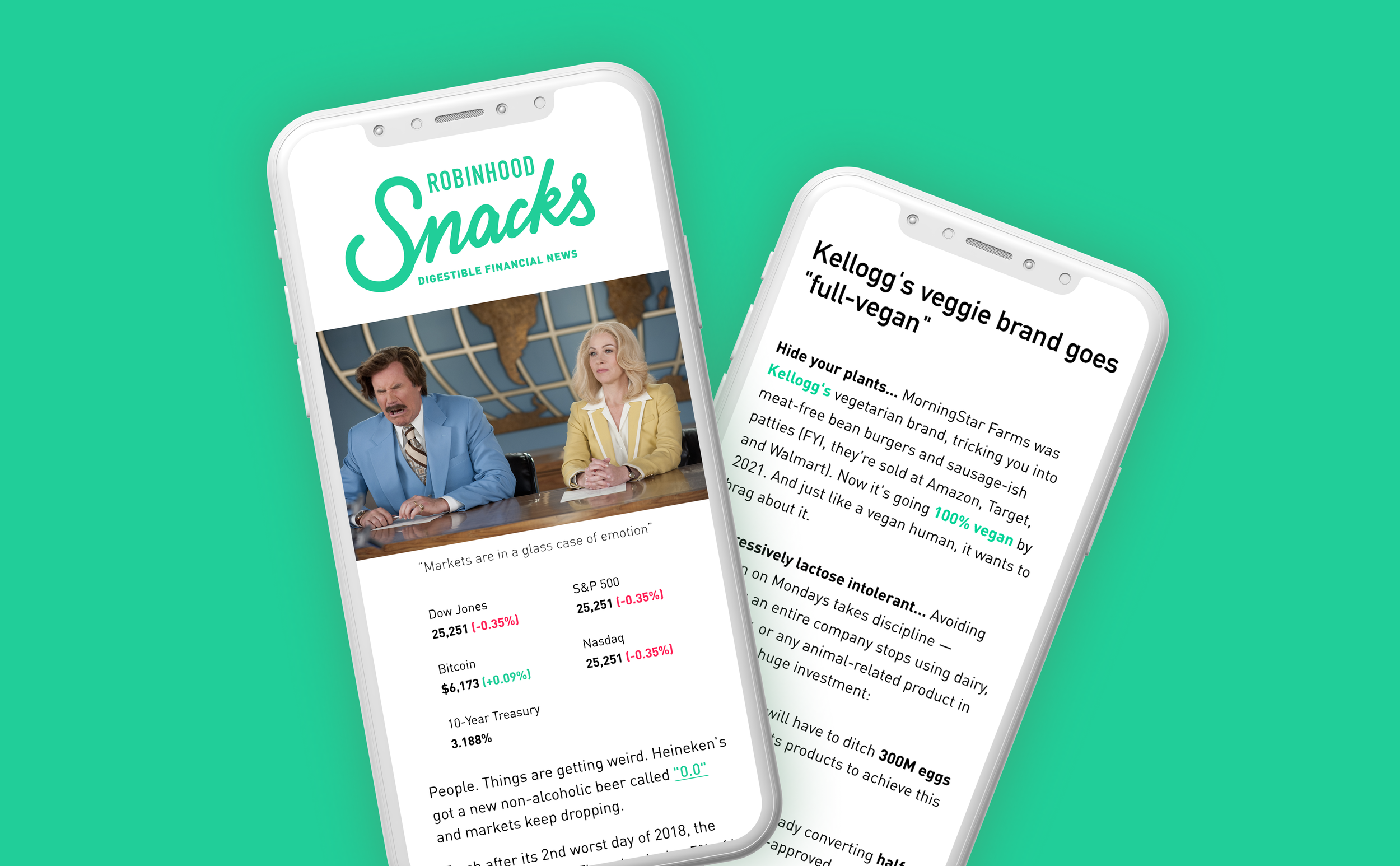 "In 2012, we co-founded MarketSnacks outside our bank jobs to make financial news more accessible and enjoyable for our generation. That aligns perfectly with Robinhood's mission, and together we can inform millions of people every day. We're honored to join forces with Robinhood and thankful for our incredible Snackers who helped get us here." – Jack Kramer and Nick Martell, Managing Editors of News at Robinhood
Learn more about their story.
We're excited to partner with Jack and Nick to bring financial news to our platform with the launch of Robinhood Snacks, and to work towards our mission to democratize the financial system. Welcome to the team!
– Josh Elman, VP of Product