Robinhood Financial Wellness Study Finds that 84% of Americans are Stressed About Money, but Over Half Are Still Spending on What Makes Them Happy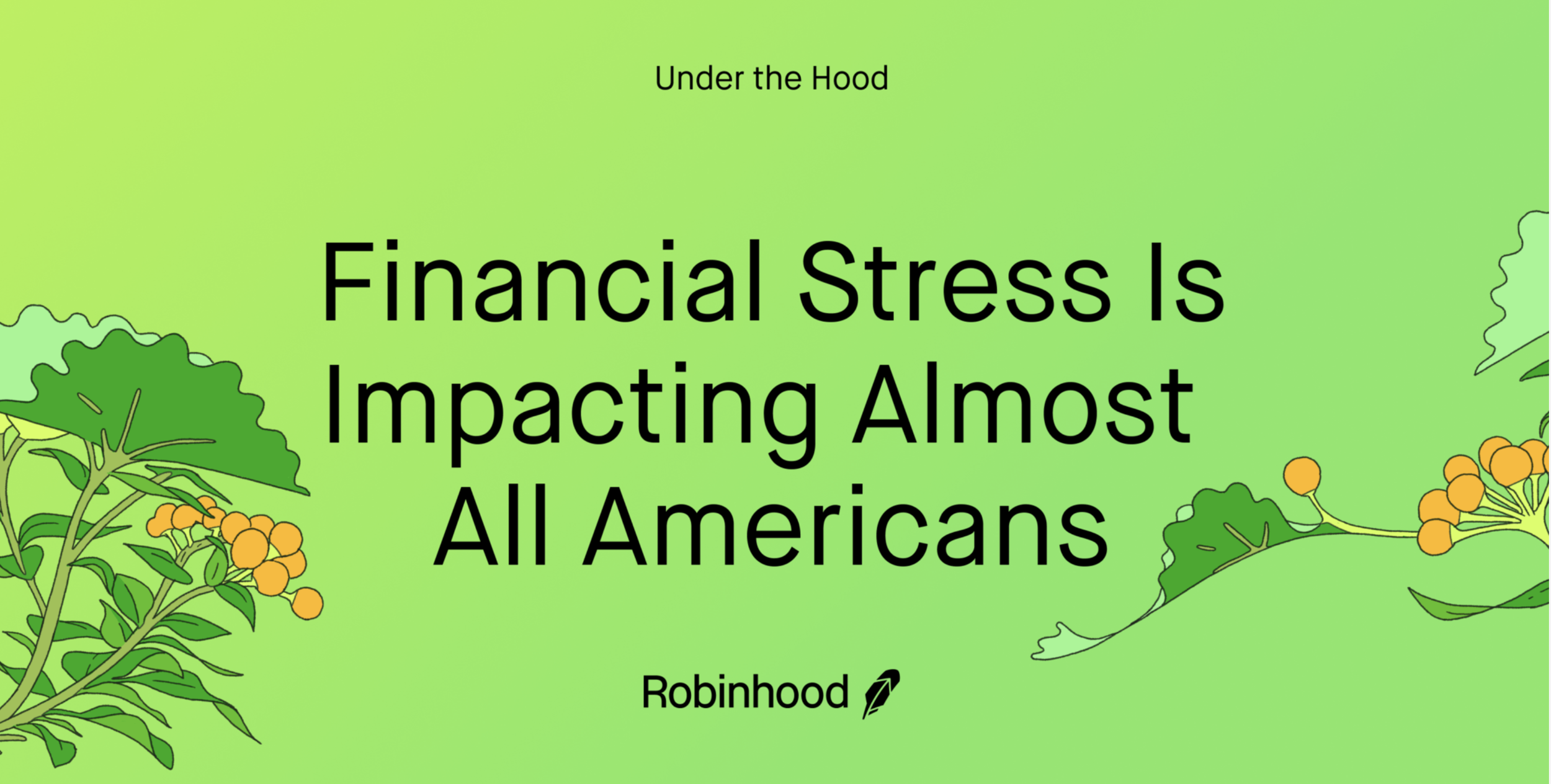 Survey indicates inflation and a potential recession are prompting 88% of Americans to cut back on spending,  and Gen Z & Millennials are most likely to build a budget in response 
Today marks World Mental Health Day and in a year of economic challenges and uncertainties, Robinhood commissioned a survey and partnered with leading financial therapist Amanda Clayman, LCSW to understand how the pressures of inflation, a potential recession and the upcoming holidays are affecting Amerians' mental health, as well as their decisions around spending, saving and investing. 
If you're feeling financially tight, you're not alone – The study shows no one is immune from financial stress, but the causes and coping tactics vary by generation. Our emotional state impacts our spending and investing habits, and vice versa, but spending on what makes you happy remains a common practice even when money is tight. These findings offer a big picture view: 
Financial stress impacts almost everyone. High-income Americans experience financial stress only slightly less often (80%) than middle (87%) or low income (85%) Americans.
Millennials (68%) and Gen Z (64%) said they are more likely to spend money on things that make them happy than Gen X (57%). More men (46%) than women (30%) increased this sort of spending in the last two years.
Four out of five (81%) of Americans are coping with inflation by eating out less, and 62% are relying more on coupons. 64% of Millennials and 58% of men surveyed said they would seek out financial therapy if they could; there's a major desire for help to sort it all out. 
And while the upcoming holidays are a bigger financial burden for more than a third of Americans (39%), 41% of Gen Xers reported feeling financial stress all year.
There's an opportunity here, Clayman explains. Financial stress can be a tool to reflect and examine our overall well being or mental health, and develop habits that support us. 
"Most people know that investing is a great tool to build long term wealth, but it can be overwhelming to weigh today's needs against future investments, like saving for retirement," says Steph Guild, Robinhood's Head of Investment Strategy. "Robinhood created a self-directed investing platform with the goal of helping people establish financial habits that fit easily into their daily lives."
Who's Feeling It 
Robinhood is designed to serve the next generation of investors, and our survey uncovered how financial stress is impacting their demographic: 
Gen Z (45%) and Millennials (41%) experience stress when planning for the future, while Gen X is more triggered by unexpected expenses like medical bills and parking tickets. 
For Gen Z the financial milestones that cause the most anxiety are buying a house (49%) and buying a car (42%). 
Almost one in three millennials indicate they have a drink to cope. 
Alternately, there are ways to respond healthily and use stress to your advantage. About half of Gen Z (48%), Millennials (52%) and Gen X (41%) create or revise their budgets in response to stress. 
"Some of us react to situations by rebelling and refusing to acknowledge restraints, perhaps by spending beyond our means, but others use constraints as an impetus to act" Amanda explained. 
Clayman suggests setting behavioral goals, rather than outcome-based goals, to bring objectivity and presence into one's financial decisions. For example, setting a goal to read one article about investing per day or investing small amounts at a time establishes a repeatable habit that can help remove the intimidation factor. Robinhood offers tools for recurring investments that can help build confidence, which can add up over time.
Clayman also suggests building investment confidence and gaining experience through research, starting with companies you know.
Emotion-Driven Spending 
While ideally stress can be a tool for reflection, the survey highlighted that financial stress can lead to emotion-driven money moves that impact financial health: 
Almost half (49%) of Americans sometimes or frequently get into financial troubles by spending on happiness. 
About two-thirds of millennials (68%) and Gen Z (64%) spend money to change their mood or increase happiness, and they're more likely to do so than Gen X (57%).  
Millennials (75%) are less likely to give up dining out at restaurants compared to Gen Z (86%) and Gen X (85%). 
For the 69% of Americans who contribute to their retirement, the current economic environment has negatively impacted how much they contribute. 
Clayman encourages us to purposefully include some "happy spending" in our budgets. For example, respondents identified two forms of spending that bring them the most joy: shopping (31%) and spending on hobbies (30%). If you know you want the latest new gadget, factor that into your monthly budget, but only if you actually have the money for it. Building a financial plan that incorporates the things you love is also a way to build confidence and a sense of control over your future. 
What's Next For Those Feeling Stressed? 
While everyone experiences financial stress differently, Clayman has a few practical tips to get started.
Appreciate that financial stress has a function and is not there to plague us. It's a signal that needs our attention, and there is an underlying fear that we must examine. 
If you're anxious about finances, a good first goal is to take steps to build confidence. Create a "plan to make a plan" by setting a timeline to get informed about financial options, and taking small steps to get there. These don't need to be time or knowledge-intensive – for example, one small step could be depositing cash into a high-yield brokerage account, which can grow in the background over time. 
Find those resources you know you can trust, whether it is a  trusted friend or a licensed expert. You are not expected to go it alone. 
Methodology: The Financial Wellness survey was conducted online between August 25 and 31, 2022 among a sample of 2,200 Americans (those between 18 and 57 years old). Results from the full sample have a margin of error of +/- 2%. Executed by MSI.
Amanda Clayman is a psychotherapist specializing in financial therapy. Her approach includes behavioral finance, neuroeconomics and mindfulness to decode how thoughts, feelings and associations shape our money decisions. 
#2465808