Robinhood is Coming to Charlotte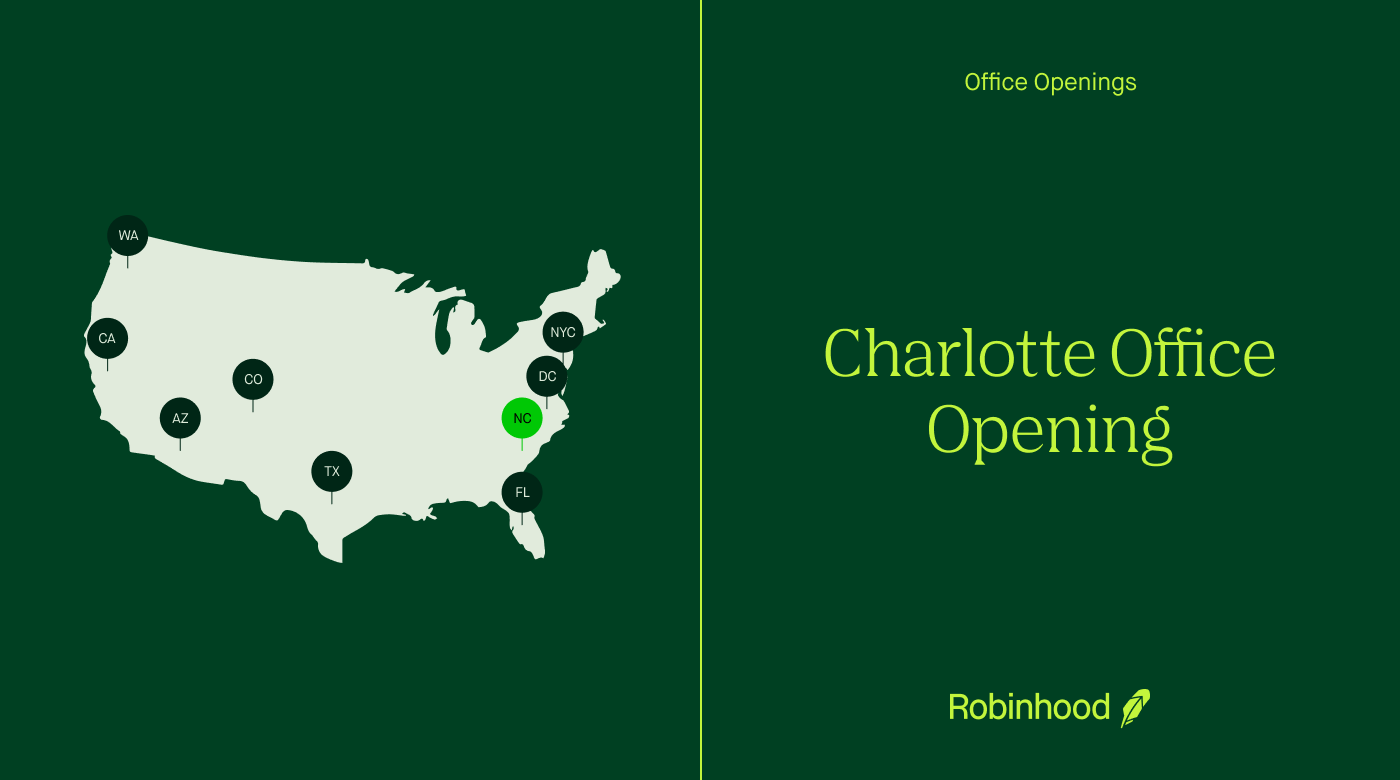 Our newest office will tap into the Queen City's talented workforce as we expand our customer experience team
At Robinhood, we have ambitious goals of growing our teams to meet the needs of the next generation of investors. To help us meet that goal, we're opening a new office in September in Charlotte, where we hope to hire over 100 people this year, primarily on our customer experience team.
"Charlotte is known for its talented and diverse workforce, making it an easy choice as we looked to expand our operations,"  said Alex Mesa, Head of Customer Experience. "We're confident that Charlotte's workforce will further contribute to our mission and lower the barriers to investing for all. We're thrilled to join the Charlotte community."
"With the second-largest financial center in the nation, North Carolina is one of the fastest growing tech hubs where companies like this know they can flourish," said North Carolina Governor Roy Cooper.
The new Charlotte office brings Robinhood's presence to nine cities in the U.S. and increases our capacity to do more for our customers. We recently announced new office locations in New York and Seattle and expanded on our investments in customer experience. We're headquartered in Menlo Park, CA with U.S. locations in Denver, CO; Lake Mary, FL; Westlake, TX; Tempe, AZ; Seattle, WA; New York, NY; Washington, DC; and now Charlotte, NC.
While we are excited to continue expanding, the health and safety of our employees remains our top priority as we plan our return to the office. Our COVID-19 taskforce is closely monitoring local indicators in Charlotte and elsewhere. Longer-term, we expect to embrace a distributed workforce model, with some teams working remotely and others coming into an office full- or part-time. 
We look forward to welcoming our future Robinhoodies in Charlotte, and to working together to deliver more for our customers. Explore our current open roles in Charlotte and other locations, where we continue to grow.