Robinhood Lists Four New Crypto Assets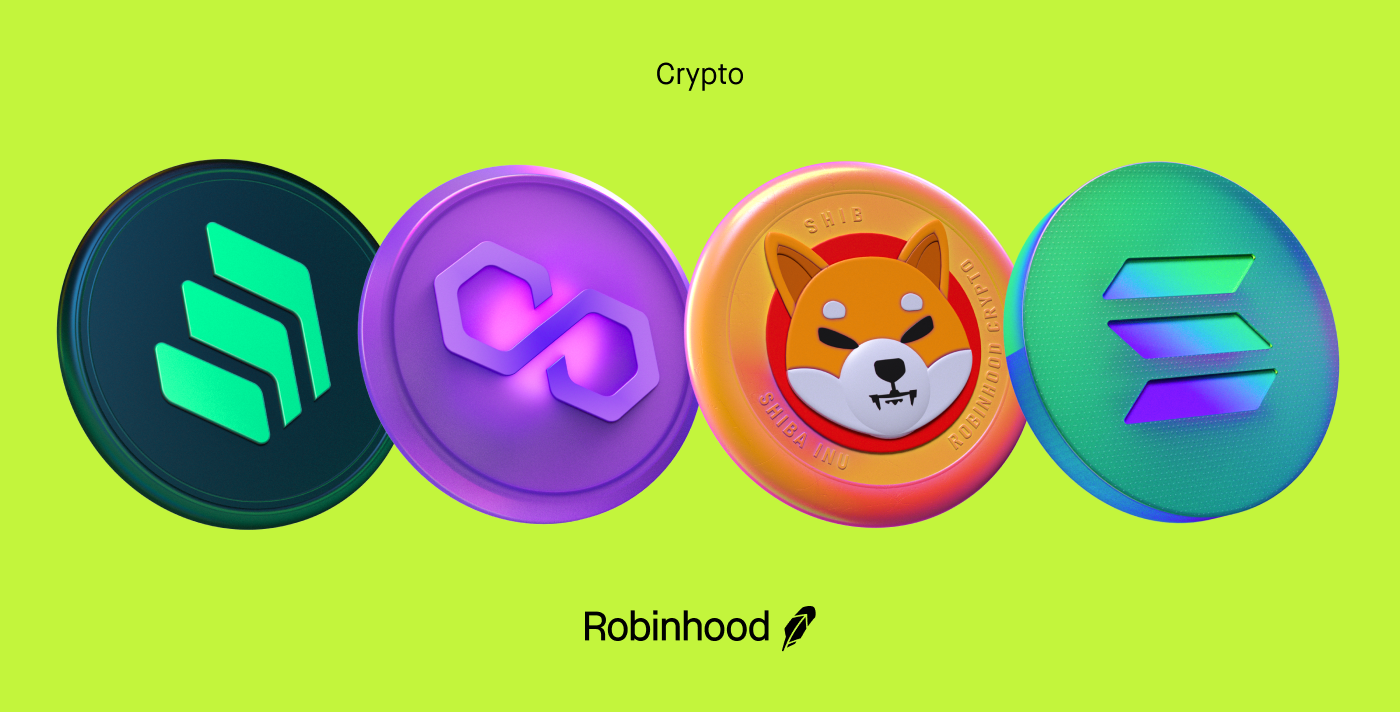 Compound, Polygon, Shiba Inu and Solana are now available on Robinhood Crypto
We're pleased to announce that customers can now buy and sell four additional cryptocurrencies through Robinhood Crypto: Compound (COMP), Polygon (MATIC), Solana (SOL) and Shiba Inu (SHIB).
Over the past year, our crypto customers have consistently asked for two things: the ability to send and receive their tokens, and a broader selection of cryptocurrencies. Addressing their first ask, we rolled out wallets to every eligible person on a waitlist of more than two million. Now, we're happy to address another top request by adding additional cryptocurrencies. 
"We're excited to add more choices for our customers as we work to make Robinhood the best place to invest in crypto," said Steve Quirk, Chief Brokerage Officer at Robinhood. "As a safety-first company, we have a rigorous framework in place to help us evaluate assets for listing, and we remain committed to providing a safe and educational crypto platform."
These assets are available to buy and sell now on the Robinhood app. Deposit and withdrawal won't be available immediately for these assets, but that capability is coming soon. Listed in alphabetical order:
Compound (COMP)
Compound is an algorithmic, autonomous interest rate protocol built for developers to create open financial applications. It was created in 2017 by entrepreneurs Robert Leshner and Geoffrey Hayes.
Compound allows users to earn interest by depositing crypto into lending pools that can be accessed by borrowers. COMP is Compound's Ethereum-based governance token, which enables holders and delegates to propose and vote on changes to the protocol. Users can earn COMP through lending or borrowing assets on Compound. There is a maximum total supply of 10 million COMP.
Polygon (MATIC)
MATIC is the native token of Polygon (previously Matic Network), a decentralized Proof-of-Stake (PoS) blockchain, which operates as a sidechain to Ethereum and benefits from its security. Polygon claims to be able to process up to 65,000 transactions per second with network fees of a fraction of a cent.
Polygon was founded in 2017 by Jaynti Kanani, Sandeep Nailwal, Anurag Arjun, and Mihailo Bjelic and the MATIC token launched in 2019.  MATIC is used to pay for network fees, staking, and governance on the Polygon network. It has a maximum total supply of 10 billion.
MATIC can also be bridged to the Polygon network. MATIC purchased on or sent to Robinhood may be held partially on either the Ethereum or Polygon network.
Shiba Inu (SHIB)
Shiba Inu (SHIB) is an Ethereum-based (ERC-20) token that is hosted on the Ethereum blockchain.
It was launched as an alternative to Dogecoin (DOGE) in August 2020 by an anonymous person or group under the name Ryoshi. According to its founders, it was created as an experiment in decentralized spontaneous community building. 
Solana (SOL) 
SOL is the native token of Solana, a decentralized Proof-of-Stake blockchain built to enable scalable, user-friendly DApps.
Solana was founded in 2017 Anatoly Yakovenko and the SOL token launched in March 2020 by the Geneva-based Solana Foundation and San Francisco-based Solana Labs. 
Solana claims it can process up to 65,000 transactions per second with low fees, by combining Proof-of-Stake and Proof-of-History consensus mechanisms. SOL has no maximum total supply.
***
For more information on how to buy crypto, visit here. Not a Robinhood customer yet? Sign up here.