Robinhood Offers The Most Crypto for Your Buck. We Had Experts Check the Math. 
Customers could get up to 3.5% more crypto on Robinhood*
Ahead of Mainnet 2023 in New York City, Robinhood announced the results of a study—verified by Radius Insights—showing that Robinhood offers the lowest cost to trade crypto on average. The analysis compares prices quoted from top platforms and exchanges, including Cash App, Coinbase Advanced, Coinbase, Crypto.com, and Kraken, concluding that customers could receive up to 3.5% more crypto on Robinhood.
To show customers how our prices compare to some of our top competitors, we've launched a pricing dashboard on our new crypto home page, demonstrating how much more Bitcoin, Ethereum, and Dogecoin customers could get for $100, $1,000, and $10,000 on Robinhood.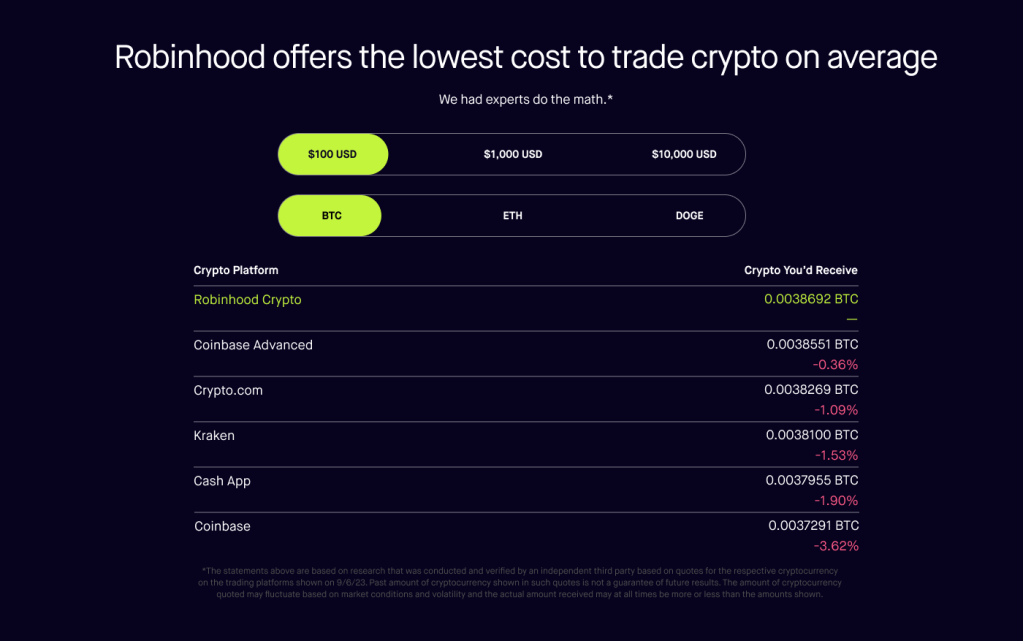 "We already knew that Robinhood Crypto offers the most competitive prices, and this research only confirms that," said Johann Kerbat, General Manager of Robinhood Crypto. "With Robinhood, you not only get more crypto for your cash, but you also get a user-friendly mobile experience, advanced trading tools, and peace of mind with industry-leading security."
To provide better transparency, and help customers make even more informed decisions about their purchases, we're also changing the way we display the spread and rebate Robinhood receives from sell and trade orders in the app. We're providing all-inclusive pricing to ensure there are no hidden fees and to reassure customers that they're getting the most crypto for their buck.
In addition to providing the lowest cost crypto trades, we are on a mission to build the safest and most trusted crypto trading platform. Unlike some of our competitors that have grown quickly and now list hundreds of digital assets on their platforms, Robinhood Crypto has taken a more conservative approach to supporting digital assets. This also means building safeguards for our products and providing better education. Other customer protections include:
Coin Management: We never commingle your coins with business funds other than
for operating purposes (such as payment of network fees).
Customer Service: We offer 24/7 support.
Industry Leading Security: Our Security Team routinely reviews code and infrastructure powering Robinhood Crypto, and we engage third-party security experts to test our systems, helping us build some of the most secure systems in the industry.
Storing Customers' Coins: We hold nearly all of customers' coins in cold storage, entirely disconnected from the internet.
Crime Insurance: We carry crime insurance that protects a portion of the assets held across our storage systems against losses from theft, including cybersecurity breaches. The policy is underwritten by certain underwriters at Lloyd's, the world's leading insurance marketplace, and placed by Lloyd's registered broker, Aon.
Like we did with the stock market, it's our goal to make crypto more accessible and affordable to everyone. To learn more, and see how customers can get the most crypto for their buck, visit: https://robinhood.com/us/en/about/crypto/.
Disclosures:
*The statements above are based on research that was conducted and verified by an independent third party based on quotes for the respective cryptocurrency on the trading platforms shown on 9/6/23. Past amount of cryptocurrency shown in such quotes is not a guarantee of future results. The amount of cryptocurrency quoted may fluctuate based on market conditions and volatility and the actual amount received may at all times be more or less than the amounts shown.
Cryptocurrency trading is offered through an account with Robinhood Crypto, LLC (NMLS ID: 1702840). Robinhood Crypto is licensed to engage in virtual currency business activity by the New York State Department of Financial Services. Please see our list of licenses for more information. Cryptocurrency held through Robinhood Crypto is not FDIC insured or SIPC protected.
3123707