Robinhood Retirement through the eyes of Research, Creative and Design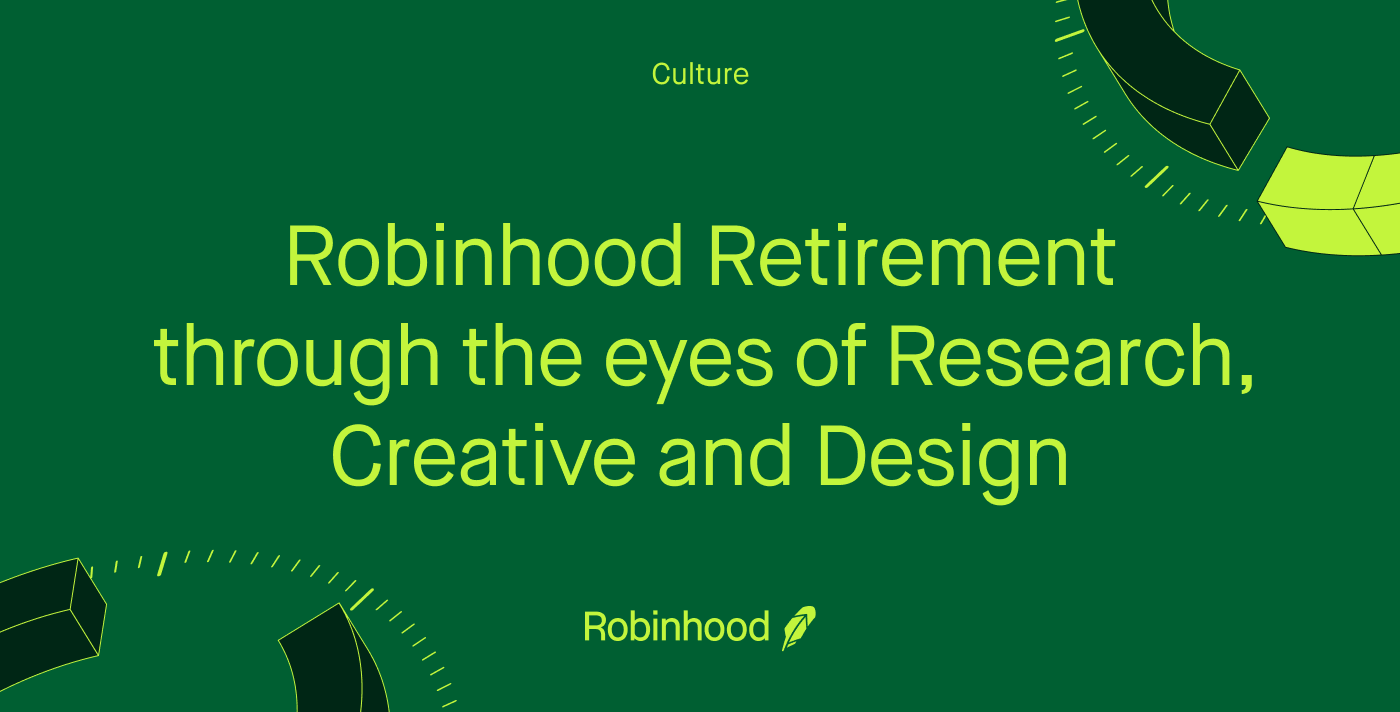 Robinhood was founded on a simple idea: that our financial markets should be accessible to all. With customers at the heart of our decisions, Robinhood is lowering barriers and providing greater access to financial information and investing. Together, we are building products and services that help create a financial system everyone can participate in.
We're thrilled to share the incredible journey of the Robinhood creative team as they embarked on an ambitious endeavor: building a revolutionary retirement product. Led by the visionary minds of Ashley Kim, a UX Researcher focused on inclusive user design; Tim Scales, a Creative Director responsible for the overarching vision; and Shawn Roe, a Content Designer who crafted the product's engaging narrative. This collaboration not only highlights their expertise in design but also exemplifies the power of teamwork and innovation. We'll delve into the fascinating design process they undertook and explore how their collective efforts resulted in the successful launch of an exciting new product.
Ashley Kim, UX Researcher:
I'm Ashley, the UX researcher on the Robinhood Retirement team. My Ph.D. is in sociology, with a focus on race, gender, and health. You might be wondering "why is this chick in fintech?" Some of it was luck of the draw in where I first landed in the industry; a lot of it is because of who I am and what drives me. I've always studied inequality, and I now get to spend my time increasing pathways to wealth: moving beyond inequality to imagine equity with no bounds. As an Asian-American living in the United States, I've rarely felt like products and spaces were created for me and people that identify like I do — especially in the finance world. It breaks my heart when I see statistics on the retirement savings gender gap: while women (on average) outlive men, their retirement savings are, statistically speaking, much less. At Robinhood, I am encouraged to disrupt and change this narrative, making sure my daughter will have a different relationship with finances and financial institutions as she grows up.
When I joined the Robinhood Retirement team, the product was already in development. This meant I was jumping into a group and project already in motion — and moving fast. I knew it was important to build rapport, while being mindful of the team's bandwidth, and to meaningfully contribute while onboarding. I spent a lot of time gathering data on what had been done, what needs to be done, and who would answer these questions in different ways. First, I compiled a retirement research archive (yes, a lit review… yes, it was tedious). This was to not only give myself the tools to advocate for what I, as the researcher, thought was necessary, but also for any other stakeholders who would onboard after me.
At the same time, I was identifying burning needs and questions through fast-paced evaluative research. How did this work? A lot of listening and observing. What was the team focused on? What were they unsure of, excited about, and needing guidance on? The research that came out of this informed content and design explorations. The team ran daily jam sessions and touchpoints to truly function as a cohesive, user-centric unit: we respected and needed each others' expertise in order to build our IRA around our users. I was also given freedom to run necessary generative and foundational research. At first, I fit generative research into the same evaluative sessions to gather more evidence for further foundational research. Doing so led me to have more autonomy and buy-in to explore the directions that would be the most fruitful for the work.
Day-to-day I've felt affirmed in my decision to enter this space, especially at Robinhood. The findings from my research were used and adopted not only on the tactical level, but also on the larger product strategy level. Even post-launch, I continued to design and conduct field research, bringing the team to a Texas university campus, intercept-style. The trip recalibrated us back to the people we want to design for and helped us gauge retirement in context of a larger population. While it's not all leis and mai tais (our launch party was epic), it truly is a joy to work with talented, passionate, and wonderful people — and create products that will make the kind of difference I personally believe in.
Tim Scales, Creative Director:
I'm Tim, a Creative Director at Robinhood. My career began as a graphic designer in Melbourne, Australia, before I moved to NYC in 2017. I've been fortunate enough to work on a decent amount of exciting projects in my career — everything from designing a magazine to creating Super Bowl ads.
What drew me to Robinhood was an interest in how finance and investing had manifested into the zeitgeist. From 2020 onward, there was a new class of investors who were completely obsessed with all things money. You had everything from meme stocks to regular folks talking about creating generational wealth for the first time. Many newcomers were demanding a seat at the table and shifting the perception of what it means to be an investor. The opportunity to tell these stories drew me to Robinhood and, after learning more about our customers, I wanted to stay.
Building products for this new class of investors is inspiring. They want something approachable, digestible and purpose-built. They also want financial products that are more exciting than existing ones. It's easy to make financial products overly complex and boring so we work hard to do the opposite. The Creative team is primarily responsible for the creative direction of both product and marketing. We get a say in how a product should appear in the world and how to tell the story. This holistic approach allows us to create more frictionless and accessible experiences for our customers.
Retirement was a unique project for our team in that we started developing a creative concept earlier in the process. From the very beginning we had a strong directive from Baiju, our Chief Creative Officer, to build something that felt different. If our aim was to reinvent Retirement then it couldn't look like anything else.
Using Ashley's UX research, the team landed on a concept that was derived from perpetual motion machines. We wanted to visually convey how money behaves when it starts working for you. Once we aligned on this "money in motion" concept we proceeded to paint it across every imaginable surface from typography to messaging, diagrams and charts. Creating plug-and-play design systems was important because we know that customers don't always discover products in a linear fashion. Someone new to Robinhood might stumble across an in-app experience while an existing customer might see a public campaign or social post. The lines between Marketing and Product are blurred and the creative direction needed to be pressure-tested in every scenario.
Once we had the concept, our copywriters partnered with Shawn, the Content Designer, on the content that connects the marketing to the in-app experience. Some of the visual elements, including animations, were incorporated directly into the in-app experience. And because we had been collaborating from the start, there was a clear creative throughline that brought the whole thing together.
I'll admit, I'm guilty of getting swept up in the day-to-day. It's easy to lose sight of the impact we and others are making on the financial industry when you're focusing on things like making the tax season headline "a little sexier" or the shade of green to use for a button. Things like commission-free trading and easy-to-use financial platforms are a recent development. Robinhood is forcing the industry to innovate. No matter where you're sitting, it's an exciting time to be in fintech and I'm grateful to be able to experience it alongside hardworking and talented people like Ashley and Shawn.
Shawn Roe, Content Designer:
Content designers come from all different backgrounds and experiences. I'm no different. With an undergraduate degree in Psychology, and a minor in Astronomy (yes, stars and space), I taught English as a second language in South Korea for 7+ years. I also had a side hustle building websites. After running a few user research sessions on my websites, I found out that I was a pretty terrible visual designer. People came for my content. And thus I found my strength: simplifying complex concepts in a way that makes it easy for people to understand.
After getting a Masters degree with a concentration in digital media design, I combined my teaching experience and writing skills to become a content designer. I've always been a personal finance nerd and follow the Bogleheads and FIRE (Financial Independence, Retire Early) community principles of being frugal and investing long-term. I absolutely love that I get to lean into my strengths and interests to help millions of people understand the benefits of saving and investing for their future.
When I joined the Retirement project at Robinhood, the first major content piece was to craft the value propositions that customers would see when they enter the sign-up flow. As any writer knows, starting from scratch is not easy. Thankfully, Robinhood has an active, brilliant team of UX Researchers, like Ashley, who had already studied what was most important to customers and even which phrasing was preferred. This made my job so much easier, and was especially important because I would need to present my content to the co-founder and Chief Creative Officer. Presenting your work to senior-level people in a company can be nerve-wracking. But knowing that my content was backed by customer research gave me all the confidence I needed to explain the rationale behind every word choice.
Want to know the funny thing? Even though we got sign-off from leadership on that content, we ended up pushing it even further before shipping. Changing content already approved by C-level may sound crazy, but when your colleagues are world-class illustrators and visual creatives you get inspired to push the content further. Tim, and the Creative team used the approved content to develop not just custom illustrations, but complementary animations and haptics. When I saw how amazing their visual designs were, the content actually sounded flat. So, being inspired by their work, and working with their copywriters, we rephrased the value props and even rearranged the order of the screens. Other companies may balk at making such drastic changes so late in the process but we knew the collaboration of UX Research, Creative, and Content Design had cooked up an even better holistic experience.
When we presented it to the CCO again, he agreed. And so have our customers. You know you're proud of your work when you call your mom and have her download the Robinhood app just to see the sign-up and onboarding experience you helped design.
We are always looking for more individuals who share our commitment to building a diverse team and creating an inclusive environment as we continue in our journey in democratizing finance for all. Stay connected with us — join our talent community and check out our Early Talent roles!
Robinhood Markets, Inc. and Medium are separate and unique companies and are not responsible for one another's views or services.
Funds being contributed into or distributed from retirement accounts may entail tax consequences. Contributions are limited and withdrawals before age 59 1/2 may be subject to a penalty tax. Robinhood does not provide tax advice; please consult with a tax adviser if you have questions.
The Robinhood IRA is available to any U.S. customer with a Robinhood brokerage account in good standing.
All investments involve risk and loss of principal is possible.
Brokerage services are offered through Robinhood Financial LLC, a registered broker dealer (member SIPC) and wholly-owned subsidiary of Robinhood Markets, Inc.
© 2023 Robinhood Markets, Inc.
2931907