Robinhood Wallet is now available to all iOS customers globally
Robinhood Wallet now supports both the Polygon and Ethereum networks and is available globally via the Apple App Store. No waitlist or invitation code is required.
As of this morning, Robinhood Wallet has officially rolled out to all iOS users on the waitlist of more than 1 million and it is now available globally* via the Apple App store where it has already been downloaded in more than 130 countries. For a limited time, users can kick start their new Robinhood Wallet and earn up to 5 USDC after transferring $10 of crypto from Robinhood Crypto, or 1 USDC after transferring $10 from another wallet or exchange.**
"The feedback we've received for Robinhood Wallet since first launching in beta has been extremely positive," said Johann Kerbrat, GM of Robinhood Crypto. "Users have told us they love how accessible and easy to use the app is, and that they really enjoy the ability to self-custody their digital assets and swap with no network fees on Polygon. They also told us they want access to more coins on more chains, which is why we've quickly added support for Ethereum. While we recognize it's been a tumultuous few months in the crypto space, we remain committed to our mission to make Robinhood the most trusted, lowest cost, and easiest to use on-ramp to crypto."
Robinhood Wallet is a multi-chain, self-custody, Web3 wallet that allows users to own and swap crypto, and connect to a wide range of decentralized applications (dapps). Robinhood Wallet combines the simple and intuitive design that users have come to expect from Robinhood with powerful tools that push the boundaries of a typical wallet to support the next generation of Web3 users. It gives users full control over their crypto, meaning only they hold and maintain the private keys to their assets.  
Since the beta launch in September, Robinhood Wallet has undergone several notable changes based on customer feedback: 
In addition to Polygon, Robinhood Wallet now also supports Ethereum and 50+ ERC tokens, and offers the ability to transfer tokens like COMP, MATIC, SHIB, SOL, UNI, USDC, and many more. 
We've added support for NFTs on both Ethereum and Polygon, so users are able to safely view and store their favorite collections. 
Users can still swap crypto and tokens with no network fees on Polygon, explore Web3 and DeFi, and connect to their favorite dapps.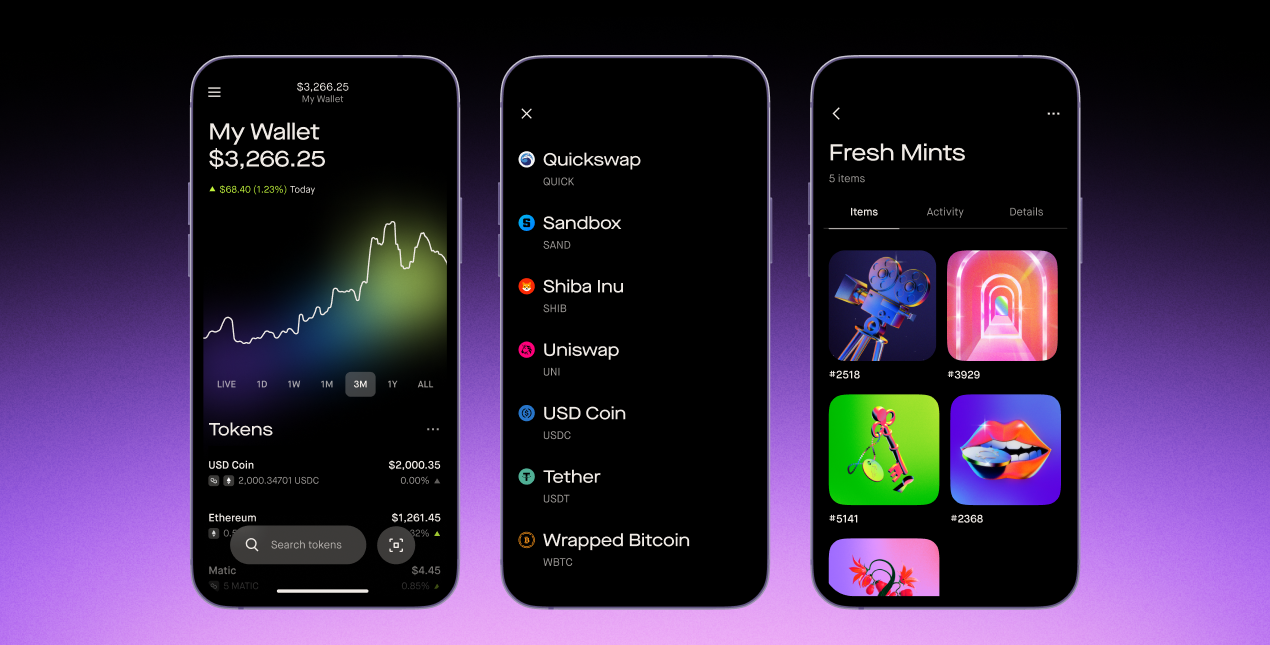 As a safety first company, security and privacy remain incredibly important to us, which is why we've built a number of tools to help customers secure their Robinhood Wallet. When users get started, they need to set up either Face/Touch ID or a custom PIN, which they'll use to authenticate every time they open the app. They will also be asked to create a secret recovery phrase, also known as a seed phrase, that allows them access to their wallet and crypto. It's important to keep this secret recovery phrase stored in a safe place and never share it with anyone. Customers can–and should–back up their wallet either manually by writing down this secret recovery phrase and storing it in a safe place offline, or by saving it in a secure password manager. 
While Robinhood Wallet is available to all iOS users today, Android support will follow later this year. In the meantime, Android users who have not already done so can join the waitlist to be notified when it becomes available. In the coming months, we plan to launch a Web3 browser, add support for other coins, and expand our in-app rewards program. 
Learn more by visiting https://robinhood.com/web3-wallet/. 
*Robinhood Wallet and related services are offered through Robinhood Non-Custodial, Ltd., a limited company organized in the Cayman Islands, and other third-party providers. Availability may be subject to regulatory approval in certain jurisdictions. 
**Only one reward is available per user, subject to residency, jurisdiction restrictions and/or regulatory approval and contingent upon fulfilling the eligibility requirements. The reward may be void where prohibited. This is a limited time offer, subject to availability and/or while supplies last. Robinhood Non-Custodial, Ltd., reserves the right to change the terms, eligibility criteria, and payouts for all offers at any time, for any reason. Further terms apply.
© 2023 Robinhood Non-Custodial, Ltd. Robinhood®. All rights reserved. 
20230228-2761796-8774848