Robinhood, West Virginia University Launch First D1 Financial Education Program Of Its Kind For Student-Athletes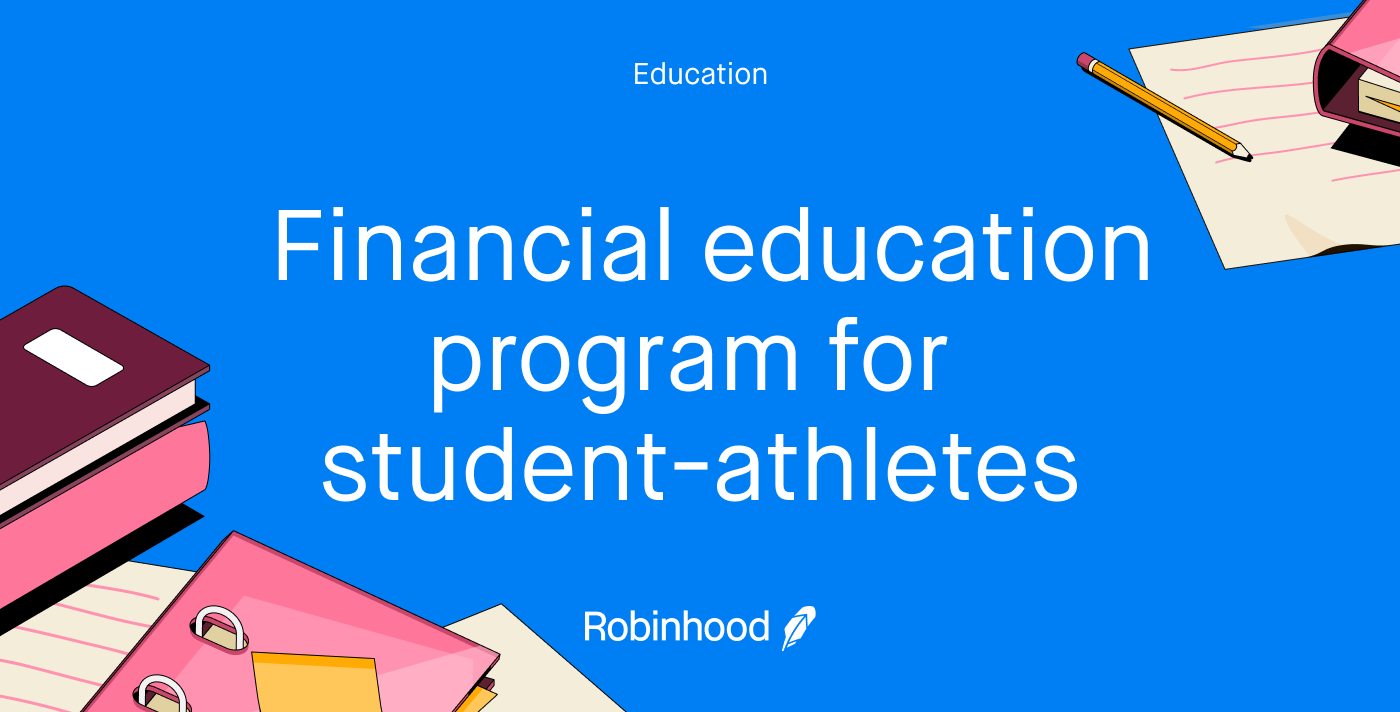 Today at an event with West Virginia University (WVU), Robinhood Chief Legal, Compliance and Corporate Affairs Officer Dan Gallagher will announce Robinhood's support of a financial education program in partnership with WVU's athletic department. We're excited, as this 4-year-partnership makes WVU the first D1 university to make financial education coursework available for every student athlete, starting with the 2022-2023 school year. 
The course will be available to all student-athletes at WVU, no matter the student's sport or gender and will be required for all WVU student-athletes on scholarship and optional for those who are not. 
WVU's athletic department, including WVU President Dr. E. Gordon Gee and Deputy Athletics Director Keli Zinn, joined Robinhood's Dan Gallagher and VP of External Affairs and Community Mary Elizabeth Taylor to make the announcement, along with former NFL quarterback and WVU alumni Oliver Luck. Senator Joe Manchin also offered a statement in support of this first-of-its-kind program. 
"The launch of this inaugural education program marks a milestone in the advancement of student athletics, with influential guest lectures that will instill lessons to last a lifetime," said Senator Manchin. "I thank Robinhood and WVU for providing this unique opportunity for athletes to gain the skills and knowledge necessary to have successful post-college careers – and I hope to see this exciting program expand to more West Virginia colleges and universities in the future."
"Robinhood believes that financial education should be easily accessible, for everyone," remarked Dan Gallagher, Robinhood Chief Legal, Compliance and Corporate Affairs Officer. "Professional athletes fresh out of high school and college are becoming overnight millionaires but too many lack the financial literacy resources to manage this change in financial status. We're thrilled to launch this partnership with WVU, and we are eager to help  WVU student athletes learn about financial matters."
"We are very excited for the partnership between Robinhood Markets, John Chambers College of Business and Economics, and our athletics department to provide a financial literacy education class to all incoming student-athletes," said Shane Lyons, WVU Director of Athletics and Associate Vice President. "We have always made it a priority to offer this type of educational services and career path seminars to our athletes in the past, but this takes it a step further to provide class credit in a classroom setting. Preparing our student-athletes for life after college is one of our top priorities as a department, and I am confident that the education provided through the financial literacy course will play a key role in helping our student-athletes develop the skills necessary for success in the future."
Professional athletes fresh out of high school and college are becoming overnight millionaires. Reports have shown that a number of professional athletes declare bankruptcy in just a few years. Nearly 16% of NFL players file for bankruptcy within 12 years of retirement. And sixty percent of NBA players go broke within five years of departing the league, with 78 percent of former NFL players experiencing financial distress just two years after retirement. We believe it is critical that players learn about the basics of financial literacy.
While many companies offer financial education programming via pamphlets or one-time workshops, we're excited to bring the spirit of democratizing finance for all with this first-ever semester course entirely dedicated to financial education for student athletes. Components of the WVU course will be integrated into the WVU freshman seminar so that all students on campus will receive financial education in 2022-2023. We plan to bring this program to other college campuses this year.
Financial education is at the heart of our mission to democratize finance for all. We're committed to providing educational content to help people make informed investment decisions for both customers and non-customers alike.